Add Peter King to the list of NFL insiders who think the Texans will draft a USC linebacker with the 15th pick in Saturday's draft. His choice: Brian Cushing.
In this week's issue of Sports Illustrated, which hits newsstands on Wednesday, King writes, "The first to go among the three Trojans 'backers considered first-round material. Cushing's versatility—he can play all three linebacking spots—is the difference."
Since King has the clout and rolodex that allows him to call coaches (like Gary Kubiak after the last-second win over Miami) as they are walking into the locker room after a game and those coaches answer the phone, people listen to King's draft predictions.
Below is King's entire mock draft for SI, as well as the cover shot of the USC linebacker triplets. Cushing is on the far left, and Clay Matthews (far right) is the other trendy pick for the Texans.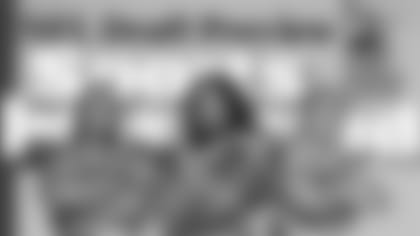 PETER KING'S MOCK DRAFT
Will the Lions dare pass up a potential franchise quarterback? Who'll make the move for Mark Sanchez? Here's how SI projects the 32 picks in the first round on April 25.
1. Lions: Matthew Stafford, Quarterback, Georgia
Wake Forest LB Aaron Curry is overpriced for this slot, and tackle isn't a huge need position for Detroit. The pick falls to a smart, precocious 21-year-old with an arm to die for.
2. Rams: Jason Smith, Tackle, Baylor
The choice between Smith and fellow tackle Eugene Monroe goes down to the wire, and Smith wins the chance to succeed Orlando Pace because of his competitive zeal.
3. Chiefs: Tyson Jackson, Defensive end, LSU
K.C. hopes it gets an offer to trade down with a team that wants QB Mark Sanchez. Failing that, the Chiefs will take Jackson, the best 3–4 DE in the draft but a reach this high.
4. Seahawks: Mark Sanchez, Quarterback, USC
Incumbent Matt Hasselbeck turns 34 this year and missed much of last season with a bad back. Sanchez can be groomed for a year or two, then be ready to play.
5. Browns: Aaron Curry, Linebacker, Wake ForestDT B.J. Raji would allow Cleveland to move Shaun Rogers to DE full time. But Curry, who can play inside or outside LB, is a better sideline-to-sideline fit for Eric Mangini's 3–4.
6. Bengals: B.J. Raji, Defensive tackle, Boston CollegeCincinnati can line up Raji (6' 2", 337) alongside free-agent pickup Tank Johnson on the inside of its 4–3, giving coach Marvin Lewis the run stoppers he's always wanted.
7. Raiders: Jeremy Maclin, Wide receiver, Missouri
Oakland will be tempted by the quality tackles still available here, but when in doubt, longball-loving Al Davis usually looks for speed at the wideout position.
8. Jaguars: Eugene Monroe, Tackle, Virginia
Coach Jack Del Rio loves LB Rey Maualuga, and the USC product is a real possibility here. Monroe (6' 5", 309), however, gives Jacksonville a Week 1 starter at LT.
9. Packers: Andre Smith, Tackle, Alabama
Green Bay will think hard about choosing Michael Crabtree or Aaron Maybin, but with longtime starting tackle Chad Clifton turning 33 this year, Smith is a good fit here.
10. 49ers: Michael Crabtree, Wide receiver, Texas Tech
Excellent route runner with great hands who could go as high as No. 4—Seattle has been all over him. The concern over the stress fracture in his left foot is overplayed.
11. Bills: Aaron Maybin, Defensive end, Penn StateA junior, he has the most upside of any pass rusher in the draft, but with this proviso: He's strictly a speed rusher and will need to put on weight to be a complete NFL player.
12. Broncos: Brian Orakpo, Defensive end, Texas
On his visit to Denver he impressed Broncos brass with his NFL-ready body (a rock-solid 6' 3", 263) and experience. Must play with more intensity on every snap.
13. Redskins: Robert Ayers, DE-LB, Tennessee
A classic one-year wonder with a first-step burst that can't be taught. Washington is also sorely tempted by Sanchez and could trade up for a shot at the USC passer.
14. Saints: Malcolm Jenkins, Cornerback, Ohio State
Despite a major need at RB, New Orleans won't be taking popular mock-draft pick Chris Wells here. Getting a physical corner for the sagging D is much more important.
15. Texans: Brian Cushing, Linebacker, USC
The first to go among the three Trojans 'backers considered first-round material. Cushing's versatility—he can play all three linebacking spots—is the difference.
16. Chargers: Knowshon Moreno, Running back, Georgia
Tough call. San Diego has other needs and rates explosive UConn RB Donald Brown nearly as high. But Moreno satisfies the long-term need for an every-down back.
17. Jets: Connor Barwin, LB-DE-TE, Cincinnati
When new coach Rex Ryan looks at Barwin, he sees the second coming of Adalius Thomas, the all-over-the-field OLB he had in his 3–4 defense in Baltimore.
18. Broncos (from Bears): Peria Jerry, Defensive tackle, Mississippi
Denver continues to address its massive defensive needs with this middle-of-the-line slasher—and has three more picks between 48 and 84 to further restock.
19. Buccaneers: Josh Freeman, Quarterback, Kansas StateBucs don't love a soul in this draft, not even at the top. Since they don't have a QB of the future, Freeman is a sensible pick. Some scouts see Ben Roethlisberger in him.
20. Lions (from Cowboys): Michael Oher, Tackle, Mississippi
Playing with the agility of a power forward, the 6' 5", 309-pound Oher enables Detroit to move longtime LT Jeff Backus to guard this season or next.
21. Eagles: LeSean McCoy, Running back, PittThere are more accomplished backs in the draft, but coach Andy Reid loves how McCoy catches the ball out of the backfield. He'll provide relief for Brian Westbrook.
22. Vikings: Alex Mack, Center, Cal
Gritty blue-collar player is the perfect replacement for departed Pro Bowl center Matt Birk. Dark-horse possibility: monster (6' 8") Oklahoma tackle Phil Loadholt.
23. Patriots: Percy Harvin, Wide receiver, Florida
One smart guy swears they're taking UConn CB Darius Butler. Maybe. But with four picks among the top 58, the Pats can afford a luxury like the dangerous Harvin.
24. Falcons: Brandon Pettigrew, Tight end, Oklahoma State
Atlanta needs front-seven help more, and could take Missouri DT Ziggy Hood here. But the best blocking-receiving TE in the past three drafts is too good to pass up.
25. Dolphins: Clay Matthews, Linebacker, USC
The Bill Parcells–Jeff Ireland combination confounds those who had Miami taking a wideout. The club still has selections at Nos. 44 and 56 to fill that need.
26. Ravens: Rey Maualuga, Linebacker, USC
Baltimore could take CB Vontae Davis or a WR here—but not local favorite Darrius Heyward-Bey. The temptation of having Rey someday succeed Ray (Lewis) is too great.
27. Colts: Hakeem Nicks, Wide receiver, North Carolina
I'd pick Vontae Davis and pair him long-term with Kelvin Hayden at CB, then get a wideout like Ohio State's Brian Hartline later in the draft to play the slot.
28. Bills (from Eagles): Eben Britton, Tackle, ArizonaBuffalo sent disgruntled LT Jason Peters to Philly for this pick. Britton isn't the athlete Peters is, but he's durable (37 college starts) and tough enough for the job.
29. Browns (from Giants): Alphonso Smith, Cornerback, Wake Forest
Cleveland acquires this pick and a fourth-rounder from the WR-needy Giants in exchange for Braylon Edwards. Smith might be the best cover guy in the draft.
30. Titans: Max Unger, Center, Oregon
Tennessee needs receivers but can fill that need later as good wideouts drop to the second round. Unger can be phased in to replace aging Kevin Mawae.
31. Cardinals: Donald Brown, Running back, UConn
Picking this workhorse ballcarrier and pass protector will allow Arizona to let the aging Edgerrin James ride off into the sunset somewhere else.
32. Steelers: Vontae Davis, Cornerback, Illinois
Good, safe long-range pick that fills the hole created by Bryant McFadden's departure. Davis is the kind of physical corner Pittsburgh has craved over the years.