After practice on Wednesday, Texans coach Gary Kubiak was the featured speaker at the Touchdown Club of Houston's "Houston Texans Day" presented by Regions Bank.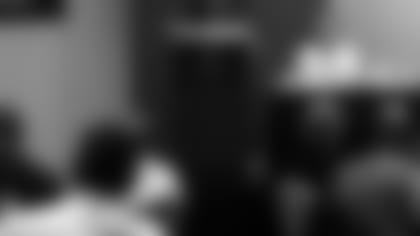 Kubiak gave a general overview of the upcoming season during a 20-minute speech at the JW Marriott. He discussed the Texans' 2010 draft class at length, including eyebrow-raising remarks about cornerbacks Kareem Jackson and Sherrick McManis and defensive tackle Earl Mitchell.
"I think you'll see three, four, five of these guys be big factors on our football team, just like you have in the past," Kubiak said of the nine-player draft class. "I think our drafts have been very good, and I feel good about this one."
Here are the highlights of Kubiak's comments on each pick:
On Jackson: "I think (he) has been exceptional. He's everything we thought he would be, well-coached coming from Nick (Saban) at Alabama. He has been a starter since the day he got off the plane here in Houston, and he will be a big-time contributor. We've had a couple of great rookies here in the past few years. I think this kid – I don't want to put that pressure on him – but I think y'all will be talking about this kid in that same light before this season's over. He's been excellent."

On RB Ben Tate: "He's got a lot of ability. He's behind the rest of the football team, but he's very, very talented. It's our job to catch him up. He's being brought here to help us right away, and y'all know that, from a running back standpoint… We'll get him caught up."

On Mitchell: "Our third guy, I think, is going to be a big surprise. I tell you, I think he's going to steal some guys' lunch money up front. They better play hard and they better do a good job, or he's going to run some of them off. This kid plays extremely hard. He's not real big, but he's all about effort, and I've been really impressed with what he's done and I think you're going to see this kind contribute a lot."

On TE Garrett Graham: "He has basically been pushed into being a starter. That's one position that concerns me right now with our football team with Owen (Daniels) being out, Joel Dreessen being out, Anthony Hill being out. So this kid's worked as a starter, and he's been exceptional... very smart, and he's going to play early and help our football team."

On LB Darryl Sharpton: "We felt like it was very important with DeMeco (Ryans). DeMeco has not missed any football; he's been exceptional. But we needed another kid that we can start to groom to be the quarterback of our defense, and that's why we drafted this young man. And not only have we been very pleased with him there (middle linebacker), but he can play all three spots. I think y'all will see him helping us on special teams throughout this season as we move forward."

On McManis: "We knew he was hurt, had a quad issue. We're getting him healthy. We think he belonged in the front end of the draft if he was healthy. We got him later (fifth round)… If we are right, we think we have a kid that will play for us for a long time. We think we may have stolen a player, but we've got to get him good and healthy."

On G Shelley Smith: "We're trying to get more competitive up front. I don't think we played good enough inside last year. He's probably as athletic an inside guy as we've drafted in the past few years, and he will push players inside. He will push (Kasey) Studdard. He will push (Antoine) Caldwell. He will push all those guys."

On KR Trindon Holliday: "Our little guy, the one guy I'm bigger than on the team. He is all of 5-6. Today we were doing our weights, our reporting weights for the season, and I saw his was 163 and I was like, 'Oh, my God.' But this kid's dynamite… He's very explosive, but the thing we have to do is we have to teach him to play receiver because in our business you suit 45 guys and you run out of specialty players."

On WR Dorin Dickerson: "Y'all have heard me use the word 'project' with him. (He) was a linebacker, a tight end, a fullback, a wide receiver. I think he's a wide receiver. He ran 4.3, he verticaled 43.5 (at the NFL Scouting Combine). He just needs a home to settle down, so what I've done is I've told him, 'You follow Andre Johnson everywhere he goes and you figure it out.' But I think this kid's got a future and has a chance to help us on special teams."