Sunday, Oct. 5 - 2:37 p.m.Peyton Manning just found tight end Tom Santi for a seven-yard touchdown pass with 4:04 remaining. Adam Vinatieri's extra point made the score 27-17, Texans.
I have to go down to the field, so that does it for my game blog. Thanks for stopping by, and Go Texans.
Sunday, Oct. 5 - 2:27 p.m.Touchdown, Slaton. The rookie's second score on the day gives the Texans a 27-10 lead 8:18 left to play.
Slaton is the first Texans rookie to score two rushing touchdowns in one game since Domanick Davis did so on Dec 28, 2003 at home against the Indianapolis Colts.
On an injury note, wide receiver Andre Johnson was back in the game on the Texans' last drive. Colts wide receiver Anthony Gonzalez is questionable to return with a concussion.
The paid attendance at today's game is 70,118.
Sunday, Oct. 5 - 2:20 p.m.The Texans' offense is rolling. Slaton hit the outside edge and made a defender or two miss on a 41-yard scamper down the left sideline to the Colts' 39-yard line. Rosenfels then found Kevin Walter with a short pass to the right, and Walter turned it into a 27-yard gain to the Colts' 12-yard line.
Slaton's 41-yard run tied for the fourth-longest in team history. He has 12 carries for 82 yards (6.8 average) and a touchdown.
Sunday, Oct. 5 - 2:17 p.m.The Reliant crowd was electric as it was, but Mario Williams just sent the fans into a frenzy with his second sack of the game. This one dropped Manning for a seven-yard loss on third-and-four from the 50-yard line to lead to a punt.
It's sixth time in Williams' career that he's had a multiple sack day. He had two sacks in the home opener last season as well when the Texans beat the Chiefs 20-3. This is the first time in Williams' career that he has sacked Manning more than once in a game.
Injury update: Colts defensive back Kelvin Hayden is questionable to return with a knee injury.
Sunday, Oct. 5 - 2:12 p.m.Kicker Kris Brown made a 43-yard field goal to put the Texans up 20-10. Brown is now seven-of-seven on the season. Punter Matt Turk, the holder, did a nice job to corral a low snap from long snapper Bryan Pittman. Pittman continues to struggle with his snapping this season, but it hasn't been too costly for the Texans thus far.
On the ensuing kickoff, linebacker Kevin Bentley leveled the Colts' Justin Forsett at the 26-yard line, drawing 'oohs' from the crowd. The leader of the special teams unit, Bentley has been solid in a reserve role this season.
Sunday, Oct. 5 - 2:05 p.m.With a 19-yard reception to the Indianapolis 31-yard line, Andre Johnson now has eight receptions for 117 yards on the game. This is the 19th 100-yard game of Johnson's career and his second this season.
Johnson took a hard hit on the play and was down on the field momentarily, but he got up to a rousing cheetr from the crowd and trotted off the field.
Sunday, Oct. 5 - 2:01 p.m.A costly defensive holding penalty on Colts defensive tackle Raheem Brock gave the Texans a first down at their own 46-yard line. Slaton ran for eight yards on third-and-17, but the five-yard penalty added to the end of the run gave Houston an automatic first down.
Colts cornerback Marlin Jackson was injured on the play. He left the game but walked off the field under his own power.
Texans defensive tackle Travis Johnson was injured earlier in the game but returned to the field after a few plays.
Sunday, Oct. 5 - 1:57 p.m.A healthy Ahman Green is giving the Texans a potent 1-2 punch at running back. He and Steve Slaton are trading carries and cranking out first downs by the handful. Both Slaton and Green have nine carries in the game. Green has 44 yards; Slaton has 34.
Sunday, Oct. 5 - 1:53 p.m.The Texans' D came up with a nice stop on the Colts' first drive of the second half. Cornerback Fred Bennett made two consecutive plays, deflecting a deep pass intended for Marvin Harrison and bringing down Reggie Wayne in the flat for an open-field tackle as Wayne gained only two yards on the play.
The crowd struck its first tangible blow of the game on the Colts' third-and-eight from the Houston 48, harassing Manning and the offense into a delay of game. Defensive end Mario Williams, who had a sack in the first quarter, got after Manning on third-and-15 to force him to dump the ball off for a minimal gain.
Sunday, Oct. 5 - 1:47 p.m.A drop by Owen Daniels on second-and-four led to a Texans punt. Rosenfels threw two incompletions on the drive after throwing three in the entire first half.
During the intermission, the Texans' video board showed highlights of a video game matchup between Morlon Greenwood and Steve Slaton in the Texans' College Football Matchup of the Week. They played NCAA College Football on X-Box 360, with both players using their alma maters - Syracuse for Greenwood and West Virginia for Slaton. Greenwood trounced the younger Slaton to earn a decisive victory.
Sunday, Oct. 5 - 1:30 p.m.Halftime by the numbers:
Quarterback Sage Rosenfels is 11-of-14 for 144 yards with a touchdown and no interceptions. He has a quarterback rating of 133.3. Peyton Manning is 13-of-18 for 153 yards with an interception and no touchdowns. His quarterback rating is 74.5.
Ahman Green is the Texans' leading rusher with 26 yards on seven carries. Steve Slaton has six carries for 15 yards and a touchdown and Rosenfels has run twice for seven yards.
Rosenfels seems to be on a mission to get the ball to Andre Johnson, and it's been a recipe for success in the first half. Rosenfels has completed passes to four different receivers: Johnson (seven for 98 yards), Owen Daniels (two for 29), Joel Dreessen (one for 11) and Andre' Davis (one for six).
The Texans have 12 first downs to the Colts' eight. Houston is two-of-four on third down while Indianapolis is three-of-eight. The Texans have outgained the Colts 192 yards to 169, including a 48-21 advantage in rushing yards.
Houston is two-of-three with touchdowns in the red zone, but they've scored every time they've reached the 20-yard line. The one time they didn't get a touchdown was when Kris Brown kicked a 37-yard field goal with the ball spotted at the 20.
Sunday, Oct. 5 - 1:17 p.m.With the Colts trying to mount a last-minute drive to put points on the board, linebacker Zac Diles wrestled a pass away from tight end Dallas Clark for an interception with 15 seconds remaining in the half. It was the first interception of Diles' career.
The interception sent the Texans into the halftime locker room with a 17-10 lead to the booming approval of a capacity crowd. Houston will receive the ball at the start of the second half.
Sunday, Oct. 5 - 1:17 p.m.Andre Johnson is taking over the game. With 27 seconds left in the half, Johnson grabbed a five-yard touchdown reception from Sage Rosenfels, who rolled out right and lofted the pass back toward the middle of the field.
Johnson has seven catches for 98 yards, the most yards he's had in the first half in his career. He had 97 yards in the first half of last year's season opener against Kansas City.
Rosenfels is 11-of-13 (85 percent) for 144 yards and a touchdown. His quarterback rating is 138.5.
Sunday, Oct. 5 - 1:05 p.m.A great play by cornerback Jacques Reeves prevented a Colts touchdown. Reeves batted down a pass intended for Reggie Wayne on what would have been a 31-yard touchdown.
Reeves has been heavily criticized for not making plays on the ball despite his ability to stay with speedy receivers on deep routes. He showed up in a big way on that play, and Adam Vinatieri missed wide left on a 49-yard field goal attempt to give the Texans momentum and the ball with 3:22 remaining in the half.
Sunday, Oct. 5 - 12:57 p.m.Automatic Kris Brown kicked a 37-yard field goal to tie the game at 10. Brown hasn't missed a field goal yet this season on six attempts.
Sunday, Oct. 5 - 12:55 p.m.Rookie safety Dominique Barber suffered an injury to his left hamstring. His return is questionable. He joins the ranks of injured Texans safeties that already includes C.C. Brown (out for season) and and Will Demps (out for game).
Meanwhile, it seems unlikely that Andre Johnson will be frustrated when he talks to the media after this week's game. He just turned a short pass into a 39-yard gain by splitting the defense with a nice showing of speed. Johnson already has five catches for 74 yards with 7:47 left in the first half.
Sunday, Oct. 5 - 12:50 p.m.Mario Williams took down Manning for his third sack of the season, dropping himi five yards behind the line of scrimmage on second-and-10. It was Williams' second sack of Manning in as many games against the Colts.
The Texans' video board cued up an animated rendition of the old Super Mario Bros. Nintendo game, complete with Super Mario theme music, with "Super Mario Williams" tossing Manning aside in the clip. The crowd roared its support for the defense on third-and-15 and Manning's pass for Anthony Gonzalez fell incomplete to give the Texans back the ball.
Sunday, Oct. 5 - 12:43 p.m.And the Texans are on the scoreboard. Steve Slaton ran in for a one-yard touchdown run to cap a nine-play, 71-yard drive that took 5:10 off the clock. It's Slaton's third consecutive game with a touchdown.
The score was set up when Rosenfels targeted Johnson in the end zone on second-and-goal from the seven. Cornerback Marlin Jackson was flagged for pass interference as the ball sailed out of bounds, giving the Texans a first-and-goal from the one. On second down, Slaton barreled into the end zone for a touchdown. Kris Brown's extra point cut the deficit to 10-7 with 12:06 left in the half.
Sunday, Oct. 5 - 12:38 p.m.Now there's a sight for sore Texans eyes. Running back Ahman Green just got his first two carries since injuring his ankle in Week 1. On the first carry, Green pummeled through Colts tacklers for a six-yard gain. He took off to the right for a seven-yard gain and a first down on the very next play.
Sunday, Oct. 5 - 12:35 p.m.Rosenfels and the Texans are making a clear effort to get Andre Johnson the ball. A week after No. 80 had only three catches for 38 yards at Jacksonville, he already three tachtes for 27 yards. With his third reception, Johnson eclipsed 5,000 career receiving yards.
Rosenfels looks incredibly sharp. He just rolled out to his left and hit tight end Owen Daniels for a 20-yard gain to end the first quarter. The Texans will have the ball on the Colts' 23-yard line to start the second quarter. Rosenfels is a perfect five-of-five for 56 yards.
Sunday, Oct. 5 - 12:30 p.m.Touchdown, Colts. A one-yard Joseph Addai run on third-and-goal put Indianapolis up 10-0.
The Texans' run defense has held up well, keeping Addai to zero yards on two carries to start the Colts' drive. But Peyton Manning is playing like Peyton Manning, and the Colts have been able to move the ball through the air with efficiency. Manning was noticeably out of sync with his receivers in the Colts' first three games, in which they went 1-2 before a bye week this past Sunday. It appears that they've sorted out their timing issues thus far as Manning has completed nine of his first 10 passes for 88 yards.
The Texans' defense has gotten the Colts into third- and fourth-down situations, but they haven't been able to put the clamps on on those plays to get the Colts' offense off the field. They had the Colts in a fourth-and-one from the 45, and I've never heard Reliant Stadium as loud as it was on that play. But Manning completed a beauty of a pass to Reggie Wayne all the way to the nine-yard line for a 36-yard gain. Cornerback Jacques Reeves matched Wayne step for step down the left sideline but was unable to make a play on the ball.
Sunday, Oct. 5 - 12:21 p.m.Despite a circus catch by wide receiver Andre Johnson, the Texans were stopped short of a first down on their opening drive. A leaping Johnson caught the pass from Rosenfels with linebacker Gary Brackett draped all over him and appeared to have enough for a first down, but an unfavorable spot left the Texans a few inches short and led to a Matt Turk punt. After the return, the Colts now have the ball at their own 36-yard line.
Steve Slaton had two carries for one yard on the drive.
Sunday, Oct. 5 - 12:16 p.m.The Texans held the Colts to a 46-yard Adam Vinatieri field goal on the opening possession of the game. Houston's defense, and the crowd, have come to play. Linebacker DeMeco Ryans stuffed Marvin Harrison one yard short of a first down to set up a fourth-and-one from the Houston 46-yard line. Defensive end Mario Williams applied pressure on the play, taking Peyton Manning to the ground as Manning released the ball.
Though the Colts got the first down on a six-yard run by Joseph Addai on fourth down, the Texans stopped the Colts from advancing the ball farther when linebacker Zac Diles knocked back Addai on third-and-one from the 26. Diles teamed up with cornerback Petey Faggins to drop Addai for a two-yard loss, forcing the field goal.
A rowdy crowd got the Texans' defense fired up on the drive and made communication difficult for Manning and the offense.
Sunday, Oct. 5 - 12:02 p.m.Prior to kickoff, the Texans presented a check for $2.4 million in Hurricane Ike relief as part of their Texans Helping Texans campaign. NFL Commissioner Roger Goodell joined Texans owner Bob McNair on the field for the presentation.
On to the game, the Colts won the toss and elected to receive. Kickoff is moments away.
Sunday, Oct. 5 - 11:05 a.m.This just in - Texans quarterback Sage Rosenfels will start in place of Matt Schaub, who is coming off his best game of the season. Schaub went to the hopsital last night with what an illness. He is at the stadium and active, but Rosenfels will get the start. He was 4-1 as a starter last year, with his lone loss coming at Indianapolis in December.
Sunday, Oct. 5 - 11:04 a.m.Reminder that NFL Commissioner Roger Goodell will address the media from the Texans' team auditorium at 11:20 a.m. Check it out live on Texans TV.
Sunday, Oct. 5 - 10:58 a.m.Sunday, Oct. 5 - 10:58 a.m.Looking at the inactives, it's noteworthy that the Colts have three makeshift starters on the offensive line due to injuries. Left tackle Tony Ugoh is active for the game but not starting. That moves the Colts' usual starting left guard, Charlie Johnson, over to Ugoh's spot. Backup Jamey Richard, a 23-year-old rookie out of Buffalo, takes Johnson's spot at left guard. Richard started the first two games of the season and played as a reserve in Week 3. Rookie Mike Pollak is starting at right guard.
The Texans will have to disrupt Peyton Manning to have success on defense, and the patchwork on the Colts' line certainly doesn't hurt the chances of Mario Williams & Co. of doing so.
Sunday, Oct. 5 - 10:53 a.m.It's a beautiful day to watch a football game with the roof open - 79 degrees with scattered clouds. Can't wait 'til noon arrives.
See below for the view from the pressbox. Reliant is empty for now, but it promises to be packed shortly. There's a buzz outside of the stadium that tells me the atmosphere could be nothing short of electric come kickoff time. From talking to Texans players in the locker room this week, it's clear that they're excited to have the home crowd behind them after three road games and a hurricane made for a turbulent start to the season.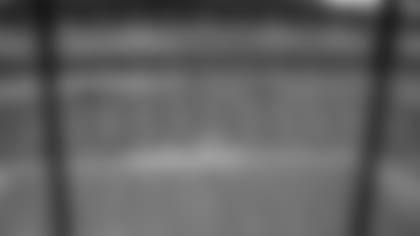 Sunday, Oct. 5 - 10:37 a.m.
With kickoff less than 90 minutes away in the Texans' much-anticipated home opener, here are the inactives, hot off the press:
Texans
RB Chris Taylor
SS Will Demps
LB Xavier Adibi
G Kasey Studdard
T Rashad Butler
TE Mark Bruener
DE N.D. Kalu
DT Frank Okam
Colts
S Bob Sanders
LB Buster Davis
T Corey Hilliard
T Dan Federkeil
WR Roy Hall
TE Jacob Tamme
DT Daniel Muir
DE Marcus Howard
Changes to the starting lineup:
Texans
Brandon Harrison will start at strong safety for Will Demps.
Colts
Left guard Charlie Johnson will start at left tackle for Tony Ugoh. Jamey Richard will start at left guard. Mike Pollak will start at right guard for Dan Federkeil.