Saturday, Aug. 16 - 9:32 p.m. NEW ORLEANS -Defensive end Tim Bulman got the first sack for either team, taking down Brunell for a loss of three yards.
Rookie Alex Brink went in for Rosenfels with about nine minutes left in the fourth.
Saturday, Aug. 16 - 9:20 p.m. NEW ORLEANS -Slaton knows what it's like to be in the end zone after scoring on a 10-yard run in the fourth quarter. Slaton has become a more complete player in just one week. He made an 18-yard kick off return. His block allowed Rosenfels to connect with wideout David Anderson on a 43-yard pass. He quickly is climbing his way up the depth chart.
Saturday, Aug. 16 - 9:01 p.m. NEW ORLEANS -Taylor was shaken up by a hit from tackle Kendrick Clancy. He was helped off the field and treated for cramps on the sidelines.
Saturday, Aug. 16 - 8:55 p.m. NEW ORLEANS -The Texans switched gears in the third quarter and worked their run game. Rookie Steve Slaton used his speed to pick up 12 yards. But most of the carries went to Chris Taylor, who had five rushes including a one-yard touchdown run on the first drive.
The Texans wanted to see more from their backs, so they could spend the majority of their time running the ball in the second half.
Also, linebacker Chaun Thompson and rookie cornerback Antwaun Molden have made their preseason debut as Texans. Both sat out against Denver with injuries.
Saturday, Aug. 16 - 8:15 p.m. NEW ORLEANS -Quarterback Sage Rosenfels came into the game with less than a minute left before the half, as the Texans ran out the clock. The teams headed to the locker room with the Saints ahead 20-17. This game hasn't been short on excitement. Walter has worked the field to record 100 receiving yards. He has made tough grabs with people all over him. In the half, Schaub was 14-16 for 187 passing yards.
Brees has looked almost as good. He's 12-17 for 147 yards. He played the entire half. It will be interesting to see how much time the starters get in the second half, when backups usually get time to prove themselves.
Saturday, Aug. 16 - 8:15 p.m. NEW ORLEANS -Reeves is not having his best night. He was beat on a 39-yard pass in the first quarter. Bush leaped over him in the end zone. With about three minutes until the half, Reeves was called for PI, giving the Saints 18 yards on the play.
Saturday, Aug. 16 - 7:59 p.m. NEW ORLEANS -This sure doesn't feel like a preseason game. Both teams are fired up. Reggie was pushing away Jaq Reeves after he caught a seven-yard pass from Brees. Texans cornerback Fred Bennett thought Reggie should have been called for a facemask penalty and got in Reggie's face about it. Bennett calmed down, but Reggie came back several plays later with a 12-yard touchdown catch where he jumped over Reeves to get into the end zone. It was a USC-like move for the running back, and he wasn't shy about celebrating it.
Saturday, Aug. 16 - 7:54 p.m. NEW ORLEANS -Fullback Vonta Leach caught his first preseason touchdown catch as Texans when Schaub hit him with a one-yarder in the second quarter.
Saturday, Aug. 16 - 7:37 p.m. NEW ORLEANS -The Texans defense continues to hold its own in the red zone. After Jones fumbled punt at Houston's 10-yard line, the Saints were only able to come away with a 25-yard field goal. Later in the first quarter, safety C.C. Brown batted away a pass from Drew Brees to wideout Mark Campbell. The Saints had to settle for a 33-yard field goal.
Against Denver, Houston's defense was 4-1 in the red zone.
Saturday, Aug. 16 - 7:25 p.m. NEW ORLEANS -Wide receiver Kevin Walter just showed why he has been the most consistent player for the Texans this preseaon. Walter caught a 26-yard touchdown pass from quarterback Matt Schaub on third-and-six. Walter helped set up the drive with a 17-yard pass at the New Orleans 30.
Saturday, Aug. 16 - 7:13 p.m. NEW ORLEANS -After defensive end Earl Cochran stuffed Bush, the Saints punted and wideout Jacoby Jones fumbled the punt. That is the second straight game Jones has fumbled on a punt return. Jones had wanted to show up big in his hometown. He had talked all week about returning a punt for a TD infront of his grandmother, who hadn't seen him in a pro uniform until tonight. Jones' fumble could mean that David Anderson or Steve Slaton will be returning punts for the rest of the game.
Saturday, Aug. 16 - 7:03 p.m. NEW ORLEANS -Reggie Bush's left knee must be feeling better because he just came out of the tunnel with the Saints starters. That means a Mario-Reggie showdown is on deck. The stakes for this game just got a whole lot higher.
Saturday, Aug. 16 - 5:53 p.m. NEW ORLEANS -Both teams just reported their lineup changes and inactives.
Texans inactives: QB Shane Boyd, WR Tim Carter, CB Dunta Robinson, RB Ahman Green, T Scott Jackson, G Fred Weary, T Ephraim Salaam and WR Andre Johnson. No surprises there since all of those players (except Boyd) have been dealing with injuried.
Texans lineup changes: RB Chris Brown will start for Green. WR André Davis will start for Johnson.
Saints inactives: S Josh Bullocks, CB Mike McKenzie, LB Mark Simoneau, WR Adrian Arrington, TE Jeremy Shockey and DT Hollis Thomas. Shockey is being held out because of a nagging hamstring. Saints coach Sean Payton plans to sit RB Reggie Bush so he can rest a sore knee.
Saints lineup changes: NT Sederick Ellis will start for DT Brian Young. MLB Jonathan Vilma will start for Simoneau, CB Randall Gay will start for McKenzie and TE Mark Campbell will start for Shockey.
Fans are starting file into the Superdome, which could be the coldest stadium I have ever visited. I'm hoping this places heats up when full. Yesterday, a security official for the facility told me that the city pays around $500,000 a month in electricity charges for the Superdome and the New Orleans Arena.
Brooke Bentley
Saturday, Aug. 16 - 5:03 p.m.
NEW ORLEANS - We're blogging live from the Louisiana Superdome as the Texans take on the New Orleans Saints at 7 p.m. CST. The Texans' offensive players arrived at the dome at 4 p.m. and are currently getting loose on the field. The defensive players just arrived and will take the field shortly. Here's a photo taken from the Saints' press box of quarterback Matt Schaub dropping back to pass.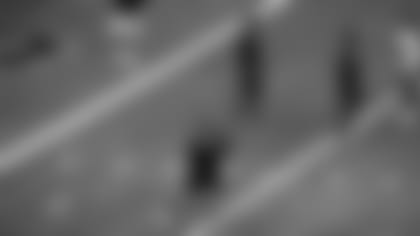 Other than the smattering of Saints players on the field and the Saintsations (Saints cheerleaders) warming up on the sidelines, the stadium is empty aside from the press box. Being in New Orleans for the past week, it's clear how much this town loves their Saints, so those seats should fill up as soon as the gates open.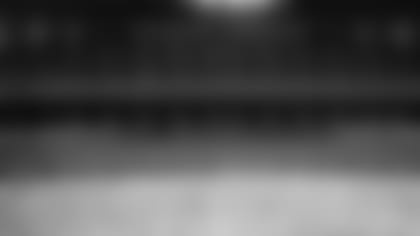 Here are five things to watch in the upcoming matchup. Running back Chris Brown will make his Texans debut as the starter tonight, while rookie cornerback Antwaun Molden will play in his first NFL game after sitting out the Denver preseason opener with tightness in his groin.
I'll be back shortly with updates, including inactives for the game and lineup changes.