(On his expectations for the season) "I expect to get better this season. There is always room for improvement. My main goal for the last few years was to be consistent, more each year. I want to build on last year and help the team win. That's my role here and that's what I intend to do."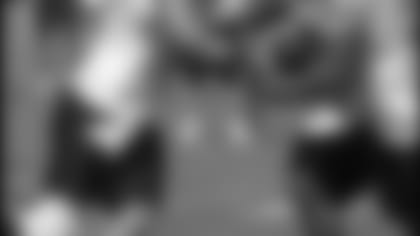 (On the progress and outlook of the offense) "I think our offense is going to play faster. That's all you really want as a quarterback, the other ten guys know what they're doing and they're fast.
(On the first practice) "It felt great. It was nice and cold out here (joking), threw the ball around a little bit and sweat a little bit. I went through four hand towels. It's no big deal. That's the first time that has happened. I'm just excited to be back out here playing."
(On playing on an experienced offense with no rookies) "It's understated how much of a difference there is. It's a big deal. I have guys in the offense now who I've played with and been in game situations with. The other guys I haven't played with are older than me and have veteran experience that they're bringing to our huddle. They are helping our young guys out."
(On if there is more pressure to succeed this year than in years past) "Actually if feels like there is less pressure because we have more talent. There is less pressure on me and some of the other guys because we have more people around us who can help us."
(On the outlook of the defense in training camp ) "We're going to go out there and hope that everyone has a good training camp and get everyone healthy and ready. We have everyone back...I'm excited about the team we have. There are some tough, strong guys up front, which makes mine and Dunta's (Robinson) job easier."
(On the defense stepping up in order for the team to do better) "The first year (the defense) stepped up. Last year we didn't. We just have to pick it up. We have the players to do it, but it's up to us. They only thing coach can do is give us a playbook and then tell us to go play a certain technique. You have to go out there and play, it's up to us. "
(On rookie CB Dunta Robinson) "One thing about Dunta is that he is mentally tough. As a corner, you need to have that. If you have that, you will make it in this league. I'm going to talk to him and continue to let him know what happens as a rookie. As a defense we have to know that he is going to have some tough times. We have to let him know we're behind him 100 percent."
Wide Receiver Andre Johnson:
(On not having a separate training camp and practice facility) "It's great. We don't have to travel anywhere. We stay right down the street from the facilities. Everything is very convenient."
(On practicing in the Houston heat) "I don't think today was that bad. It's been hotter than this before."