KAPOLEI, Hawaii –The mood at the AFC practice Wednesday at the idyllic Ihilani resort on the shore of the Pacific Ocean was understandably upbeat despite the cloudy, and somewhat rainy, weather.
Players were cracking up on the field during warm-ups, with the Baltimore Ravens contingent of linebackers Bart Scott, Adalius Thomas and Terrell Suggs, as well as safety Ed Reed, keeping the mood light.
Someone must have forgotten to send coach Bill Belichik the memo. Although the Patriots' boss was more laid back than he likely is during the season, Belichik still runs a pretty regimented practice schedule. Players broke into individual drills and then ran some seven-on-seven skeleton before getting into the team period and doing some special teams work. Coaches were doling out pointers like their jobs depended on it. I guess it's tough to break old habits. Football is football.
An interesting sight during warm-ups was Belichik conversing with Indianapolis Colts quarterback Peyton Manning, who attended his first Pro Bowl practice Wednesday after celebrating his team's Super Bowl victory earlier in the week. Considering the past and recent history between the Patriots and Colts, it was nice to see that two of the leading protagonists in the rivalry could put their differences aside and make small talk.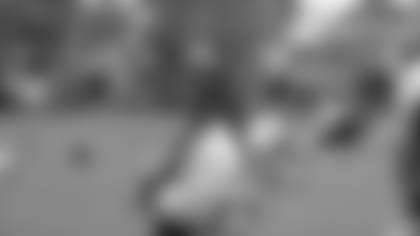 One change for many of the players here is participating in the kicking game. Very few of them, aside from the specialists, have to worry about special teams during the regular season. But it seems that some of the players enjoy it, particularly San Diego Chargers fullback Lorenzo Neal, who was barking out orders on kick return reps. Of course, a hammerhead like Neal probably likes any opportunity he has to hit someone, whether it's on offense, defense or special teams (Note: Andre Johnson rotated in on punt coverage).
One player who can't seem to get enough football is Cincinnati Bengals wide receiver Chad Johnson. The man commonly known as "Ocho Cinco" is hogging the NFL Network spotlight with his on-field antics that can be described only as highly amusing, considering some of his teammates seemed to be sleep-walking through the workout. While running routes Wednesday in an individual period, Johnson switched to cornerback to provide some coverage for the other wideouts. Surprisingly, he almost picked off a pass intended for Indianapolis Colts wide receiver Reggie Wayne.
After seeing the entire AFC Pro Bowl roster up-close and personal, I have to say that San Diego Chargers rookie left tackle Marcus McNeill (6-8, 336) and Jacksonville Jaguars defensive tackle John Henderson (6-7, 325) are the two most physically imposing players on the squad, followed closely by Pittsburgh Steelers defensive tackle – and Galveston native – Casey Hampton (6-1, 325).
Around Honolulu this afternoon and evening, even more celebrities arrived, including Hall of Famers Marcus Allen, Ted Hendricks and Houston-legend Warren Moon, who was seen at the popular seafood restaurant Duke's on Waikiki Beach along with Kansas City Chiefs tight end Tony Gonzalez.
Another workout is planned for the AFC tomorrow, along with the Pro Bowl Skills Challenge. Andre is in the running for the league's "Best Hands," so check back for the results and full coverage of the event on HoustonTexans.com. The event is scheduled to be shown on the**NFL Network**on Saturday, Feb. 10 at 10:30 p.m. ET. **
CLICK **HERE** TO SEND AN E-MAIL TO TEXANS INSIDER**