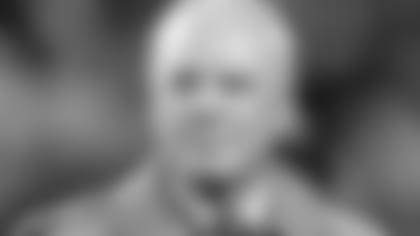 ]( "Texans owner Bob McNair")

Founder and Chairman Bob McNair spoke to the media yesterday while in New Orleans for Super Bowl XLVII. Below is the transcript of his quotes.
Founder/Chairman CEO Bob McNair
(on what the venue will go through In the offseason) "We'll just be looking at whether our concession stands need anything, whether our concourses need anything, whether anything needs refurbishing. Just in general, make sure everything's in top notch condition."
(on the possibility of Dallas and Houston rotating hosting the Super Bowl several times) "Well, first of all, the Super Bowl Committee determines who they're going to ask to submit a bid. That's something they will evaluate. One of the things that they look at is the weather and the last thing they want is to have is another Atlanta, if you recall that, where we had the ice and of course in Dallas when we had the ice. That's going to make it more difficult for Dallas, just like it makes it difficult for Atlanta or any other places further north. But we will see; it very well could be that the committee might decide that it's great to have two. We certainly would be happy with that. We've got no problem with it at all."
(on what he considers the priority of the football team to be) "Well, we have a number of areas that we would like to strengthen ourselves. We need more depth at the inside linebacker (position), we need more depth with our offensive line interior and we need another wide receiver and we could use another cornerback or free safety. That's it. Everything else is really in good shape. We've got the core group together, we just need to add a few more pieces here or there, and I think we can do that through the draft."
(on if he expects to prioritize drafting a wide receiver) "Well, it depends on what's available when our pick comes up. If we had an outstanding wide receiver who was available at that point in time, I don't doubt we'd take him. If there was a football player that was a better player that was an inside linebacker than the wide receiver that's available, we'd take him. We're going to take the best player that's available. We got a number of positions where we could use the player, so we're not limited to just one position looking for that player."
(on the cap situation) "I think we're in pretty good shape there. The main thing that this organization tries to do is sign those players that are already on our team so that we can keep that core group of players together, and we think that's more important than going out and signing expensive free agents. You don't know how they're going to fit in, you don't know how long they'll last and you don't know how they'll fit in your locker room. Usually, that's a bad investment."
(on the overall theme of the conversation when national radio speaks of the Texans) "Well, they recognize that we've got one of the best organizations in the league. Our record the last two years had been about as good as anybody. They recognize that we've got a good, solid football team that's going to be around for a long time. That's what we're trying to do, make sure that we're not a one-year wonder or something like that. That we will remain competitive, and our goal is to win Super Bowls. We know you can't win the Super Bowl every year, but we want to be competing for it. That's our goal. As long as we're in a position where we compete for it, we'll win our share. We don't know when that will be, but we know it will happen."
(on the criticism of QB Matt Schaub) "Well, that's just because he's the quarterback. That's the way it is. When you win, he's the hero, 'he carried the team' and when we lose 'it's all his fault.' It's no different, look at what Joe Flacco has gone through in Baltimore. Up until the playoffs, the last few games there, everybody said, 'Joe Flacco couldn't get the job done, they have to get somebody in Baltimore.' Now, he's really been playing well and people are starting to say what a great player he is. Same thing will happen with Matt. He'll have to step up and perform on the big stage when the bright lights are on, and we'll all have to."
(on DE J.J. Watt's effect on the team) "Everybody on the team respects him because of how hard he works. He never lets up in practice; he plays hard every play in practice and people respect that. What's good about it is that motivates other players to do the same thing. It takes a lot of discipline to go out there and give it everything you got every play. You might relax a few and he doesn't do that. It's a great attribute and the players have recognized that by naming him one of the captains. Brian Cushing is that way, you've got other guys on the team that maybe didn't have as much God-given talent, they had to work hard at getting where they are but they know that's why they're where they are is because of that hard work. That's the kind of work ethic we look for in our players. It picks everybody up."
(on DE J.J. Watt being part of the Houston community) "J.J. is sincere. We're not pushing him. It's just like this family where the mother and father were killed and the three kids survived and we didn't even know that he had gotten involved in that until after it already happened. It wasn't like we were saying, 'Ok, J.J., this is a great opportunity for you to go out and get some good PR.' No, he went out and did it because he was concerned about them, and he stayed in touch with them throughout this period of time and they send him text messages and he goes by and sees them. I mean, it's unbelievable that somebody with all the demands that he has placed upon him that he would take the time to go out and do that. I think everybody loves him because of that. It's just wonderful."
(on if he'd heard about DE J.J. Watt pretend marrying the little girl) "I heard about that. I mean, who would do that? That's just terrific. That's what it takes as we get more guys like that and more guys like Andre Johnson, who is quiet and doesn't do that sort of thing but is a great teammate and goes out and does his job day in and day out regardless of what's happening. You get guys like that and fans say, 'Man, those are the kind of players I'd like to be around. I'd like to have an association with them.' And that's what we want. That's how you build these great traditions."
(on why he thinks it has taken so long to get another Super Bowl bid) "Well, number one, as you get new stadiums, typically we reward cities or areas that have made public contributions to new stadiums. You start factoring those in and that takes up a number of slots right there. So there aren't as many opportunities, but I think part of it is people have to get used to the idea that Houston is a great, fun city. It's recognized as being a blue collar, hardworking town, where as New Orleans, I don't think that's their reputation. They got a reputation for partying and having fun, that sort of thing. Houston, maybe we've been too serious for too long. Maybe we need to party more. I think we just need to let people know that Houston is a great, fun spot. Great place to come and enjoy yourself. And, of course, we've got facilities that are second to none. We got that great campus out there at Reliant Park and we can hold so many of the activities right there. We've got a lot of advantages and since the last one we've added Discovery Green downtown, you got the new hotel downtown. So you got two really nice hotels right there, you got Discovery Green right there at the Convention Center. Facilities are really first class."
(on if the weather in Houston negatively affects the chance of hosting a Super Bowl) "No, our weather in Houston will be the same as what you'll be experiencing here. Typically, they just get it a day after us."