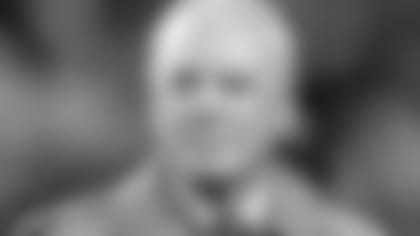 ]( "Texans Chairman and CEO Bob McNair")

Texans chaiman and CEO Bob McNair spoke with Drew Dougherty of Texans TV about the 2012 season, the return of Brian Cushing and more.
Texans Chairman and CEO Bob McNair
(on what he thought of what he saw at the Super Bowl) "I was thinking we need to be there. That was the main thought. But that was two good teams that are both balanced and really they try to do things in a way that's quite similar to what we do and that is they both have good running games, they both have good defense and they both have the ability to throw the ball. So it's a well-balanced attack and that's what we try to do."
(on what feedback he was getting about the Texans) "Well, everybody talks about what a great organization we have and how good our team is and how much they respect us. Just they thought we had a super season and, of course, we did have a very good season. We improved over the prior year, but we're disappointed because we're wanting a Super Bowl. But it was still a very good year."
(on DE J.J. Watt winning the Defensive Player of the Year and his limit) "Well, that's a good question as to what the limit is. Going forward, I don't want fans to expect each year that if he got 20.5 sacks this year, next year he's gonna get 22, next year he's gonna get 24. It doesn't work that way. A lot of it depends on the opportunity and who else is playing out there with him. But I think he's gonna continue to get better. We'll be seeing that, but it won't necessarily be reflected in the stats. People shouldn't expect that, but he's gonna be a Pro Bowl player, All-Pro, if he continues this he'll be one of the guys that's gonna be in the Hall of Fame. I don't think there's any doubt."
(on ILB Brian Cushing's return) "Well, it means a lot. Number one, Brian was the emotional leader who's captain of the defense, and he just had this great enthusiasm and spirit and it lifted the other players on the team and they played better. It wasn't just the loss of a guy in one position; it was also a reduced enthusiasm perhaps on the part of other players around him. To get him back is really good. We need to recognize that with the type of injury he had, players when they first come back form that type of injury, they're not gonna have quite the same speed that they had before the injury,. It takes some time. It might take him six months, it might take him all year before he's back to where he was before the injury. But he'll still be out there, he'll still be playing hard, he'll be a great addition to our defense and we're excited about having him back. He's doing great; his rehab is going great, he's ahead of schedule. He's doing fine. But these things take time. A lot of times people think, 'Well, he's gotten his medical clearance, he's gonna come back and automatically be just the way he was before.' And it doesn't work that way."
(on Qb Matt Schaub and supporting him) "Well, I don't think it's justified. I think Matt had a good year and I think all of us need to play better when the limelight is brighter. And we didn't do that. But that wasn't just Matt; we have 53 people on that team and everybody needs to step it up. We need to step it up, I need to do better, everybody needs to do better in this organization to get us there. Matt has all the ability in the world. We haven't said that he was quote "the best quarterback in the league," he's certainly one of the top ten. We've said that all along and we feel that way, and he can be one of the top five. I think he has the ability to do that. He hasn't quite gotten there yet but that's not to say that he won't get there. I think that the injury he had did slow him down some. He was probably in the back of his mind a little concerned about reinjuring his foot and we certainly didn't want to see that happen. He's gonna work hard in the offseason on improving his foot speed, and I think that will happen."
(on the offseason goal and the draft) "We, number one, we're gonna go back and analyze. We're gonna look at New England and how was it that New England beat us twice. What did they do that was different? What was it that we could have done that might have been different? How was it that Baltimore beat them twice and we beat Baltimore by 30 points? Is it that Baltimore is going something different than we're doing? Are they on offense or defense, do that have a different wrinkle? What is that difference? We got to play Baltimore again, we gotta play New England again, we got Denver. We just got to analyze everything we're doing in any place where we feel like we didn't perform where we wanted to perform. We've got to change that and get that performance up. That's the sort of thing that we're doing now. That leads you to the next question which is in order to do that,  do we add personnel or what are our priorities? Do we need another defensive back, so when we're playing nickel defense we're stronger. If people are gonna do this dinkin' and dunkin' on these short passes, we need to be able to cover those better. Do we need more speed at linebacker? Do we need a little more pass rush? Do we need a little better ball catching ability in the secondary? Do we need something on offense., we know we need another wide receiver to add some more speed thee. We got an offensive line that we want to see improve, and our young guys are gonna improve. At running back we're in good shape, we have good depth. We think we're in good shape at quarterback. At tight end I think we're in good shape there. You know, we've got some spots where we could use some more players, and when we get through with our analysis that will help us set our priorities."
(on what his role is in the draft process) "Well, my role is to meet with (GM) Rick (Smith) and with (COO) Cal (McNair) and with (Head coach) Gary (Kubiak) and the coaches and go through this analysis and make sure that we're all thinking clearly and not overlooking something. That we have come to a consensus as to what it is that we need to do and where we need to make changes. Then Rick and his people go out and work hard to get all the information on the players out there. And the coaches will work with them to try to get the right player at the right position. It's a group effort and we've got good people in place, and they're gonna do a great job."