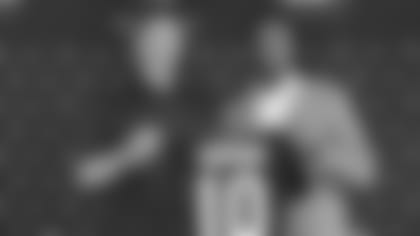 ]( "Offensive coordinator Rick Dennison, WR DeAndre Hopkins")

WR DeAndre Hopkins
(on the phone call he received last night from the Texans) "Oh man, it was special. My agent tapped me on the shoulder and said, 'This is might be it.' I don't think he wanted to tell me quite yet but it was a moment. Being there with my mother, my family members, it was special."
(on his first impressions of Houston and Reliant Stadium) "As soon as I got off the plane I was greeted by fans. I know that this is love-city. I can see that right now from the beginning."
(on if reality has sunk in yet) "Just a little bit. Looking at you guys, it's setting in now. I'm still enjoying it."
(on if he was surprised to be selected by Texans) "I really didn't have any idea. I'm not the type of player to look at stuff like that, I'm just going to come in and do my job. That's my mentality. Get picked, come in, and be the best wide receiver I can be."
(on if he followed the Texans last season) "A little bit, not a lot. I knew they were a good team and had the capability to win the Super Bowl."
(on if he has talked to Andre Johnson at all yet) "I haven't had the chance to talk to Andre yet. Me and Matt Schaub texted back and forth a couple times last night. J.J. Watt texted me and told me congratulations and be ready to come in and compete for a Super Bowl."
(on what he plans to say to Andre Johnson when he sees him) "That will be a conversation with me and Andre. I'm not exactly sure what I am going to say, but I'll let it play out."
(on what he brings to the Texans) "I bring a championship mentality. Whenever the ball is in the air I feel like it's mine no matter where it is or who is around me. I feel like I am a physical wide receiver and I bring an edge to the Texans."
(on what it means to him to share this success with his mother) "She is here because she's my mother and I love her more than any other woman. We've been through a lot as a family. So this time, right now, we're enjoying it. It's a relief off our shoulders. It feels like we can relax just a little bit, but still a lot of work to do."
(on what he thinks his role on the team will be) "I'm not sure exactly, I'll have to talk to coach about that. I'm just going to come in and compete for a spot and be the best wide receiver I can be. I feel like if I come in and try to beat whoever is in front of me it will make the whole team better."
(on coming into a strong offense) "Of course, we've got a great quarterback in Matt (Schaub), and great running backs and great wide receivers. I just have to come in and do my job. We've got a lot of pieces to the puzzle to win the Super Bowl and I feel like I have a great cast around me to help me grow as a rookie."
(on his development as a player through college) "Coming into college I didn't play wide receiver, I played DB. Everything was new to me; I didn't know how to run too many routes. I took coaching in and I studying film, I wanted to be the best wide receiver on the team once they told me I was playing wide receiver. I just focused on all the details to become a good wide receiver."
(on if Matt Schaub texted him last night) "Yeah, he texted me last night after I got picked."
(on what Matt Schaub said to him last night) "He was just telling me congratulations and to come in and be ready to help this team win basically."
(on why he switched from defensive back to wide receiver in college) "Because there was a need at Clemson for wide receivers at the time."
(on if there were signs that he would make a good wide receiver) "In high school, I had the state record for interceptions in a season and career, so they kind of knew when the ball was in the air, I was going to try and get it."
(on if it was exciting for him to transition to this new position) "It was. I just wanted to be able to help out my team. It doesn't matter where it was. If it was on kick return or punt return, anywhere, I just wanted to help the team win."
(on how tough of a transition it was to switch to wide receiver ) "It went well. We had great coaches. Coach (Dabo) Swinney, the head coach, he used to be a wide receivers coach. At the time, I had a young wide receivers coach, but Coach Sweeny, he was tough in the meeting room to kind of grow me up a little bit."
(on if he looked up to any particular defensive backs growing up) "Not really."
Offensive Coordinator Rick Dennison
(on how excited he is to add a new offensive weapon) "That's the beauty of it. With his skill set, we do what we do. We've got a guy that competes and competes for the ball and does what we do. He's very physical, which is what we demand of our wide receivers. It's not a matter of developing anything new. It's as he just stated, get him in here and let him compete and go from there."
(on competing with the other wide receivers in Houston for a starting spot) "It's going to help out the team, me coming in and trying to beat those guys out. Like I said, this is a chain-effect. I'm coming in and I'm making them better. They're making me better at the same time. It helps out the team overall."
(on what word he would use to describe himself) "It would be relentless because I play with an edge. I feel like I'm relentless out there on the field."
(on whether his aggressiveness comes from his background as a defensive back) "Yeah, just a little bit. I try not to get too many penalties, but yeah, that's where it comes from."
(on the physical edge required of this offense) "I mean a great running back like Arian (Foster), I have to be downfield blocking to make his runs longer. He's got to get that open space and I have to be able to help him out."
(on how he plans from learning from the veteran receivers like Andre Johnson) "I'm not going to bug them too much, he's a grown man he has his own life. I'm going to make sure that he teaches me what he knows so that I can be in his position come 11 years from now."
(on DE J.J. Watt and what he brings to the other side of the ball) "Oh man, he brings the edge that people don't want to run to his side. I want to be that on the other side of the ball. I feel like he's a leader of this team even though he's a young man. He's a great player, he's somebody I've been watching since he first started playing."