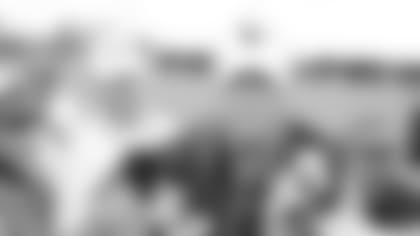 The Texans practiced Friday morning at the Methodist Training Center and after, head coach Gary Kubiak and some players answered questions from the media. The following is a transcript of their respective interviews.
Head Coach Gary KubiakILB Brian CushingDE Tim JamisonDE J.J. Watt
Head Coach Gary Kubiak
(on adjustments he made with DE J.J. Watt being out) "We had a hard morning because we had eight defensive linemen, then (NT) Earl (Mitchell) missed some of practice. Lonnie (NT Hebron Fangupo) had to leave—had a death in his family and had to leave practice early. So we had to just practice. We worked with two groups today. We battled through. I liked our practice; I thought offensively we practiced good throughout practice, defensively we finished practice awesome in the two minute drill, one every time. So we're just battling through till tomorrow, then we'll give them a break tomorrow afternoon and Sunday, then start to play."
(on further indications that DE J.J. Watt is going to recover just fine) "Yeah, I think that just the fact that you see him out here today, he's in rehab. I walked in the training room this morning five minutes after 5 (a.m.), and he was already there. So, that's J.J. He's going to be banging to get on this field as quick as possible, but we're going to do the right thing, get him to opening day, full speed. Hopefully that means he's playing a little bit in our preseason toward the end, but if that's not the case, I'm going to do what's right. But he's going to be back."
(on what NT Sunny Harris has done to impress him) "You know, he's gotten a bunch of reps. He moved from outside, moved inside. (Assistant Head Coach) Bill (Kollar)'s bounced him around. The first thing he did was get in great shape. He had a great off season, lost some weight. I think he lost like 10 or 12 pounds and he's moving better. And when you move you play better and that's kind of what's happened.
(on WR Keshawn Martin practicing with the first team) "I think he's showing that he's capable of doing it. There are some growing pains, there are some things that he's got to go through, but he's very professional in his approach, doesn't say a word just works. And he's going against J-Joe (CB Jonathan Joseph) every day. That'll make you good real quick."
(on what he likes about Keshawn Martin as a wide receiver) "Well he's got great speed. I think what you could see is he can catch some little ones and turn them into real big ones. That's what you look for in the pass game. You don't have time to sit back there and wait on things to get way down the field, but you can throw a slam a guy can make somebody miss and go to the house, that's what you want."
(on what he likes about OLB Whitney Mercilus) "Well, he's just consistent. I mean, he's a pro—a very, very sharp young man for an early out guy. He's got his stuff together, he knows what's going on. Not only quick but very physical, too."
(on the progress QB Case Keenum is making) "He's kind of up and down. First off, he doesn't get a ton of reps a day so it's like boy, it's just bleeding for them to all be perfect. Like today, he had three or four chances to make some touchdown throws and just misses them. If he makes them, his day is great, if he misses them he feels like it was bad. I'm just wanting him to keep progressing. I love his want-to, this kid wants to be good. He studies very, very hard. I'm going to give him a chance to play in the preseason a great deal. I'm excited about him because I like his passion for the game of football."
(on if this is the best set of running backs he's had) "Yeah, I said that in a meeting yesterday visiting with our scouts. It's the best set of running backs I've been around because of what they're doing on the field, not names or anything like that. Just watching Arian (Foster) and Ben (Tate) are going at it just tooth to nail, not only out here but in the locker room every day. And I like the (Jonathan) Grimes kid, (Justin) Forsett has played very well. So we've improved right there and hopefully they're all in one piece when we get going."
(on the issue with G Cody White and NT Earl Mitchell) "(Cody) White had a little problem with his eye. He couldn't do something, he couldn't get something out of his eye so they took him to an eye doctor. Earl (Mitchell) pulled himself out, but I think Earl walked back in at the end, I'm not sure."
(on any updates on CB Kareem Jackson) "You know what, Kareem could probably practice tomorrow morning but he probably will not. Anybody who is close, we'll err on the side of caution tomorrow, give him a couple extra days and get going Monday."
(on the defense looking stronger than the offense at the morning practice) "I thought we practiced really good offensively throughout practice, but at the end of practice the defense finished the practice excellent. The two-minute drill, the three stops, two picks. And I told them after practice 'in that situation, it only takes one play to win,' and they made it today. On the other side of the ball, the quarterback's got to step up and make those plays."
(on mixed emotions when one side of the team does better than the other) "Hey, that's our team. We want them all to do good. So they're battling, they're competing. But that's our team, whichever side of the ball we make the play on, I'm sure we'll all be happy."
OLB Brian Cushing
(on his impressions of the team one week into camp) "I think it's going well so far. It's definitely a process. It's definitely a grind. It's something that we have to take on a day-by-day schedule. We're just trying to get better every single practice and every single day. That's the purpose of this and getting to be the best we can come September 9 vs. Miami."
(on if he's getting comfortable on his new side of the field) "I am. They are very similar positions, almost interchangeable for the most part. I think it's gone well, but we still have a lot of room to improve."
(on his health) "For the most part, I was pretty fortunate last year with injuries and whatnot. I just tried to focus the whole offseason on staying healthy and preventing injuries and doing what I can. Certain things you obviously can't prevent, but for the most part, I try to come to camp as healthy as I can."
(on if he's a smarter football player this year) "Oh yeah. I think every year in my career, I'll get smarter. It's just one of those things that you get a better grasp of a playbook and more knowledge, especially in another year in Wade (Phillips)'s scheme. I feel it's one of those things where I'll continue to grow as a player."
(on what it's like making big hits out on the field) "It's exhilarating. Anytime you can get the crowd and the whole team into it, especially as a defense, everyone is looking for those big hits and that's the kind of thing you look for—changing a game and being a playmaker. Stuff like that gets everyone up."
(on how much better the defense can be this season) "I think we definitely can improve. Last year, we were pretty much learning our entire playbook in one month, trying to squeeze it all in before our first game. Now we have a yeah under our belt; we had OTAs in the spring. We feel we have a rolling start."
(on Tim Jamison's opportunity with J.J. Watt's injury) "Tim came in with me four years ago, so he's a very consistent player. He's  been here for a while. Every single year, everyone looks at Jamison as that guy who always plays hard and does nothing but consistency. He's a guy who you know what you'll get from him every single day. He'll play as hard as he can. We're not worried about him stepping in. He's going to be a great guy filling in for us until J.J. gets back."
(on Whitney Mercilus) "Even from just watching him the first day of camp until now, you can just see the confidence growing in him. It's always interesting and fun to watch rookies with stuff like that and just seeing them get better and seeing them grow and defining themselves as a football player. He's going to fit really good into our scheme."
(on J.J. Watt being in a sling) "I know J.J. and I know he'll be back quick. I think, if anything, it's going to make him a better player than ever and hungrier to get back out on the field."
DE Tim Jamison(on players filling in when guys get injured) "When somebody goes down, somebody's got to step up. I want to be that guy step up and have my coaches and teammates trust me."
(on mental reps) "Mental rep is like watching J.J. (Watt) and Antonio (Smith) and they're attacking a block the wrong way. Then when I get a chance to get out there and face that block, I don't want to make that same mistake. Like I wouldn't want to make go in there and make the same mistake because that means I wasn't paying attention, so that's what I mean by a mental rep."
(on how he feels) "Back in the day, I felt anxious and nervous but now I don't. It's going to be like that. People are going to get beat up in the season. My job is to come out here and prove that I want to make this team and just go out there and perform and do anything that my coaches and teammates need me to do."
DE J.J. Watt
(on his elbow injury) "I got in (the training room) real early this morning, started the rehab process. We have an outstanding training staff here, so they treat me real well."
(on what it's like to not participate because of injury) "Watching practice (stinks). I hate it. I want to be out there with my teammates, my brothers. We're going to treat this to the fullest extent. Obviously, this is the preseason, so I'd much rather have this happen now than in the season, so I'm just going to make sure I'm 100 percent by the time I get back."
(on how soon he thinks he could be back) "I mean, I want to be back Week 1. That's my plan, my goal. Anything earlier is just a bonus but it's the preseason. I want to be there Week 1 when the games count, when it matters."
(on the relief he felt from when the injury occurred to when he found out he wasn't going to be out longer) "Oh, a big relief. Now I'll be able to run out of the tunnel with my teammates on 9-9 (Sept. 9). It's going to be a good day and I'm really excited about that. So I'm just going to rehab hard."
(on the possibility that he may come back during the preseason) "I mean, yeah. I'd love to. I'm going to try to get back as early as I can. You know me. I'm going to work my tail off to try to get out there for my guys and my teammates. But as long as I'm out there Week 1, that's definitely the major goal."
(on the play he was injured on and how scary it was) "It was scary. Elbow popped out; I mean it looked all weird, crazy looking. Guys are saying, 'Oh, look at his elbow.' I'm laying down there, like, 'Come on, man.' But Kap (Director of Sports Medicine/Head Athletic Trainer Geoff Kaplan), our trainers were right on the spot; came out and popped it right back in. It's football.  It's a freak accident. It's a play. That's the way football goes. Sometimes things like that happen. They pop it right back in and I'll be back as soon as I can."
(on hearing the crowd cheer from him when he walked out to practice today) "It's awesome. We have unbelievable fans. They're amazing. I really appreciate them and all their support on Twitter and Facebook, everything. I'm grinding to get back out here for them, too. They're so important to us. I want to get back out here for them."
(on his teammates saying it took a lot of energy out of the team when he went down) "It's an honor. My teammates are very generous. They're very nice guys. Obviously, I want to be out there with them and I feel like I'm a big part of this team. Just like when Duane (Brown) went down, when Andre (Johnson) goes down; big parts of this team. We all want to be out there. Nobody wants to be hurt. I'll be excited when I can play with them again."
(on fan support) "There's been a ton of support. I've had girls on Twitter offer to be a nurse. There's a girl over there saying I'll give you elbow massages. We have unbelievable fans down here and it's been great."
(on dragging a jug of water over to his teammates during practice) "They won't let me ride the bike. They won't let me do anything right now for this first day, so I'm trying to do everything I can to help my brothers. I mean they're struggling. I feel bad. I put them in a situation where they're a man down. They got to work a little bit harder, so I'm trying to make it as easy on them as I can."
(on how painful his injury was on a scale of 1 to 10) "When it happened, probably about an 8.5 and when he popped it back in, it probably bumped up to a 9. I'm feeling alright now."
(on how this injury compares to others he's had) "This is the worst one I've had but we're already on the rehab process. I feel great."

(on why his elbow is in a sling) "They just want to make sure it gets stabilized and starts the healing process."


AFTERNOON

The Texans practiced in the afternoon at the Methodist Training Center and after, head coach Gary Kubiak answered questions from the media. The following is a transcript of his interview.


Head Coach Gary Kubiak
(on the players who sat out today) "Jesse Nading missed the afternoon walk-through. He had a little heat issue this morning. Wade Smith, I held him out of the afternoon walk-through. His knee is a little sore so we kept him off the turf. We'll see how they are tomorrow."
(on WR Kevin Walter's ability to do the dirty work) "Kevin has made his living for 10 or 11 years doing extraordinary things physically and he handles everything mentally. Kevin is a grinder and a survivor in a lot of ways in this league, and that's why he's going to play 12, 13 years. We run an offense that's conducive for a guy like that. We need a receiver like that who can get in the box and play and do those types of things. He's been exceptional for us and he continues to be. Through this week it's amazing; the first three of four days were kind of rough on him but he's been at his best the last few. Kevin just finds a way to keep going and keep helping this football team."
(on the progress of RB Ben Tate) "Boy, it's been excellent. Sometimes I sit in my office in the afternoon and say, 'Boy, I haven't said anything about this guy or that guy.' But he's been exceptional. He and Arian (Foster), they really push each other. They're on each other. They both have matured a great deal and it's fun to watch to know that you're that deep."
(on DE Tim Jamison's practice) "He had a pretty good practice. We were down to seven, eight defensive lineman at times in practice. Tim's a grinder. He does his job all the time and getting all these reps now. (Keith) Browner did some good things. So it's a good opportunity for those guys with J.J. missing time, for them to step up and prove they can play."
(on DE Keith Browner) "We've liked him. Bill (Kollar) likes some of the things he's doing. He plays extremely hard. His background says he can do it. He comes from a pretty good football family, so we'll so how he does in the preseason."
(on the pass rush with Browner)  He's kind of tall, not a big bulky guy. He moves around pretty good and what we do up front. We love the stunts, so that's conducive to his talents I think."
(on the injuries on the defensive line) "It scares me. Usually this week, you get in trouble somewhere and our trouble seems to be taking place here at d-line. We got one morning to get through tomorrow. It'll be a tough practice. (Shaun) Cody will be back on the field so we'll push through. They tend to start getting healthier as we get closer to games and we start playing next week."
(on NT Shaun Cody situation) "I just held him this morning. It was time for him and O.D. (Owen Daniels) to take their day off. Remember, I do that every three days."
(on anything different in practice tomorrow) "No, we'll just keep battling. We got some short yardage goal line stuff to work on tomorrow. We're just going to have a tough practice and then they need a break, so we'll get a good day and a half off there and get everybody's legs back under them and then come back to work."
(on the importance of QB T.J. Yates getting extra reps in practice) "They're really valuable because let's remember T.J., it's only his second time around and he still hasn't had a training camp until this one. So all the reps he gets, whether they're walk-through or live, are very, very important. We do a lot of stuff in here. Even though were walking-through, we do lots of things."
(on QB T.J. Yates' command of the offense) "I know the first group's not going to panic if he walks in the huddle and that's important. He went in there last year, handled them and did some great things for our team. If something happens to Matt (Schaub) and T.J. comes jogging on to the field, they're not going to say, 'Uh-oh'. They're going to be saying 'Let's go T.J.', so that's what you want and he's working hard. He's got a long way to go. He can be a fine player. He can get a lot better as a pro and he knows it and he's working."
(on FS Daniel Manning working with WR DeVier Posey after practice) "I'll tell you what, Daniel and J-Joe (Johnathan Joseph) really take a lot of pride when they see these young guys that are workers that can be good players, they really help them out. They see the talent that Posey has. They see the talent (Keshawn) Martin has. They know they can help our team and they can either go out there and cover them up all day or they can cover them up and then tell them what you did wrong, and they choose to do the latter because they're trying to make their team better."
(on any area of the team that Kubiak would like to see improvement with for next week) "It would be hard to go to one. I think we need to settle down at wideout a little bit and say, 'Okay, this is the group that's going to work as the ones and twos.' I've been bouncing them around all over the place. I need to settle them down next week as we get ready to play. I've said all along, I think right now at camp that we're running the ball extremely well. We need to stop the run better than we've been doing. We're covering very well. We need to throw and catch better. So I think that's kind of where we're at right now as a team. But it's a process and there are many, many things to get done. We need to find some special teams players that'll make this team and that'll start next week."