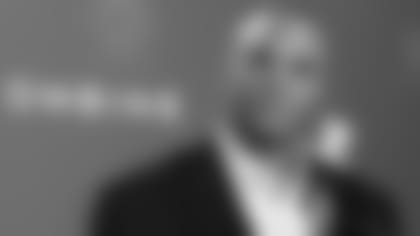 Texans TV's Drew Dougherty interviewed general manager Rick Smith on Thursday, and the two discussed the Combine, free agency and more. The following is a transcript of Smith's answers.
General manager Rick Smith
(on the combine solidifying draft selections) "I will say this, again it's a part of it. Obviously, the major part of a player's resume is his tape and what he put on film as a player. And then there are things that augment that evaluation process; the all-star games, the combine, pro days are coming up in the month of March, interviews, all those things, medical pieces. There are all these elements that go into a player's resume in terms of how we value him. But the combine is an important part of it. The medical piece is obviously a very important part, as is the opportunity to sit down with a guy in an interview setting and get to know him and although it's a limited amount of time, it is a productive time. And then to watch him compete against the other players in their position groups that are the top players in the draft. All of those things are very important. We certainly take a lot of information from the week over in Indy. It's a piece of the puzzle. It's not the end all to be all. Some things, as you used the word 'crystalized', were crystalized. We thought some guys were fast, we thought some guys had some issues with some explosiveness, you might have seen that. And then there were other guys that you think weren't as good athletically but all of a sudden they show up and maybe they're a little bit better than what you thought."
(on the wide receiver group meeting his expectations) "Well, that's a great question. Some players are fast, they're football fast. If they run 4.5, they play at 4.5. Some guys might run 4.4 or 4.39 but they play at 4.6. So it's got to translate onto the field. Everything that they do from an athletic standpoint in terms of trying to evaluate a player, it has to translate to the field. if they can't do that, if a guy runs 4.2 but he can't catch, it doesn't matter as much as a guy running 4.5 but has great hands and range around his body."
(on how important the interview process is) "What you do you've got 60 of those interviews. So you've got to be selective in terms of who you decide to interview and that might be predicated on need, on the depth  at the draft in a particular position. So there are all of these different variables that go into the decision making process of who the 60 interviews you pick at the combine. But the truth of the matter is, again, it's just a part. We've got college scouts who were out and know these players, have already interviewed these players. Our coaches will talk to all of them. We have, at the point of the draft, we have had exhausted ourselves with respect to the information we've gathered on these players. Just because we didn't talk to a guy formally in Indy, doesn't mean we haven't done our research on him. "
(on how much the combine affects free agency) "No, those are separate entities. We've got the free agent process, we've got our free agents that were talking to and the players on our football team that we'd like to resign. So that's what's going on now. Here in a couple weeks unrestricted free agency will start where you'll get to go and talk to the other restricted free agents out in the league. So that part of it is separate than what we're doing. We're kind of running parallel programs at this point, getting ready for restricted free agents, getting ready for the draft and that's what all the personnel departments are doing across the league."
(on the internal free agency process) "It's working out good; we've had good conversations with all those guys. I try not to do any negotiating in the media and I'm certainly not gonna do that, but our conversations are going well."
(on what the next month and a half holds) "Kind of like we mentioned, obviously our coaches have been introduced to the draft class now. They are working feverishly at this point to get caught up to speed with our scouts. The combine was a good op for that. We've got pro days that are coming up and then we'll start to be able to host players on our campus here, guys that you want a little more information on, guys that may or may not have had opportunities to go to the combine that you want to bring on campus and get to know a little bit better. Then we'll start our meetings in about a month or so. Start to put the board into a little bit more shape than where it is now."
(on the player ranking process) "We rank them all.  We try to be as exhaustive in our process as possible. We're looking at every guy from a scouting perspective from last May, any guy that we as a scouting department had deemed as draftable, we're gonna try to get. And so, there are guys as you work throughout the process that you have identified that you like better than others, but you've got to make sure that you don't over value those players. It's important from our perspective that we value players independent of need and independent of what our team looks like. Now put the value on what you think this guy's ability is in our league, rank them all, then hopefully on draft day you get a chance to get these guys you like better than others."