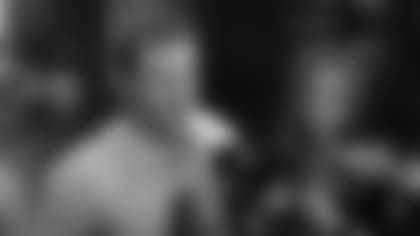 Texans P Shane Lechler spoke with the media Saturday following his signing announcement.
(on signing with the Texans) "Words can't describe this, getting to come home and play football, man, this is a dream come true. I was fortunate enough to play in the Silver and Black for 13 years and had a great time doing it. I always followed the Texans since they brought the franchise here. It's just something that I've been looking forward to for a while. I thought it was going to happen four years ago, but Mr. Davis offered something that I was not going to turn down. Now that that's out of the way and signing here today in Houston, I'm very excited."
(on if he was surprised the Raiders didn't make any effort to keep him) "I am, but that's in the past now. I knew, when I hit free agency this year, I knew there was one place that I had in mind, and that was here. Luckily, it worked out; the situation has worked out. Everything fell into place."
(on not only joining his hometown team, but joining a successful team) "This team, it's an exciting football team. To be able to go out and just have the feeling of winning and getting to the playoffs and knowing every Sunday that you've got a shot. I was fortunate enough to play in Oakland as a rookie and get beat in the AFC Championship game by Baltimore the year they won it. Then the next year, we had the 'Tuck Rule' game and the next year, the Super Bowl. All that stuff happened so early in my career that I kind of, I guess you would say took it for granted. I thought this was how it was going to be the whole time and it turned out 10 straight years after that, it wasn't how it was. I'm very excited to get back to the postseason and I'm excited for good things to happen here. It's been a long time since I got to the end of the year and had something to play for, so I'm ready for it."
(on people saying he had an 'off-year' last season) "I don't really know. There are a lot of things that kind of went into that. I had surgery the first day of training camp. It was a minor operation, but I rushed back into it a little bit quick. It took me into about Week 4 or 5, to be back onto my game. I kind of fell behind the eight-ball numbers-wise, if you want to talk about numbers. I fell behind the eight-ball numbers-wise, but after that, during the second half of the season, I felt like I was back to my old self."
(on what goes into being the leading punter in NFL history) "There's a lot of things. You're going to have to be very lucky sometimes. I've been given a lot of God-gifted talent. To be able to put that into situations where I can take advantage of some fields and some field position and stuff like that. As far as numbers go, I've been fortunate enough to have some pretty good ones. I'm not coming into Houston trying to say, 'Man, I can,' especially in a controlled environment, which would be hard to not cut loose every time. I'm coming in here to punt the ball to set the defense up the best I possible can."
(on how good he feels now compared to earlier in his career) "I feel way better than I did before the surgery, I'll tell you that. One of my goals is to go 20 years. I've still got a while to go and I feel like I can do it with no problem, barring any injury that comes out of nowhere. I'm ready and ready to go until they say, 'You need to get out of here and stop doing this.'"
(on if he keeps an offseason home in Houston) "I live right outside in Richmond (Texas). I lived in the Katy area first and then moved and built a house in Richmond and I've lived there ever since."
(on how nice it's going to be playing in Houston) "It's going to be outstanding because now I've got family, friends, all the support of my hometown, East Bernard (Texas). Everybody's excited. After the news hit last night that I was going to sign today, I mean my phone was non-stop from six o'clock until, I mean I stopped looking at it at about 11 and it was just steady, going off. Everybody's excited for me and I'm excited to be able to perform in front of them again. Just to go out and put on a good show for these guys."
(on if he thought he missed his opportunity to play in Houston four years ago) "I thought I did. I just didn't know that things were going to line up like they did again for me. I thought that maybe I did lose the opportunity. But that was a risk I didn't want to take. That was a decision I had to make. It was kind of one of those things where it was a no-brainer. I had to go back to Oakland. Mr. (Al) Davis and what the Davis family has done for me financially, my family financially, has really extremely taken care of me, let me do some things that without them I wouldn't have been able to do. My hat's off to Mr. Davis and Mark Davis, his son, and Carol (Davis). I'm fortunate enough to have been able to play in the Silver and Black for that long and had a good career and I appreciate everything they did for me."
(on the amount of family he has in the Houston area) "My parent live in Sealy, Texas. I've got one set of grandparents that live in Wharton. The other one lives in East Bernard. My brother's down in Mont Belvieu. I could have cousins, friends, you know, everybody. East Bernard is such a small town, I think everybody kind of feel like family throughout the whole town. I've got a lot of support here and I think they're all looking forward to it just as much as I am."
(on what he thinks about being a part of an all Texas A&M kicking tandem with Texans K Randy Bullock) "(K) Randy (Bullock) texted me last night. He was like, 'Glad to have you aboard.' I'm looking forward to working with Randy because he's a great talent. Unfortunately he had an injury last year. As a rookie kicker, and looking back at it after me being in 13 years, I'm not saying that was a bad thing. He got to sit back and watch how the whole operation goes and learn from the outside looking in and be able to learn the flow of an NFL season. It's not the same as college. You can see young guys come in and get tired toward that Week 12 or 13 area. He got to see it, live it and now he gets to go out and perform. I texted him back, you know, 'I'm looking forward to working for you. Let's go be a hero one of these Sundays and go win one for 'em.'"
(on why he didn't go to Baylor University after his parents went there) "My dad played defensive end at Baylor and my mom played point guard for the basketball team. And actually, my grandpa played center for the Bears. I had a whole bunch of people play for the Bears. R.C. (Slocum) came down and recruited me, along with Coach (Gary) Kubiak in '93. '94 I committed and man, I knew Texas A&M was home for me."
(on what it's like to be back with Texans Head Coach Gary Kubiak now after Kubiak recruited him in high school) "It's interesting. I had a couple conversations with him last year during the Pro Bowl, just kind of whatever kind of talking. It would be cool if I could end up there and finish my career. To be around Coach (Gary) Kubiak, it's going to be an honor and a lot of fun. They're winning a lot of football games, which I'm ready to get involved in as much as I can. I'm just excited about it."
(on what his surgery was last year) "I just had a scope to clean up my meniscus a little bit."