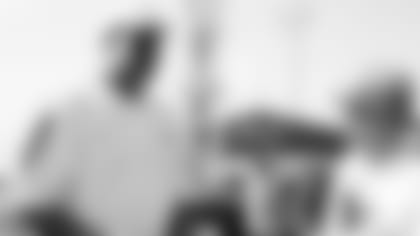 The Texans practiced Sunday morning at the Methodist Training Center on Day 2 of Training Camp. Head coach Gary Kubiak, basketball hall of famer David Robinson and some players talked to the media after. The following is a transcript of their respective interviews.
Head Coach Gary KubiakFormer San Antonio Spurs Center David RobinsonT Rashad ButlerWR Lestar JeanFS Danieal ManningWR DeVier Posey
Head Coach Gary Kubiak
(on if he has an update on WR Andre Johnson) "He was in a one-on-one drill and he tweaked his groin a little bit, so I told Kap (director of sports medicine/head athletic trainer Geoff Kaplan) to go ahead and take him in and let's go get it looked at. I don't think it's anything significant. Obviously, Andre has worked so dang hard to get back on the field full-speed, so it's disappointing. I don't think we're staring at anything significant. We'll let you guys know more this afternoon."
(on if WR Andre Johnson has had issues with this groin in the past) "No, he made a couple plays down there and he went down for a ball and he felt it pull a little bit. He wanted to go some more. We're the ones that pulled him out. We'll be smart with him, but obviously we need him back out here as quick as possible."
(on the collective worry when something happens to WR Andre Johnson) "I could feel it on the team. We're out there practicing and we had a pretty good practice today, not quite as enthusiastic as yesterday, but you could just feel the players looking over there wondering why Andre wasn't out here. He's a big piece of the puzzle and we all know that, but we'll get him right. Like I said, I'm not too concerned right now from what I'm hearing."
(on how many practices WR Andre Johnson might miss) "I don't know. He's going to miss a few. He's not coming right back out here tomorrow morning, I wouldn't think. We'll see. I'll let y'all know more today."
(on if they are approaching WR Andre Johnson's injury with a lot of caution) "Yeah, overly-cautious right now. The doctors looked at it and felt like it was fine. We're going to go have it looked at to make sure. Hopefully, we're talking about a few days. If it is a few days, we'll be smart and make it a few more and he'll be back out here."
(on basketball Hall of Famer and former San Antonio Spurs star David Robinson being out at practice) "It's pretty cool. I met him a long time ago. It's hard to talk to people that tall, you know? I met him a long time ago in a restaurant in San Antonio when I was a lot younger and he was too, but I have a great respect for him. What a great player, but what a tremendous human being. I think that speaks for itself."
(on how RT Rashad Butler is doing) "He's doing good. He's got competition. Newt (T Derek Newton) is right there breathing down his neck. They are splitting reps. It's going to be a good battle. It's time for him to prove he can be a starter in this league. It's the greatest opportunity that he'll ever have for he and (RG Antoine) Caldwell so we'll see how they handle it."
(on if it was good news that WR Andre Johnson's injury was not a hamstring) "I think the fact that it's very mild, whatever it is, is good news. Like I said, I'll wait and see this afternoon."
(on if he has high expectations from the defense even after losing key players) "No doubt. You lose (ILB) DeMeco (Ryans). You lose (OLB) Mario (Williams). We go out and spend our first round pick on (OLB) Whitney (Mercilus) and then we get (ILB) Bradie (James) coming in here. Our defense, I think they were great last year and I think they have a chance to improve dramatically just because it's their second year with (defensive coordinator) Wade (Phillips) and its Wade's second year with the guys. They are very well-coached. They play with a lot of confidence and have great speed. It's a great challenge, offensively, to go against them every day. I'm very pleased with what I've seen so far and I think they'll only get better."
(on rookie OLB Whitney Mercilus) "He's looked very good. He's got the speed and all those things that we know that he has. Now, we'll see the competitive nature. We put the pads on starting tomorrow, so that's what we need to see next. We haven't seen that yet. He's getting a ton of reps because we're holding (OLB) Connor (Barwin) when we're on the turf, so all those things add up to him playing very quickly."
(on how much better DE J.J. Watt has looked) "He's been impressive. We're just two days in, but he's hard to block. He's just very confident. The scheme is not a problem for J.J. anymore. He knows exactly what he's doing, so he's just out here cutting it loose and making plays. He's ready for a big year."
(on CB Johnathan Joseph in his second season in the secondary) "He's a shutdown corner. When you're calling defenses like (defensive coordinator) Wade (Phillips) is, that's a great comfort zone for you to have. It's a great challenge for all of our offensive guys to go against him every day. He was a big addition to our team. He really raised the level of our play, he and (SS) Danieal Manning, no doubt about that. He's a leader too, a fine young man."
(on second-year CBs Brandon Harris and Roc Carmichael) "The last five days of OTAs and the first couple days of camp, Brandon has been a little different player. Usually guys will make a big jump from year one to two, so we'll see. Roc (Carmichael) is still in his rookie year. He missed all of last year and did not play with his injuries, so he's probably behind Brandon right now, but we're expecting big things for both of them."
Former San Antonio Spurs Center David Robinson
(on watching the Texans training camp practice) "It was great. Obviously they had a great year last year and really they just needed to get over the hump a little bit. It's a great group of guys. Physically they look good. I think they'll be just as strong as they were last year."
(on what brought him out to training camp) "My son is a football player, so I'm trying to get him some exposure to excellence, get him to see what it takes to be at this level and this was certainly an eye-opening day for him watching how these receivers and these d-backs go at it and how the game is played so tight."
(on Texans players lining up to take pictures with him after practice) "It makes me feel like the old guy. It's phenomenal. It's great. They were very respectful and great guys and to see that they think highly of me is a wonderful blessing."
(on if he's a Texans fan) "Well, I'm trying to figure out what team I want to root for because my wife is from Chicago so she's a Bears fan. So every year I've been picking different teams but this year I'm going to be a Texans (fan). I have a (David) Carr jersey at home from a couple years ago but now I'm going to have to get another jersey and be a Texans fan."
T Rashad Butler
(on continuity of the offensive line) "We've all been here together so we all had that unit whether we were starting or weren't starting."
(on getting an opportunity to start) "Definitely, I look forward to it. The last opportunity I got, I took advantage of it. I look to do the same this opportunity."
(on his tenacity and drive to make the most of an opportunity) "That's what the League is about. Some guys get the opportunity to come into the League and play right away and be successful. Other guys come into the League and battle to stay on the team. So you got to keep battling because when an opportunity comes, you've got to seize it."
(on what he focuses on) "I just try to be good at everything. Whether its run blocking, pass blocking, against high rushes, against speed, power rushes. So I try to be good at everything and then a guy can't look at film and try to attack a certain area."
WR Lestar Jean
(on the difference between training camp this year and last year) "The best way to put it was I was just trying to impress the coaches (last year), but now they know what I can do and they expect me to do that every time."
(on the competition for the third wide receiver spot) "There's definitely competition for that spot, a lot of guys trying to fight to make the team and stuff like that."
(on working out with the first team at practice) "Everybody's got to step up and get into their roles. I just felt honored that the coaches felt comfortable with me and put me in that position."
(on how the three, four and five wide receiver spots have no NFL catches) "It's definitely motivation to know that nobody's ever had a catch. But that's why we're here, that's why we play the game. Everybody had to get their first NFL catch, their first NFL touchdown. That's part of the game."
(on his chances of getting the third WR spot) "I gotta work. My chance is like everybody else. We're all going to get opportunities and I have to take advantage of mine."
FS Danieal Manning
(on team unity) "Camaraderie is there, piggy backing off of last year. Guys are eager to win. Guys want to step out and be not just contributors to the team but big stars on the team. There's a lot of competition going on. It's heated up out there. I've been in big fights with guys that are competing differently."
(on training camp competition setting a tone for the season) "You can't underestimate that. That's what guys don't understand and what makes a team. We're down here in the trenches and the game's again on the line. We got somebody that's helped you out so much. In competing, you know that they've got your back. The best man that's working that year or that game is going to be the best man playing."
(on what to guard against in regards to high expectations, as he had experience with that when playing for the Chicago Bears) "I would say, from past experience, living in the hype. You can't go off of that. It's about what guys believe in the locker room. If you believe that we can make it to the Super Bowl and you work at that, it's going to happen. If not, and you just live in the hype and say 'they're giving it to us', nothing's going to happen. And that's what happened with the Bears. Some guys probably bought into it, and it never panned out for us."
(on if he thinks the Texans have the right mindset) "I do. It starts from the head, and head coach (Gary Kubiak) doesn't cut slack for anyone. You can get a guy like Andre (Johnson) or a rookie coming in, and he stays on everybody the same. That's what you need. Also you have players giving a lot of peer pressure. That's the best pressure you can have. Guys not letting guys slack around or take plays off, things like that. So that's a good thing."
WR DeVier Posey
(on what little things he's working on after practice) "Just trying to work on getting in and out of my breaks faster, more mechanically and more fundamentally right and just working on some things over there."
(on if he sees how close he is to playing a big role) "For me, I'm just trying to take small steps, do my little work after practice and get better every day. As long as I keep working on those things and just be the best player that I can be, hopefully when my time has come, hopefully I'm ready."
(on the relationship between him and WR Andre Johnson) "We talk every day. I ask him questions. At first, I was really excited to meet him and now he's just one of the teammates and one of the guys. You just admire his work ethic."
(on the learning curve coming out of college) "When you get here, you got to understand it's the pros. There's no room for error. The margin of error is really small and you just want to make sure you're as consistent as possible."
(on his personal expectations) "Of course, I have high expectations for myself. I'm my biggest critic. Anybody can write anything about me. Anybody can say anything about me, but it won't be worse than when I'm watching film and looking at myself. Until I'm pleased with myself, which I probably will never be, that's when I'll be satisfied."
(on what he's learning the most about) "Just the game in general. You learn a lot more about the game. Your knowledge for the game becomes so much more broad than it was in college. In college, you have a certain scheme and you're so narrow-minded, but when you get here, you have to know everything. You have to know the protections, know all this, all that, know motions and why you're doing this on this kind of scheme. Just your knowledge becomes a lot bigger."
(on Head Coach Gary Kubiak) "I love Kubiak. He's a great guy. He's a players' coach. He pushes you. He encourages you and then you understand when he's yelling at you, you know it's for a reason because he cares about his guys."
(on the veteran defensive backs) "We always talk about as an offense, if we can go against our defense and we can compete with those guys and keep up with those guys and win some against those guys, we can compete with anybody because they're a really good group their selves. Our defense comes out every day and they work hard. They always have good pursuit angles. They pressure you hard. They're out there every play trying to get better. If you can keep up to their level and sometimes match their intensity, you're definitely going to get better."

(on if he's seen anything from CB Johnathan Joseph that he didn't see in college) "He's a Pro Bowler. His patience is what separates him and his footwork and you know how fast he is. He's a great player."


AFTERNOON WALK-THROUGH

In the afternoon, the team held a walk-through practice inside the Methodist Training Center. Kubiak and some more players answered questions from the media. The following is a transcript of their respective interviews.


Head Coach Gary KubiakT Duane BrownWR Andre JohnsonCB Kareem JacksonOLB Whitney MercilusDE J.J. Watt
Head Coach Gary Kubiak
(on WR Andre Johnson's injury this morning) "He has a groin strain. It was just what we thought. We'll be as smart as we can be. We're in a big work week right now. I'll just keep up with y'all day-to-day right now, we'll see."
(on how pleased he is that WR Andre Johnson's injury wasn't serious) "I felt pretty good though, because he wanted to go back out there. When a guy is telling you that, I don't think it's too bad until the doctors take a look at it. We're just very fortunate. He's a guy we need to get out here and get working, him and Matt (Schaub) and he knows that. We've got to be smart here and get him to wherever that point is. Is it next week, or whatever, but we just need to get to work and get ready for the season. I think he probably took a big breath too. He just kind of fell awkward. I don't know if y'all saw the play but he just kind of fell awkward."
(on afternoon practice) "Kareem Jackson has a slight hamstring. He did not work this afternoon and possibly won't work in the morning. (Darryl) Sharpton has had a setback in his rehab that we are evaluating right now. It's kind of a hip issue going on with him. So I'll have some more information for you guys tomorrow, but he was doing well. Obviously, he's been through a lot. He had a little setback this morning and so we're trying to evaluate where he's at and where we're going next."
(on if the setback with ILB Darryl Sharpton was due to working today) "We're trying to get him to the point where he's ready to work with the team, so we pushed him really hard. We're going to push him today and tomorrow again. That's what we normally do with players that show us for three days that you can practice like the normal guys and work with the trainers, and then we'll turn you loose with the team. He had a setback today, so it's kind of been one thing after another for him. I feel bad for him. He's worked really hard. Hopefully this isn't too bad."
(on if he knows how far ILB Darryl Sharpton has been set back) "I don't. They're evaluating him as we speak."
(on if WR Lestar Jean is going to continue to get start reps in Andre Johnson's absence) "Yeah, but I think we bump everybody up. We give everybody a lot of reps. Those two young kids
(on WR DeVier Posey and Keshawn Martin) need a bunch of them. Trindon (Holliday) needs reps. All those guys have to move up again and we juggle them around, but we knew that was coming. That's why they're all here. We'll find the best five and it's an opportunity for a lot of guys."
(on WR Lestar Jean's progress thus far) "He's got a ways to go. I love his work habits. I love how he goes about his business. He's got all the tools: the size, he can run, he's smart. Lestar has just got to become a pro. Every day he just has to be consistent and make a play. He had a couple chances to make plays this morning that he needs to make. I'm not being hard on him. That's just way it is. If he's going to step up and play like a starter, then he's going to get a chance to start doing that. We've been impressed with his work.
T Duane Brown
(on the love-hate relationship of two-a-days)  "Well, it's necessary. Me, I'm going into my fifth year. I don't love it or hate it, but it's long days. I get in here around six in the morning and usually out around 9 p.m.  But I know it's necessary. I'm a guy who's pretty comfortable with it in the system, but I'm definitely trying to get better with my technique and polish my craft every day. There's just a lot of opportunity for that. You have to do this to condition and prepare yourself for a long season. I don't love it but I don't hate it either."
(on practicing inside) "I would definitely be in the bubble. That heat is no joke and being 300-plus, you definitely want to be inside as much as possible."
(on his feelings on the first few days of practice) "I feel good. People are always trying to knock the rust off, myself included. But it felt good to get back out here, just being around the guys and camaraderie. I'm really looking forward to tomorrow when we put the pads on because when you put the shoulder pads on and get to thud a little bit, it makes it more exciting."
(on being a leader and keeping teammates level-headed) "We're a very hungry bunch. We don't really feed into all of the talk. We know we're a talented group. We have a lot of confidence in our ability. We know we have a lot of work to do. It's going to be a long season and we have a lot of great teams on our schedule. You can't look past anybody. It starts here and we're just trying to take every play, every drill and every period very serious. I do my part to try to keep the guys up and get the young guys going. But Coach Kubiak does a great job of keeping us level and not letting us get too ahead of ourselves."
WR Andre Johnson
(on his injury from the morning practice) "My groin tightened up on me. It just got tight and I guess after everything I've been through last season they just wanted me to get an MRI to make sure everything wasn't worse than it was. It just tightened up on me. I had hit the ground pretty hard stretching out for a ball and it just tightened up. That's pretty much it."
(on the MRI he took earlier in the day) "It's just a minor strain. It will be a week or so and I'll be back out here. Nothing that I'm not used to; doing rehab. I started doing a little rehab before I came out here, just trying to get back out on the field."
(on how frustrating this most recent injury was considering all the rehabilitation he's done already to get healthy) "It was very frustrating but like I said, it happens. I wish I had some control over it but unfortunately, I don't. Just keep working and try to get better."
(on the concern from his teammates and coaches any time he sustains an injury) "When I came back from getting an MRI I had a bunch of the guys come up and ask me what was going on. It's great to have teammates that are concerned about you. But I'm fine. They can tell that I'm fine. They can see that I'm walking around. I'm not limping or anything. It's just a strain and like I said, I'm working to do everything I can to get right back out here."
(on it being better to suffer this injury now than later in the season) "I'd rather have it happen now than later. You don't want anything like that to happen right before the season. You'd rather have it happen now."
(on if he'll miss a week's worth of work before he's back out on the field) "You never know how you'll feel in a few days or whatever. Everybody's just saying just be smart about it. You don't want to rush in, come back out here and have something happen again. We'll be smart about it and just see what happens."
CB Kareem Jackson
(on his hamstring injury) "Just a little sore, not a pull, not a tear or anything. Not nothing serious, just preventing it from being a serious issue, just kind of taking it easy a little bit. Nothing to be worried about."
(on if his hamstring is aggravated at all) "Little bit, not much though."
(on which hamstring is hurt) "The left."
OLB Whitney Mercilus
(on if he has a love or hate relationship with two-a-day practices) "It's a hate love. It's definitely a hate love because it's less meetings, but you're out here, you're grinding really hard in both practices. So, I'd rather be outside than meetings."
(on if he would rather be inside than outside for practice) "Yeah, that would be nice, but whatever they tell us. You got to grind outside and get acclimated with this heat because we're going to be playing in Miami. It's going to be kind of like this."
DE J.J. Watt
(on if the talk about his hand work being better is true) "Yeah, I would definitely say that's true. I think overall the things like that are the things I'm going to gain the most this year. I can focus on those little things–hand placement, footwork–those things. And at the end of the day, that's what takes you from good to great, and that's what I'm trying to do."
(on if he's excited to play with pads tomorrow) "You have no idea. It's been too long, and I can't wait for that moment. It's going to be a lot of fun, and there's going to be a lot of clicking out there. That's why you play the game, to hit people, legally. You get to run into other men legally and try and knock them over. You can't beat that feeling. It's one of those things where I'm a real nice guy off the field–try and have a good personality, real good repertoire with the fans–but when you step across those white lines and you have shoulder pads on, your entire mentality changes."
(on making sure the player who makes the starting offensive spot is up for the challenge) "We got a lot of good guys over there, guys who are very, very capable. They make me better, I make them better. The best part of this team is everybody's good, so we make each other better."