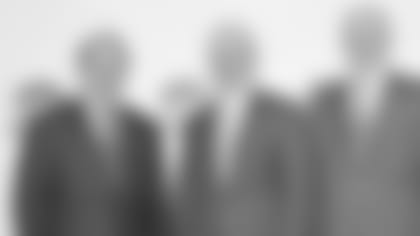 ]( "Ric Campo, James Baker and Bob McNair")

Greater Houston Convention & Visitors Bureau President and CEO Greg Ortale
Houston Texans Chairman, Founder and CEO Bob McNair
Former Secretary of State James A. Baker III
Camden Properties Chairman and CEO Richard "Ric" Campo
Greater Houston Convention & Visitors Bureau President and CEO Greg Ortale
(opening  statement) "Good afternoon, everybody. It's really exciting to be here to announce what we're going to be doing. Before I do that, though, I want to recognize Councilmember James Rodriguez from District 1. Thank you for coming. You know, going for a Super Bowl is a major, major effort, and it is not done by the Convention and Visitors Bureau alone; it is done with a whole bunch of folks. On our bid committee, we've got people from Harris County, we've got people from the city of Houston as well as Houston First, the Harris County/Houston Sports and Convention Corporation; we have SMG-Reliant Park, and also the Sports Authority – everybody: Sherriff's Department, Police Department – and a whole bunch of volunteers. In a very short time frame, there are a lot of things we've got to get done. We've got to secure all the venues, we've got to get 19,000 hotel rooms under contract, and we have to get the hotels to hold them for three weekends, so there's a lot of business that's going to be going on. Fortunately, we have a couple of things going for us, one being a great consultant, Sallie Sargeant, who is very familiar with Super Bowl presentations as well as many other big presentations that have gone one. But most importantly, I think our biggest asset is the enthusiasm of Bob McNair. He has energized all of us to really make something happen, and with that, it's a great privilege to introduce Mr. McNair."
Houston Texans Chairman, Founder & CEO Bob McNair
(opening statement) "Thank you, Greg. It's really an exciting time for us because this is such a big event and it is so important to the city of Houston. Otherwise, the people that are involved in this would not be dedicating their time and effort in such a valuable fashion. We have wonderful facilities here, as you know, with Reliant Stadium. There's no better stadium in the NFL. We've had the experience before, and it was a pleasurable one, in 2004 when we had the Super Bowl here. We have this great Reliant Park; we have tremendous area here where we can have many facilities. We have the hall across the way here, and then downtown we have the convention facilities. We've got the physical assets that are needed. We've got the restaurants, we've got the entertainment. We have everything that is needed, so I'm very excited about it.
"As I thought about this and how we could put our best foot forward, I thought about who we might ask to be our honorary chairman, and many times cities have had their mayor or they've had a governor or they've had a senator or what have you, and it's reached the point now where that's not the sort of thing that gets anyone's attention. As I looked around and thought about who really is respected by these other owners, because that's what really counts – there are going to be 32 of us and Houston's got my vote and whoever we're competing with will have that owner's vote, so that leaves 30 others – and who would be most favorably impressed by those 30 owners.
"And I could think of no one who is held in higher respect than Secretary Jim Baker. I know that Jim has a great love for this city, I know that he has great love for football, the NFL and the Texans, I know of the many things that he has done here locally. He's better known for the international accomplishments, and such momentous things as being Secretary of State when the Berlin Wall came down. I mean, how monumental an occasion was that? And so everyone knows who Jim Baker is and the good news is that Jim Baker loves Houston and he'll have an opportunity to tell you how much he loves Houston. He goes back, his family has roots going back to the 1800s.
"His grandfather, if you'll recall, was Captain Baker, who really is responsible for saving what is now Rice University in that the estate of William Marsh Rice was fraudulently being claimed by some other people and the will had been changed, and Rice was the beneficiary of that will; and had Captain Baker not gone to New York and exposed this, there wouldn't be a Rice University. And so his family has a great love and deep roots here in Houston.
"I know that all the other owners are going to be delighted to see him; he'll be with us at the owners' meeting in May. And Jim, I want to let you know how much we appreciate you doing this for the city. It's just a tremendous boost to our efforts, and I couldn't think of anybody that we would like to put forward who could represent our city in a better way. So with that, I'll introduce to you Secretary Baker."
Former Secretary of State James A. Baker III**
(opening statement) "Thank you very much, Bob. Ladies and gentlemen, I am really delighted to assist a good friend in this effort to bring Super Bowl LI here to Houston. Bob and I have been friends for a long, long time. We were friends before there were any Texans. Of course, our goal now is to encourage the owners, those 30 people that Bob mentioned to you, to recognize that one again, as was the case in 2004, Houston is the very best choice for their prestigious event.
"Let me say a word or two about why it is very special for me to serve as honorary chairman of this host committee. I've already mentioned my friendship with Bob and we've known each other long before his hard work got our city another National Football  League franchise, but I need to say a word or two about Bob because he was so successful before the Texans, and he's been successful with the Texans. He is a savvy businessman who has had success from the boardrooms of energy to the front offices of football, and of course to the many charities that he supports. He and Janice support charities not just in Houston and Texas, but around this country. So it's easy, I think, to understand why most National Football League observers consider this franchise to be a model franchise.
"Another reason, quite frankly, that I'm glad to serve as the committee's honorary chairman, is that I do love football. I didn't play it after high school, but I loved the sport, and I attend as many Texan games as I can, and I think nothing symbolizes Texas more than football – maybe Houston and Texas more than football.
"And the third reason that I'm glad to serve as honorary chairman is that I believe Houston is indeed one of the world's great cities. Now, I am a little biased because I'm part of a dwindling breed of native Houstonians – there's not a whole hell of a lot of us left. My family, though, has been here since 1872, if you can believe it, when my great grandfather joined the law firm that carries his name. I did move to Washington on two occasions to take part in another blood sport called politics, and I've always come back to Houston, though, after my team in that sport was defeated. So it's for those reasons that when Bob asked me to take this on, I immediately said yes with no hesitation.
"Let me say one word or two, briefly, about why I think the NFL owners should award our city its third Super Bowl. First and foremost, I think more than any other U.S. city, Houston maintains the brand of entrepreneurial spirit and work ethic that has fueled our nation. I was telling Bob a minute ago out there when we were waiting to come in here, the Brookings Institute recently ranked Houston as the top United States economy, and get this: the 40th top economy in the world. Despite the economic downtown, global economic downturn, our unemployment rate remains relatively low largely I think because of our ingenuity and work product. The NFL shows off, I think, the best of our country when it puts Houston center stage.
"Secondly, we are an international city. People from across the globe move to Houston to be a part of that incredible entrepreneurial spirit which I just alluded to. This is here in Houston, Texas, the land of opportunity. More than one million residents here were born in other countries. You look at the neighborhood of Gulfton, which includes residents who came here from more than 80 countries and speak more than 16 different languages. Houston is such a culturally diverse city that it has one of the highest concentrations of consulates in the country – I think the third-highest in the entire United States. So if you want to see what the United States will look like in the coming century, I think Houston provides you with the perfect snapshot.
"Thirdly and last, I think that Houstonians strive to be the very best. We do indeed have the world's best football stadium. We put man on the moon. We built the world's largest and best medical center. And we are the energy capital of the world. Also, for anyone who's been around here for a very long time, you know that we host the very best parties, bar none. We threw a great one earlier this month for the NBA All-Star Game. We have thrown two for past Super Bowls that were held here, and the list goes on and on. It's not too much to say, I don't think, that Houston knows how to throw one hell of a good party, and that is a lot of what the Super Bowl is about.
"So I am really pleased to be the honorary chairman of this effort. I want to conclude by telling you that I gave up predicting the outcome of campaigns a long time ago, so I won't offer a guess about our campaign to host the Super Bowl in 2017, but ladies and gentlemen, I am rock-solid certain about one thing, and that is that the Houston bid for the 2017 Super Bowl will be first-class and it will be one of which all Houstonians can be proud. Thank you very much, and I am delighted to turn the microphone over to our chairman, Ric Campo."
Houston Texans Chairman, Founder & CEO Bob McNair
(introductory comments about Ric Campo) "I want to tell you a little bit about how Ric became our chairman. We had our honorary chairman; now we said, 'Now we've got to have somebody that's ready to go to work!' (laughing) Ric is an outstanding executive with his Camden Property group. He came here how many years ago from Oregon? Thirty-five years ago. And really, in a way Ric, and to some extent me, I came here in 1960 from somewhere else; Ric came from here from Oregon and he has just become such an integral part of our community, our business community and our civic community. And I think that's typical of what we find in Houston. That's what makes this city such a great city: we welcome people like Ric to come here and to be so tremendously successful, and we're proud of him.
"He's been involved with the city in many ways – Houston First, which they manage the Hilton, the property downtown, and the Jones Hall and the Wortham (Center) and other city properties; and he's volunteered his time and effort for the Sports Authority. He has just done so many great things for our city and done it in such a competent way. He has the respect of the business community. I know he'll be able to enlist tremendous support from that corporate community, and I know that he's an outstanding executive and he will be doing a great job for Houston. And so we just couldn't have selected anyone who would offer all of the great skills and qualities that Ric brings to the table, and we appreciate very much, Ric, the fact that you're doing this for this city. Thank you."
Camden Properties Chairman and CEO Richard "Ric" Campo
(opening statement) "Thank you very much, Bob. A couple of hard acts to follow here. So keeping on this entrepreneurial sort of theme, it is really incredible when you think about what Houston is, and I'm really excited about being involved in this process. I think it's going to be great to communicate to those 30 owners how great this city is, what a great venue it will be to host the Super Bowl. I have a little experience at Super Bowls: I've been to 15 Super Bowls over the years, and I will say that Houston was right up there at the top of the list in terms of quality of venues and quality of experience from a Super Bowl perspective.
"But what we're going to do in our presentation to the owners is talk a lot about what's happened since the last Super Bowl, because they were all here or a lot of them were here for the last Super Bowl. And when you think about that, Houston has just been on a roll for the last nine years, and since we're talking about 2017, we're talking about a 13-year gap between the last time we had one. When you think about Houston being named the coolest city in the country and the best place to get a job by Forbes magazine; in the top 10 cities in the world – the only one in the U.S. that was on this list – that the New York Times even had Houston on this list for the top 10 cities in the world to visit. Another great one, being in the real estate business, is that AFIRE, the Association of Real Estate Foreign Investors, which controls $2 trillion of capital, has Houston for the first time in the top five cities to invest in in the world for 2013. So we've got a whole lot of things that are really, really helping Houston and will support our bid.
"The Super Bowl village is something that is really important to the NFL, and it should be, because that's the experience the fans get, and we have come a long way since then. We opened Discovery Green; by 2016 we'll open the 1,000-room Marriott Marquis, and on the fifth floor of that hotel, we'll have the Texas Lazy River, which you'll be able to float around and some of the Super Bowl guests I'm sure will be on that. In 2014, we'll open the East-West Light Rail, so we'll have light rail coming east and west into downtown, plus the regular light rail that we have now on Main Street that we have now that comes down to Reliant Stadium. So we have a lot of things going on.
"Clearly, we continue to host big events: the OTC (Offshore Technology Conference) is held here at Reliant Stadium, 90,000 people annually there; today's sort of a fitting day to have this press conference with the Houston Livestock Show and Rodeo opening tonight. There will be 2.3 million people coming through the Reliant Stadium and Reliant Park. Between now and 2017, when you think about what we've done, we will have hosted two Final Fours, three NCAA Regional Finals, two NBA All-Star Weekends, one World Series – and we do have a shot at a couple more World Series given that we have a few more years between now and 2017, so we're really hoping the Astros do well in Spring Training this year – one Major League Baseball All-Star Game, and one of my personal favorites, Wrestelmania.
"So we have a lot to be proud of in Houston. Our entrepreneurial spirit, our diversity, the assets that we have will compete very, very well with the other cities for the Super Bowl. So we're really excited about getting this kicked off and making our presentation to the owners. Thank you."