LT Duane Brown
RB Arian Foster
WR Andre Johnson
CB Johnathan Joseph
C Chris Myers
QB Matt Schaub
LG Wade Smith
DE J.J. Watt
LT Duane Brown
"I'm just excited, man. Very, very happy and honored. I can't say I feel like it's a year too late. I know how this thing works. I can't say I'm surprised. I feel like I've played well all season but you never know. You never know how it's going to pan out. I'm just excited and happy that fans and my peers and coaches around the league have recognized my progress."
(on his fellow offensive linemen being selected to the Pro Bowl and if he's surprised LG Wade Smith was elected to the team) "I can't say I'm surprised, man. I think I'm more excited about that than going myself. The offensive line, we are a unit. My success wouldn't be anything without the guy playing beside me and the guy playing beside him. Having (LG) Wade (Smith) and (C) Chris (Myers) both accompanying me up there, it means the world to me."
RB Arian Foster
(on being selected to the Pro Bowl for the third straight year) "It's an honor because I look back and see how far one has come and it's a good feeling that your teammates, the coaches around the league and the players around the league, and the fans of the game respect what you've done on the field."
(on how it feels to see QB Matt Schaub, WR Andre Johnson and three offensive linemen get selected) "It's long overdue for some of the offensive linemen. (WR Andre Johnson) Dre goes without saying and it's always good to see (QB) Matt (Schaub) in there because I think he's extremely underrated in this league. It's always good to have your teammates come to the elite level in the NFL."
(on what having eight Pro Bowlers says about this franchise) "We're going towards where we want to, where (General Manager and Executive Vice President of Football Operations) Rick Smith and (Head Coach) Gary Kubiak envisioned that they would go. It takes things like this to happen. You look at any championship caliber team they have guys on their roster that make Pro Bowls. It's just part of the process. I think this what they envisioned and this is what we've come to expect. We've come to expect a level of elite play and this is your reward as a player for the hard work and the sacrifice that you put together with you and your teammates."
WR Andre Johnson
(on what it means to be selected to the Pro Bowl and if it gets old) "No, I wouldn't say it's old. I think it's a great accomplishment to be mentioned among the best in the league. I wouldn't say that it ever gets old."
(on having a lot of Texans offensive players be selected to the Pro Bowl) "I think it's great. I think it's great anytime you can go over there and there are a lot of your teammates that get to experience it with you. I think that is a great thing."
(on having so many offensive players named to the Pro Bowl) "It shows what we've been able to accomplish so far. It hasn't all been pretty, but it just shows what we've been able to do when we go out and execute our offense. It's always fun when you can go enjoy it with your teammates. It's great that we have a bunch of guys selected to the Pro Bowl."
CB Johnathan Joseph
(on eight players being selected for the Pro Bowl) "It says that a lot of guys stepped up and improved their play and we're finally getting the recognition that we deserve. There are plenty of other guys that are deserving as well, but it's great for the team itself."
(on the best part of being named a Pro Bowler for the second time) "It shows the consistency throughout the league, that you're respected by your peers, and the coaches and everyone else throughout the league. It's just about being consistent on the field with your play."
(on how cool is it to see three offensive linemen going) "It's good to see those guys get the nod. Obviously it's (LT) Duane Brown's first time and I think it's (LG) Wade Smith's as well, and (C) Chris Myers' second. It's good to see those guys get rewarded for good work."
C Chris Myers
(on returning to the Pro Bowl and to have two of his fellow offensive linemen, LT Duane Brown and LG Wade Smith, selected with him) "First off, it's always an honor and a very humbling experience to be able to be voted in, number one by the fans, but mostly by your peers and your coaches. That's something you never take with a grain of salt and is something that, like I said before, is a very humbling experience because you're sitting there voting and casting your votes for your fellow players, and when they bestow that upon you, it's a great honor. To be able to go with all the guys that ended up getting voted in, especially with Duane and Wade right there on the offensive line, I think it's a testament to their character. Wade's been a long-time starter in this league, and for him to get that honor, I'm really happy for him; and Duane's been coming along for years now, and I think he's made a big case for himself the past couple of years and finally he got recognized with the final honor, and I'm real happy to be able to go with them."
(on what it means for the team to have eight players selected to the Pro Bowl) "I think it just speaks to the team and it speaks to the work that we've been able to carry through in the past three years, and it's coming to fruition right now with the results and our record and the position that we've put ourselves in. I think the League understands and the players understand and the coaches kind of see the talent that we've been able to produce around here, and that's something that comes with the territory. When you have successful teams, everyone else kind of opens their eyes to what you're able to do, but it's a testament to our coaches and our entire organization; it's not just the players that do it by themselves."
QB Matt Schaub
(on what it means to be selected to the Pro Bowl) "It means a great deal. All the hard work that you put in throughout the offseason and the regular season as a player within your team, and to be recognized amongst all the great players across the league, it's an incredible honor. It's not to be taken lightly. It's such an incredible honor that you can be mentioned in that group."
(on how happy he is to see the three Texans offensive linemen be selected) "Very excited to see them go, for (C) Chris (Myers) his second year in a row and then for (G) Wade (Smith) and (T) Duane (Brown) to be going to their first time, that's exciting. To watch them grow as players and develop as a group, they've worked so hard. They've definitely been performing for a long while now at a very, very high level at the best at their positions. To see them get that recognition league-wide is awesome."
(on if he ever wondered if he'd get back to the playoffs and Pro Bowl when he was hurt last year) "I don't know if I ever wondered it. I made it a goal of mine to get our team back to that same position we were in last year and then some. That was my first and foremost thoughts. I never doubted that I would be able to get back there. I used it as motivation. I knew that I could. As far as getting back to a Pro Bowl type level as a player those things happen as you go along and I knew I could get myself back to playing at that type of level, but obviously there are things out of your control that go into something like that. It's definitely an incredible honor to be recognized."
LG Wade Smith
(on his first Pro Bowl after 10 years in the NFL) "It's an awesome feeling, to get recognized by your peers, coaches, fan voting, all that stuff. It's a great feeling. It's even better with the fact that I'm going with (T) Duane (Brown) and (C) Chris (Myers)."
(on how the three linemen reacted when they heard the news) "We actually found out separately. I think (C) Chris (Myers) found out before everybody else, which is kind of status quo. You know what's going on with certain things before anybody else, so he let me know by text message. I actually heard from him before I heard from Coach Kubiak. I got the text message saying I made it, so it was a great feeling. We weren't sure about (T) Duane (Brown) because I think he was lifting at the time. We ended up finding out that he was a starter, so it was a great feeling."
(on how surprised he was that all three linemen were going) "I don't know if surprise is the right word. I think it was something that really happened and I don't know how many times three guys from the same line get voted to the Pro Bowl. I'm pretty sure it doesn't happen that often. It's a great honor. Those guys have been having great years. We're just thankful that everybody has recognized all our hard work that we've been putting into it for the past few years now."
(on what it says about Offensive Line Coach John Benton to have three Pro Bowlers) "J.B. is a heck of a coach. He's been the head line coach for about six years now and he's had two other coaches that were underneath him go on to be head offensive line coaches elsewhere. He's taken on more of a role than he has in the past just because he's losing good coaches like that and he's not skipping a beat. Losing players like (T) Eric Winston and (G) Mike Brisiel and having to replace somebody like (G) Chester Pitts, he's had a lot of good players that have come and gone and for the most part we haven't skipped a beat. That's a credit to him and what he's done for our organization."
DE J.J. Watt
(on the honor of being selected to his first Pro Bowl) "It's a huge honor. I'm very fortunate. I give a lot of credit to my teammates and coaches. I really appreciate the respect from peers, other players in the League and coaches and the fans. I really want to say thank you to all the fans who voted. I really appreciate all the support."
(on his reaction to having seven of his teammates selected) "It's awesome. I just think it's really cool to see. I think everybody that got it were deserving, and obviously I feel like there were even more guys that were deserving. It's a testament to the organization, to the coaching staff and everybody on this team. None of us would be getting this recognition if it wasn't for every coach, player and staff member in the Texans organization."
(on three offensive linemen getting selected) "I'm excited. If we end up being in Hawaii, it would be cool to get to spend all that time together, but we're hoping to be busy during that week."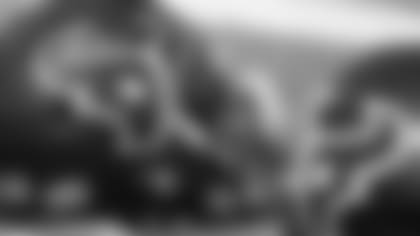 news
Texans place Jeff Allen, Matthew Godin on PUP list
The Texans placed Jeff Allen and Matthew Godin on the PUP list.