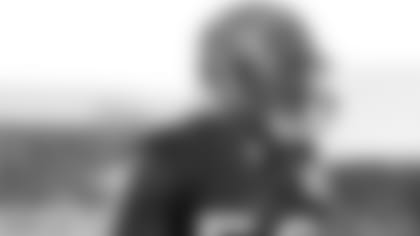 The Texans practiced Thursday at the Methodist Training Center and after, head coach Gary Kubiak and linebacker Whitney Mercilus answered questions from the medial. The following is a transcript of their respective interviews.


Head Coach Gary KubiakOLB Whitney Mercilus
Head Coach Gary Kubiak
(on ILB Brian Cushing's current status) "Cush has been released (from the hospital) this morning right before we came out to practice. I'm hoping he's over here this afternoon. He's feeling much better. As long as he's feeling well, he'll go through our jog-through in the morning and he'll get his repetitions on Saturday, so we'll see, but he's doing better."
(on TE Owen Daniels sitting out of practice today) "O.D., I just rested him and (NT Shaun) Cody. It's every fourth day (that they rest). I stated that plan. Kap (Head Athletic Trainer/Director of Sports Medicine Geoff Kaplan) thinks it's best for them so that's the reason we did it."
(on anybody else who has been sitting out) No, everybody was back. (Shawn) Loiseau was back. Obviously we're kind of in game preparation for Carolina, kind of getting ready for that. Have a live workout this afternoon and tomorrow morning we'll get going."
(on how anxious he is to see the guys in a live game) "They're ready, too. It'll be nice to do something different tomorrow and hop on a plane. They need a break. They need to get some rest in the hotel and stuff and on the plane. We need to see them all play. Somebody is going to ask me, 'Am I playing?' It's obviously to play our ones for about 12 to 15 plays. Play our twos for a good quarter and a half, maybe a little more; and then player threes, a quarter and a half or maybe just the fourth quarter. That'll be our plan moving forward and hopefully we're ready to go."
(on getting the players in the routine for game preparation) "We really don't do that totally in the preseason. I'll do that when we play New Orleans the third week. The thing you do is you get in a travel routine. We'll travel tomorrow. We'll meet like we normally meet. These young kids will get to see how we do things, how we operate in the hotel, how we get ready to play. So that's important, but as far as our regular game week, we'll do that against New Orleans."
(on the significance of the preseason games for QB Case Keenum) "It's huge and I will play (John) Beck before him this week. I may reverse it next week, but I hope to play all four of them this week. But man, he has made a lot of progress. I guess I'm giving him a hell of a compliment but I've told you guys all along, football is important to him. He really works at it. I really like the way he's responded to his opportunity here in Houston. I think we're all excited to see him play."
(on ILB Keyaron Fox's injury) "He's out. They're trying to make a decision now. He obviously has got a pretty good injury. It's going to have to require some surgery here at some point. I don't know when that'll be. I'm sad for the kid. He got rolled up in a drill. I think he's been playing eight or nine years so you hate to see that happen, but we'll take care of him and he'll be a part of our team this year."
(on if another inside linebacker will be signed) "Yeah, that's been something we've talked actually about before I came out with Rick (Smith).  I know he's working on it. I don't know if we've got it done yet, but I'm concerned about the depth. We've got another good week of training camp yet before we get in our routine, so we've got to be able to continue to work. We're talking to a couple of guys right now, but I don't want to sit here and say who it is because I haven't talked to him (Rick Smith) since practice was over."
(on how QB John Beck is doing) "He's doing good. He's a veteran payer in a system that he should be comfortable with. I think he could be doing better than he's doing right now. I would tell him the same thing, but now it's time to go play and see. He's gotten a ton of reps. To me, I told him he came here to compete with T.J. (Yates) and Case (Keenum). I think he's doing that but I think there's another level for him to reach. He's been playing enough football that he should step on that field and be comfortable Saturday."
OLB Whitney Mercilus
(on if he expects there to be a difference between NFL home and away games) "I would expect so. It's the same thing as college. Just concentrate, be focused in on your assignments and things like that."
(on how important it is to get football film against other players rather than teammates) "It's very important because it shows that you can actually play; you're dependable and accountable definitely when it comes time for the season. It shows to the coaches that they can trust you in doing the things that are right."
(on the biggest difference between college level football and the NFL) "Well, the biggest thing is players are way smarter. These veterans have a lot of experience at this level. Everybody here is good. They got here for a reason. It's not so much that they're bigger, stronger, faster. You got strong guys in college, fast guys in college. The thing is these players are a lot smarter and they've had their experience. They've seen different types of looks and they're basically two steps ahead of the game."
(on what the it's been like working with defensive coordinator Wade Phillips) "It means a lot. It means that Wade has a very creative system, uses everybody's attributes to their highest ability. So he's using my aspects to go after the passer and all that. And to see other guys, too, just putting them right in the spots where they need to be to utilize their abilities."
(on shedding his reputation from scouts as a 'one-hit wonder' at Illinois) "Yeah, that's definitely been a motivating factor for me to go out here and just play hard and just show them that now I'm not a one-hit wonder."
(on which veteran's been the most help) "Let me see. Man, there's not one person who hasn't been helpful. It's been kind of (OLB Connor) Barwin, (OLB) Brooks Reed, (OLB) Jesse Nading, (ILB) Bradie James. All these guys have helped me out a lot."
(on if film study is different here than it was at Illinois) "Not so much, but the thing that changed up is really formations, different types of looks, things like that. Seeing the offense as I'm standing up now."
(on what separates RB Arian Foster from the other backs in the NFL) "Man, the guy is explosive. Every time I see him at practice, I can't tell whether he's running hard or whether he's just striding or something like that. The guy is just so fluid in his movements; he's a phenomenal back."

(on if he's anxious for Saturday's game) "Oh yeah, of course. Who doesn't want the opportunity to go out there and strut their thing against a different opponent on a Saturday night game? I'm excited for it. I know all these other rookies are excited for it. We're just ready to go out there and have some fun."


AFTERNOON

The Texans practiced inside the Methodist Training Center in the afternoon, and after, Kubiak answered questions from the media. The following is a transcript of his interview.


Head Coach Gary Kubiak
(on ILB Brian Cushing's health) "He's back. He's in the locker room; I didn't bring him over here. He's feeling a lot better. He will be a part of our meeting process tonight, and we'll evaluate him tomorrow."
(on if ILB Brian Cushing has a chance of playing Saturday) "Yeah, I think there's a good chance. Obviously,  I'm going to know that he's himself. I like to see him go out there and get his reps with the group. I think tomorrow's a big day. We know he's doing well right now. He'll be a part of the process, as I said. We'll be in here early tomorrow morning. All indications are that he will."
(on ILB Mister Alexander) "He's been impressive. He missed all the offseason with a couple surgeries. There was a question of whether or not he'd be ready for camp, and he's held up like a champ. So, he's getting a ton of reps, and he's proven to be a good special teams player. Now, can he be a consistent linebacker? It's been a big week for him, he's handled it, so we'll see how he does in the game."
(on if he's anxious to see anyone in particular perform on Saturday) "Obviously, there's a lot of young guys. I'm looking forward to watching the young receivers play and see how they sort themselves out. I'm interested in (ILB) Mister (Alexander), (ILB Tim) Dobbins, (OLB Jesse) Nading, those guys are kind of our bread-and-butter-type players. They play special teams and back up players for us. So, I think it's important to them. We've got some good battles going on for the secondary's, some young players back there. Then obviously our right side of our offensive line, those guys are going to play probably more than anybody because we need to figure out who those starters are going to be. Those things just jump at me and, obviously, kicking the ball. We got a good battle going on there between two guys, and, hopefully, they both get some shots to do it."
(on any other health issues) "No, that's it. We do have a new guy, Omar Gaither, that we signed who's out here today. He will not play in the game. He will make the trip with us and will go to work on Monday."