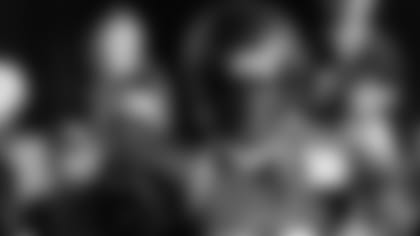 The Texans practiced Thursday at the Methodist Training Center and after, head coach Gary Kubiak and some players answered questions from the media. The following is a transcript of their respective interviews.



Head Coach Gary KubiakOLB Connor BarwinK Randy BullockK Shayne GrahamDE Tim Jamison
Head Coach Gary Kubiak
(on any health issues) "(WR DeVier) Posey and Cush (ILB Brian Cushing) did not practice today. Brian wanted to go, Kap (Director of Sports Medicine/Head Athletic Trainer Geoff Kaplan) thought that it was best that we work him out with the trainers today since he missed the last couple days, and it's probably a good thing, too, because those other guys got the reps during the week. So he did have a good workout. I'll probably make a decision on Brian tomorrow. My expectations are that he will play, he wants to play. But that will wait; we'll work him out in the morning and see what Kap and them say. Posey did not practice at all today, did not work at all. And of course (NT) Shaun's (Cody) still out."
(on who will start at right tackle between Rashad Butler and Derek Newton) "Going up there to figure that out right now. They're both going to play, they're going to play three quarters of football throughout the game. Like I said, it's a very good competition; they both have their strengths and we'll keep plugging. This will be a good group they're playing against; noise, turf, all that stuff, so we'll see how we play. But that's something we'll decide in the next couple hours."
(on if he thinks WR DeVier Posey will play this weekend) "No, I don't. I think the fact that we have such a quick turnaround on Thursday against Minnesota in which you guys know I'll play a lot of young guys. I think we'll have to take that into consideration. But the thought was yesterday when they checked him out that he would be ready to go on Saturday, so we'll see tomorrow."
(on if snaps will determine how much time the first team gets) "We're going into the game saying we're going to play three quarters, but we'll see. Sometimes you don't get enough snaps, sometimes you get plenty after a half or a little bit over a half, so we'll see. But it's important for them to get, obviously, more than they've been getting in the past."
(on what he wants to see from his first team units against New Orleans) "I just want them to keep moving forward. I think we've done that both weeks. I think we got off to a good start in Carolina other than the turnovers. Last week was a good physical test for us, this week very speed-type test for us on that turf with this type of team. I just want to see us keep moving forward. Obviously, I want to see us come off the field healthy because we're not far away now. We do have two games here in a short period of time, so we got to do everything we can to get these other guys ready to play next Thursday. So just more reps and, hopefully, keep moving forward."
(on if he has been doing anything to prepare the team for crowd noise) "Yeah, we've used it all week long. We practice with it even when we play at home sometimes. I think it's important. Especially our defense needs to practice with it when we play at home because our crowd's so loud. But, yeah, it's something we've been doing since camp, and we used it today the whole practice."
OLB Connor Barwin
(on how he thinks the Texans defense is viewed around the league) "Well, I'm not necessarily sure, but hopefully it's viewed around the league as one of the hardest playing defenses. I think when you put on the tape, I think everybody sees that we play as hard as anybody, if not harder than most people in this league."
(on the test the Saints present) "Yeah, that's a little bit of a test with how much they go five out and empty, to not have dime in there a lot; that'll be a test. It's good to have in the preseason because you got to get good at your core stuff that you call. We'll be running our base defense, our base calls and that's what needs to be our bread and butter. There's no better challenge than (New Orleans QB) Drew Brees and those guys they have over there."
(on his best memory of the fourth quarter against the Saints last year) "There was no good memories of the fourth quarter last season."
(on his approach for the third preseason game) "Well, you approach it like you want it to be your best outing. I've approached it all this week everything I've done during the regular week that I'll do during the season. So you just try to get into your routine that you do during the regular season and, again, try to make it your best game so far."
(on if the team talks about how the defense was referred to as "dirty" last season) "No, we have not talked about that at all but that week we did. That just goes back to playing hard and being aggressive. I honestly believe that teams and offenses view us as one of the hardest playing defenses. From the nose guard to the safety, I think everybody runs after the ball every single play. That's almost a compliment when teams say you're dirty when you know you're not really a dirty team."
(on his reaction to the penalties the Saints incurred this past offseason) "Well, that's a deep question there. You know, I think my biggest reaction was, I heard the tape and the stuff about going to your head, I thought that was something that you would never hear around here because everybody knows what can happen with concussions. To bring that up and repeatedly talk about hitting someone's head to injure them is something that would never be said around here. "
(on practicing against the Saints in past preseasons and never complaining about it) "Well, it's a masculine sport; there's not going to be anybody coming out here and saying they're playing too hard, they're playing dirty. Guys have pride and just aren't going to say that. And those were practices, those aren't games. And you go back and watch the games, I don't really notice anything that they did but, obviously, there's stuff being said behind the scenes."
(on going back to practicing against the Saints in the preseason) "I enjoyed it. I thought the practices were easier because they were very competitive but they were shorter because you can't go as long because of how competitive they were. So they were fun. I don't know if we're going to do that in the future, but I enjoyed them when we did them."
(on if there's something the NFL can do to cut out other types of injuries from the game) "Well, they've done a lot of stuff for that, too. This is the first year they've changed the rule where you're not allowed to cut offensive players going from the outside in, which is good. But you can do all that stuff but, at the end of the day, we all know it's a violent sport, and you obviously take the risk when you go out there."
(on if he's glad to see the cut rule instated) "Yeah, I'm real happy about that."
(on how he feels about the new rules) "No, it's all right. You guys all see there's a lot of stuff being done for the offense to score and to protect the quarterbacks, so it's nice we finally got one rule to give us some protection."
K Randy Bullock
(on how things have gone for him during training camp) "I think everything's gone well. It's a very competitive situation. I think it's helped both of us (he and K Shayne Graham) and it'll be interesting to see how everything plays out."
(on he and K Shayne Graham having a good relationship) "Absolutely. He's definitely a friend. He's helped me out a lot mentally; physically, seeing how he's done everything. That helps a lot, having a veteran guy who's been around for so long (for) a young guy trying to learn the ropes, it's been very helpful throughout the process."
(on there not being any backstabbing in his relationship with K Shayne Graham) "No, there's no hazing or anything like that. He's been very helpful, so it's been a very good situation."
(on if the coaches are paying more attention to the kickoffs or field goals) "They're (the coaching staff) evaluating everything. You don't have to worry about that. Everything's going to be thrown into everything."
(on how he felt he's performed thus far) "I've been pleased with it for the most part. I feel like I've been pretty consistent. I missed a kick the other week that I'd like to have back, but it happens. The big thing is how I bounce back. That's another thing that I'm sure they'll be watching. That's kind of the life of a kicker; having a short memory and making your next opportunity count."
(on what it's like fighting for the kicking job) "It's competitive. It's something that I come to work every day focused. I know I'm constantly under the microscope. There's a guy who's been doing it for a long time; if I'm not on top of my game, it'll show. The mental aspect of it, it's tough. But you've got to grind and be focused in and be ready to go whenever it's your opportunity to go."
(on how his past accomplishments have prepared him for the NFL) "I think it's helped me a lot. My resume speaks for itself, but at the same time, that's college. At this point, I've got to build myself a new resume and I feel like I'm in the process of doing that, being able to compete with a guy that's been doing this for this long, I think it's been very special. It's definitely opened my eyes. It's shown that I can do this and I have a lot of confidence."
(on Special Teams Coordinator Joe Marciano) "Coach Joe (Marciano) is a good guy. He's really been very helpful. He's fun to work with. He's got a lot of energy. He jokes around a little bit, but at the same time, when it's time to be serious, he's very serious also."  
(on if he has beat himself up for missing any kicks in a competition this close) "I guess you could but I haven't. Like I said, that's part of the mental aspect of being mature and knowing that you're in a competition because one kick I don't think will make or break a competition. It's everything that's being thrown into it. I did miss a kick, but at the same time, I've done very well in practice and I finished the preseason out strong. At that point, that kick's over with. You can't do anything about it. All you can do is move forward and focus on what's next."
(on if it's hard knowing that every single thing he's doing in the kicking competition is being carefully studied) "Not really. For me, whenever I go out there, there's not much going through my head. I'm very relaxed. I'm confident and whatever happens, happens. You've just got to be able to rebound. If something doesn't go right, you've got to shake it off and get ready for your next rep because they're going to be watching that also."
(on focusing on each kick) "The more you make, the more you've got to focus. You miss one, you've got to focus also. The mental aspect, that's a big part of being a kicker. I feel like I've gotten very strong with that part. That's very important."
(on the difference between the college and pro games) "The speed of play. Everything happens so much faster. But at the same time, I've got a very good snapper, Jon Weeks, and a great holder in Donnie Jones. So the operation is there. All I've got to do is trust it. Everything happens faster but I trust it and I don't really notice the speed of it too much now."
(on what the pro game being faster to a kicker) "Just the speed of play, guys coming off the edge. You've got to be focused on your operation; getting the ball up quickly, making sure something can't get blocked. A lot of times in college you might have one or two guys that are 6-6 with long arms that can get up. That's everybody in front of me now. It's not one guy you have to be worried about. You've got to be focused and make sure each swing is your best swing."
K Shayne Graham
(on his thoughts about the kicker competition)  "Well, I think personally, as a professional, you don't really look at it as a competition. When I line up for a field goal, I don't line up saying 'I'm going to make this so I can win a competition.' You line up because you're a competitor and you want to make your kicks. I don't count his (K Randy Bullock) reps, I don't count my reps, I just line up and keep my focus on making my kicks because that's really the only thing I can do to better myself in any situation; to win a job, to keep a job, to play for 10 years, to play for one year, is making kicks. That's what matters. When you learn if you miss one, you don't count that one against you; you just look forward to your next rep."
(on how he feels about the coaches having to make a decision between him and K Randy Bullock) "I mean, really it's not my place. As a player, you play, you do what you're asked and you let the coaches make their decisions. No matter what their perspective is,  this is the situation I'm in, and when I put my cleats on and line up, put my pads on, it's to do better for myself and to perform well for myself and to do what I can do to help this team. Whatever decisions are made beyond that are out of my control."
(on his relationship with K Randy Bullock) "We get along really well. There's times when he asks advice on certain things because there's a lot of things. He's known the college side for four years. This is my 13th training camp so there's things I can give him. But yet, as far as individual kicking, I really can't help him on a technique side because we're different, every person has a little different technique. We still look at each other as a friendly competition; we don't have any animosity toward each, we don't do things behind each other's back, we don't give bad advice hoping to screw each other up. So we get along great, it's a good working relationship. But we also know that it's high-stakes and we're playing for the same thing."
(on how he feels he's done so far) "I think in the beginning of camp, I let a couple kicks in practice slip away from me, but I think I've been pretty solid since then. Not like I really did horrible in the first place, but I hold myself to a very high standard. When you miss those kicks, you just make sure you don't buckle and fall apart; you stay strong and you stay steady and you keep yourself positive for what is ahead. And that's all I can do in the homestretch is look to keeping strong."
DE Tim Jamison
(on if he will move positions because of all the recent injuries) "Well, today I worked a little bit at nose. I'm just prepared to play whatever they want me at. We had some guys go down so coach wants to make sure everybody knows all three positions on that defensive front."
(on if he has a sense of job security since he can play so many positions) "Yeah, the coaches always say 'The more you can do to help this team, the better your chances of making this team,' and that's the approach I take to the game. I try to learn every position even though I'll be mostly at the 3-technique or the 5-technique, still know what the nose man does just for cases like this. You never know what happens."
(on how comfortable he felt playing nose tackle) "We play there a lot in dime situations because our ends play tackles in dimes. So when the quarterback's in the center, we have our three in the shade. I've been in that position before, but it's an adjustment, our run downs getting double teamed, stuff like that. But we're in that position all the time anyway on third down."
(on what he needs to do to stop Saints QB Drew Brees) "Well, you got to put pressure on him. He's one of the best in the league. First, you got to defeat the man in front of you and hurry him and put pressure on him as much as possible."
(on if he feels like he's taking advantage of the opportunity to play while DE J.J. Watt's out ) "I hope I'm making that impression. I always want to make the best of any opportunity I get to step on this field. J.J.'s going to be back; I just want to make sure that my teammates and coaches can trust me while I'm in there."
(on what makes him a natural at the nose position, the way Defensive Coordinator Wade Phillips plays it) "Well it's not really a two-gap nose, it's kind of like with shade. We're one-gap, and I just got to play my gap. You got to stay low when you're getting double teamed, but when I'm at the 3-technique I'm getting doubled a lot, too, so it shouldn't be a lot different."
(on what DE Antonio Smith says to him) "He's a great leader on the field, off the field. He's always teaching me different ways to improve my game. We go before practice and after practice on the one man sled, the one man bag and just work on different moves. We make each other better."
(on DE Antonio Smith being a bit of an oddball) "I mean, he's a fun guy. There are a lot of guys like him, just fun guys to be around, kind of give off that college feel. Not taking stuff too serious. Just in the locker room, on the field, off the field, great guys to be around."
(on how he thinks the defense is viewed around the League) "Just guys that surround that ball, guys that are hungry out there. Everybody wants to make each other better, and we compete against each other in practice and make each other better. So more people around the ball, the better. So hopefully that's what they see."
(on if he thinks other teams are intimidated by him) "I can't tell you. I'm not worried about if they are or if they're not. Our job is to go out there and get the job done."
(on what is the hardest type offensive guy to beat) "They're all different. You might have some guy that's just big and they can take up a lot of space. Some guys might be lean and got good footwork. Different moves work on different people. You take that all into consideration when you're watching that film, when you're studying that person."
(on profiling the opposing players ) "Our coaches kind of do a good job in practice. So if a team we're playing cuts a lot, then we work on drills in individuals to work on cut blocking and still be able to improve our technique."
(on what his personality is like on the field) " I don't know, I like to hit a lot so I'm kind of aggressive on the field, I'm kind of laid back off the field. I just like playing the game."
(on if he talks smack) "No, I don't really talk trash, I just play."