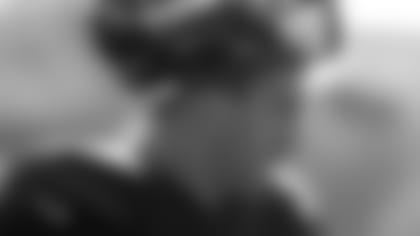 The Texans practiced Tuesday morning at the Methodist Training Center and after, head coach Gary Kubiak and linebacker Connor Barwin answered questions from the media. The following is a transcript of their respective interviews.


Head Coach Gary KubiakOLB Connor Barwin
Head Coach Gary Kubiak
(on today's workout and plans for the weekend's game) "Today we kind of implemented a couple more phases of the game. We call it four-minute situations where we're trying to kill the clock, end the game, close the game out. Got a little sloppy there offensively, handled it pretty good defensively. You know, just continuing to work on ourselves right now. We'll go one more morning on ourselves. We'll start to concentrate on Carolina a little bit starting tomorrow afternoon."
(on how he feels about the team heading into the Carolina game) "Well, I mean, we've had some good work. I think it's very competitive going back and forth. You never know until you step on the field. A lot of these young guys are going to play the majority of that football game, so I've got to get them freshened up here this Saturday, knowing what they're doing so they can go compete and try to make this team."
(on how he keeps the rookies composed in their first NFL game) "Well, I got to get them to Saturday first. It's funny about training camp; seems like we get guys beat up along the way. But, no, it's a big moment for them; first time you put on an NFL uniform, and we're playing a dang good football team. They got after us last year, so it's a big challenge for us, but we'll give them all a chance to compete and see how they do."
(on if he's decided how he'll use his kickers on Saturday) "I haven't. We'll do that on Thursday night. I haven't even decided how many reps we'll go or what we'll do or who will sit or who won't play. I'm meeting with the coaches Thursday and do that."
(on if he's concerned with kickoffs as much as he's concerned with field goals) "Oh, no doubt. Yeah, that's obviously a big part of it. Randy (Bullock) did not kick today. He's had a little growing soreness last couple days so we held him, and Shayne (Graham) took it. We'll do everything we can to make it right down the middle. It's hard, you can't give them games because one may get more kicks than others so we'll probably just rotate back and forth. But yes, kicking off will be a big part of it."
(on how G Antoine Caldwell and T Rashad Butler are working in) "Well, I think they're doing a good job, I think they're being pushed really, really hard. (G Brandon) Brooks and (G) Shelley Smith are pushing Caldwell, in my opinion, and (T Derek) Newton's pushing the heck out of (T Rashad) Butler. It's going to be a tough call. I couldn't make that call today, I'll tell you that. But I think they're all holding their own, and we'll see how they handle the bright lights when we start playing and how we do. But hopefully they're all healthy. It's a very, very tough decision if it is, and it's good for our team."
(on progress he's seen out of CB Brandon Harris) "Brandon's had a lot of great progress. That's a great question. He struggled in OTAs, he struggled a little bit last year, then about the last four days of OTAs, a light when on, he practiced better. He has been the same guy since he came back, so that's impressive. He made a big play today in the red zone. He's acting like a second year guy, so we'll see how he does once we go for him."
(on progress he's seen out of DE Jared Crick) "I'm hoping Crick possibly has a chance to play this weekend. Obviously he got dinged and is going through the process to make sure he's ready to go and get back. He's doing well, but there's a process we have to go through, so we're working on that right now."
(on any other health updates) "No, I think we're okay today. Had some heat issues yesterday, but we held up today."
(on ILB Bradie James) "Well, he's a leader. He's a true pro. Handles himself unbelievable, great condition for a guy that's played as long as he has. He's in great condition, understands our defense to a T, he's been with (Defensive Coordinator ) Wade (Phillips), so he gives us a chance to continue moving forward defensively."
OLB Connor Barwin
(on how the defense will do this year after having a full year under Defensive Coordinator Wade Phillips) "Well, the plan is to do better than we did last year, but obviously I think the OTAs helped this year. I think for us with losing DeMeco (Ryans) and Mario (Williams), I think the OTAs were important just from a leadership standpoint. It allowed us to go out there and play and see what it's like without those guys before game time. So I think that's the biggest advantage that we took from OTAs, just kind of seeing who is going to step up as the leaders of the defense."
(on having a better grasp of the defense this year) "We had a pretty good grasp of the defense last year, but I think it helps the younger guys get to know it quicker. We didn't kind of catch our groove till Week 6 or Week 7 of last year. With knowing the defense better now, hopefully we can start off a little quicker, a little better."
(on having a game to look forward to) "It helps a lot because this is the point in training camp where you're just waking up. I'm getting tired of going against Duane Brown. He's probably getting tired of going against me, same thing with Rashad (Butler). So you kind of get sick of hitting the same people, so now it's nice to look forward to finally getting to hit somebody else."
(on the goal line defense) "We're really good on goal line defense. But you have to give the offense some credit because they're not down there cutting because we don't want to hurt anybody. So there is a little bit of that. We should be a little better out here because we have kind of a built in advantage but we were pretty good today."
(on OLB Whitney Mercilus having an impact like OLB Brooks Reed had last year) "Yeah, no doubt, he can definitely. He's going to contribute from Week 1 in the pass rush, that's for sure. He's going to give us depth that we didn't have last year right away, which should help me, should help Brooks and obviously is going to put him in a good situation."
(on ILB Bradie James being on the defense) "It's great to have him there because he knows the defense as good as anybody. He's a veteran. He's a natural leader. He's confident and he's been a great player. He's been a great example of how to practice and how to play. He knows (Defensive Coordinator) Wade's (Phillips) scheme probably better than anybody on the front seven."
Following the afternoon practice inside the Methodist Training Center, Texans head coach Gary Kubiak answered questions from the media. The following is a transcript of his interview.
Head Coach Gary Kubiak
(on health updates) "Yeah, we're fine. We came out of practice fine this morning. We're hoping to get (TE Phillip) Supernaw back here and hopefully (DE Jared) Crick here before the week's out. I'd like for them to be able to play but, other than that, we're okay."
(on if he's figured out his plan for the Carolina game yet) "Not really. I'm going to talk to the coaches Thursday. It'll probably be pretty similar to what I normally do. Obviously, we got a couple players to talk about do they even play, that type of thing, Andre (Johnson) being one of those. And then we got some young players that expect to see them get some quality time with our first group. I got to work through that, and I'll do that Thursday."
(on his expectations for the young receivers) "Yeah, I got a lot of expectations for them. They're going to have to play really good. As I said before, (WR DeVier) Posey and (WR Keshawn) Martin, they can't be rookies for this team to succeed, they got to play like veterans. And they've had a good camp, they're going to both get very good opportunities. (WR) Lestar (Jean) gets thrown in that mix because in a lot of ways he's a first-year player. So those guys will have to grow up for us real quick. How they play in the preseason to me says a lot about how they're going to play for us once we get going, so it's very, very important for them and the team."
(on QB T.J. Yates) "I think I would kind of remind ourselves as coaches every day that this is T.J.'s first training camp in pro football. He did a lot for us last year playing some big games. Lot of growing pains he's still going through. I think he's having a good camp. He can improve a great deal as a player, and he works at it and I think there's no doubt he'll do that."
(on ILB Mister Alexander) "He's got a ton of reps and Mister's finally held up, he had a couple surgeries in the offseason, missed the OTAs but has held up in camp. He's an excellent special teams player. I think the question is can he keep up with us defensively and contribute there, so we'll see."
(on if he is where he wants to be going into the first preseason game) "I don't know if you're ever where you want to be. We'll go find out. We're going to play a lot of people. We've been fortunate, we've got some nicks, everybody does, but our guys are going to be back so we got to make sure that happens the right way. But it's time to start putting the pieces together and find out who can help us. We got to go find five or six players that can help our football team this year just like we did last year. So it's time to go start getting that done."