Free agent defensive tackle James Reed visited the Texans on Wednesday. Later, he spoke to the media about the possibility of joining the team.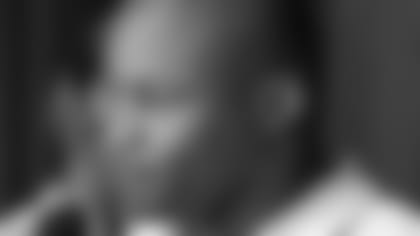 (on what interests him about the Texans) "The new coaching staff.  I feel like they're trying to improve, trying to get better.  It's the type of defense that I fit in, which is quick and fast guys."
(on if size, or lack thereof, has been an issue for him in his career)  "I've been in the league going on my seventh year here, and it's never been a problem.  Size is overrated; height is overrated; it's the heart and the motor and the drive."
(on what he would bring to the team) "I'm fast, I'm agile, I'm strong.  I can play both inside positions.  I'm a good hustler.  I like to make plays and I like to play."
(on if the Texans' success with street free agents on the defensive line is attractive to him) "To be honest, I didn't follow the Texans.  I know a guy from Kansas City that I played with came down here, (DT) Lional Dalton, and he said he liked it down here.  He said he liked the scheme and I believe him because we played in Kansas City together.  But I didn't follow the Texans to be honest with you."
(on any other connections with the Texans)  "No one.  I'm fresh.  Last year, I had (Kansas City Head Coach) Herm (Edwards).  These guys are new to me."
(on his thought about the visit so far)  "I like it.  I like what they're talking about, and we'll just see where it goes from here."
(on what is the most important factor in his decision) "I'd rather not speak on that matter.  I'll just put it in God's hands and pray about it and he'll help me make the right decision."
(on what other team's he is visiting)  "I'm superstitious; I have other teams.  Right now, on the table is Kansas City, where I was at last year, but I just want to go out this year and test the market and see what else is out there."
(on if he and the Texans are negotiating a contract) "We're still working on it.  Like I said, I have an offer from Kansas City on the table; I'm just seeing how I play out here."