Spotlighting one Texans rookie on each day of training camp: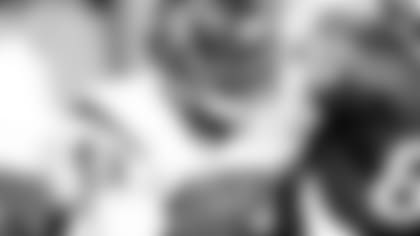 The Texans liked Ben Tate's combination of size (5-11, 220) and speed (4.43 40) when they drafted him 58th overall in the second round out of Auburn. He has been fully healthy in training camp after missing most of organized team activities with a hamstring injury, and Sunday morning gave the Texans their first look at him in shoulder pads.
On Tate's first carry in 7-on-7 drills, he offered a glimpse of his potential with a big gain on a cutback run to the right side.
"I think he's improving," Texans coach Gary Kubiak said. "I don't like the fact that he would correct a mistake and he'll come back a few plays later (and do it again). He needs some consistency from that standpoint; that's part of being a pro. But he's a very talented young man. Y'all see some of the plays that he makes, reversing his field and stuff. He's capable of doing those things. We've just got to get him to be consistent in everything he does."
Tate is vying for carries in a competitive young backfield. Second-year running back Arian Foster entered training camp as the starter, with Steve Slaton looking to reclaim the job he thrived in as a rookie in 2008. Tate appears to be third in line for carries at this point, but Chris Henry is pushing the entire group with an impressive first three days of camp.
"It's a friendly competition – all good running backs," Tate said. "I just want to prove my worth. I just want to do what the coaches ask me to do and what the fans expect of me. I'm trying to live up to expectations."
The Texans should get an even better idea of what Tate brings to the table beginning tomorrow, when players suit up in full pads for the first time in training camp.
"He missed a lot of time in the offseason, so in all honesty, from a respect-of-the-players standpoint they didn't know really much about him," Kubiak said. "He's got to catch up, but he's doing a good job. Hopefully, we can keep him in one piece."