 **[Press conference transcript
](/news/article-1/ryans-presser-transcript/751BCF51-FFD7-49D2-BB79-77A3EA26601C)
HOUSTON –The Associated Press announced today that Houston Texans LB DeMeco Ryans was named Defensive Rookie of the Year, becoming the first Texans player to win the honor. Ryans received 72 percent of the vote (36 of 50 votes). Ryans also discovered later in the day that he was named NFL Defensive Rookie of the Month for December.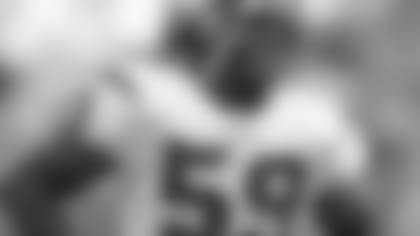 Ryans, the team's second-round draft pick (33rd overall) out of Alabama, finished the season with 156 tackles, including 126 solo stops, based on press box statistics.  His 156 total tackles were more than any rookie in the last 20 years. Ryans led the NFL in solo tackles and finished second in total tackles.
In December, Ryans led the Texans to wins in three of the team's final five games, totaling 57 tackles, one interception, one sack, one forced fumble, one fumble recovery and five passes defensed during the stretch. Only Miami Dolphins Pro Bowl linebacker Zach Thomas had more tackles in that period.
Ryans (6-1, 239) recorded 10 or more tackles in nine of 16 games, more than any other defender in the league, and four more than any other rookie.  He led the team or tied for the team lead in tackles 10 times. In addition to his historic tackle numbers, Ryans finished tied for the lead among rookie inside linebackers with 3.5 sacks and finished second among rookie linebackers with one interception.
Ryans was named AFC Defensive Player of the Week after Houston's 23-14 win over Oakland in Week 13 (12/3).  In that game, he finished with 15 tackles (14 solo), an interception, a fumble recovery, a sack, a forced fumble and three passes defensed. Ryans became the only player in the NFL this season to record double-digit tackles, a sack, interception, forced fumble and fumble recovery in a single game.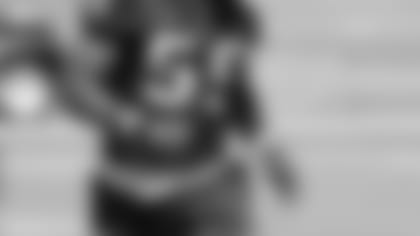 The rookie middle linebacker burst onto the scene in his professional debut, tallying 13 tackles (12 solos) against Philadelphia.  He finished the year strong, recording double-digit tackles in five of his last six games.
Ryans played an integral role in the Texans' defensive improvement over the last three months of the season. Over the last 14 weeks of the season, Houston ranked 10th in the league in total defense and 13th in scoring defense.
Texans DE Mario Williams received one vote, making the Texans the only team with multiple players garnering a vote.