The Texans took OTAs inside for Wednesday's session, courtesy of Houston's triple-digit heat index. The team practiced at the Houston Methodist Training Center's indoor facility and could continue to do so in order to get the most out of OTAs.
"Luke and I talk about that a lot – (Senior Director of Sports Performance) Luke Richesson," O'Brien said. "We look at it out there today. It was going to be 103 heat index. Felt like where we are right now in the offseason program, let's get a good practice here inside. Maybe we'll go out tomorrow, but we kind of talk about that every single day. There's just a new way that we're thinking about that moving forward here."
O'Brien did not rule out the possibility of splitting time between the indoor facility and outdoor practice field, something that former coach Gary Kubiak used to do during OTAs and training camp.
Despite the heat, DeAndre Hopkins said he had "chills" just thinking about what the duo was able to do together in just seven games last year.
Seeing him mature, not just on the field but off the field, I can't wait," Hopkins said.
Watson participated in individual and some 7-on-7 drills like last week. The media got its first look at backup quarterback Joe Webb, who missed last week's OTA session.
Hopkins had 96 receptions and a career-best 13 touchdown catches last year, but still has regrets.
"I feel like I probably could have had 100 catches if I would've caught a couple of balls at the beginning of the season, but starting off the game fast and just kind of getting into it from the get go for myself," Hopkins said. "I would say that's something that I need to improve on."
Hopkins, Aaron Colvin and a few players have taken scissors to their athletic shorts.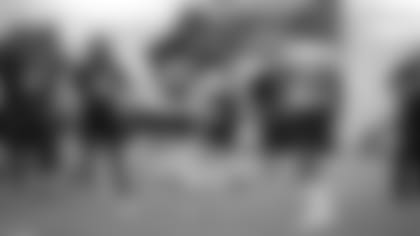 Hopkins say he has more in store for his 2018 fashion surprises.
On Tuesday, J.J. Watt received an honorary medical degree from Baylor College of Medicine. O'Brien was asked if he would start calling Watt "doctor."
"He wrote me up a prescription this morning," O'Brien said. "He told me to take three chill pills a day and call him in the morning. I thought I've been more chilled out, but I guess he doesn't think so."
The Texans will hold a total of ten OTA sessions that end June 8. Veteran minicamp take place June 12 through June 14 at the Houston Methodist Training Center.
Check out some of the best photos from Week 2 of Texans OTAs.