Texans head coach Dom Capers
(On game performance) "What we've been doing over the last four weeks is trying to find out about our football team. Obviously the preseason is officially over and our experiment is officially over. After tomorrow night, everyone will be 0-0 and everything we've done over the last five months, we've done with one purpose and that is to be ready to be at our best a week from this Sunday against the San Diego Chargers and every week after that. I'm convinced that we have a lot of work to do. But I'm convinced that the guys understand what it's going to take. I know that they'll be anxious to get back in here on Monday and go back to work and start on the Chargers. They'll come in tomorrow, they'll lift, they'll look at the tape and they'll have Saturday and Sunday off. It'll give them a good break. We'll return on Monday and they'll be off on Tuesday and have a normal practice week Wednesday through Saturday."
(On feelings after preseason) "I would have liked to have seen them go and get a touchdown this evening. I thought we were moving the ball early and they ended up getting some pressure on us and threw the interception. We only kept David (Carr) in there for two series and Domanick (Davis) in there for one series. That was part of the plan. I think the best thing that came out of this evening is I don't think we lost anybody to injury. Tony Hollings had a thigh bruise but other than that, we came through fairly healthy. I liked what I saw out of our first team offense through the preseason. I think we'll be a much more efficient offense than we've been. We haven't had our first team defense together out there. Hopefully Monday when we line up on the practice field, we'll have everybody healthy and be able to get a full week with our starting defense. It just hasn't happened. Seth Payne played more than we thought he would play this evening. He wanted to stay in and play some of the second half just because he thought he needed to work and I thought that was positive."
Texans QB David Carr
*
(On offensive performance) "We threw the ball alright. We just had one play where I got hit and threw the interception. Our guys came back and moved the ball effectively."

(On next week) "Next week is when it starts. We're really excited about playing at home for the season opener."

*Texans CB Aaron Glenn
*
(On returning to the field) "This is the last tune up before the regular season. As a defense I think we did some good things, but we have some things to work on. The best thing that we did was the goal line stand. We've been waiting on it and we finally got a chance to do it. The guys that were on the field stepped it up and made the plays that needed to be made."

*Texans WR Andre Johnson
* *
(On getting back in the action) "It was fun. I missed the game last week. I really wanted to come back and try to make plays every time the ball was thrown to me."

(On the big catches) "I just wanted to come out and make a few plays and get back in the rhythm."

(On hurricane Frances hitting close to home) "They said it would probably hit on Saturday, but hopefully my family and everybody else will be safe."

**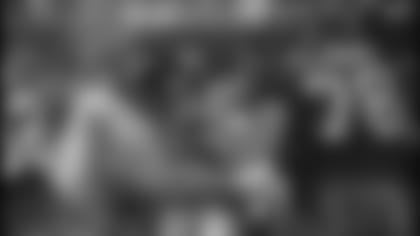 Texans DT Seth Payne
* *
(On his first half performance) "I've been waiting to be out on the field and play with the guys again for a while now."

(On knee injury) "It feels good. Junior Ioane told me that I'd be surprised by how good it would feel when I played on it and he was right."

*Texans RB Tony Hollings
*
(On play during first half) "I got a few plays in. The offensive line is making holes for us we just have to make the right reads. We also need to come out in the second half and continue the way we left off."

(On the injury) "I broke out on a run and I saw the guy in front of me, the guy on the side of me dove in and caught a helmet to my thigh. I hope it's not serious. I'm feeling pretty good though."

*Buccaneers head coach Jon Gruden
*
(On the first half) "We played a lot of guys. I love what we're doing offensively. We threw the ball very, very good."

(On Brian Griese) "He's a good player. He helped us score tonight."

(On the hurricane) "My heart goes out to everyone back in Florida. We've got to hang in there and deal with this hurricane."

*Buccaneers LB Ian Gold
*
(On his hit on Carr that led to a Mario Edwards interception) "It was just a routine play. They called a blitz and I just came off the edge and it really was the first time I got to get one-on-one with a back the whole preseason. I feel like I am getting back into rare form. It felt good getting a hit on the quarterback."

(On how he is coming along with the Bucs) "It is coming along great. I feel as close to 100 percent as I'm going to get before the season. Now, it's just a matter of playing football; put all of that other stuff out of my mind and getting out there and prepare for 16 games."

(On how he feels going into the season with a new team) "I think our expectations are higher than other people would think. We're okay right now, but I think everyone would say we have a lot of room for improvement and I think we're goign to do that as the regular season progresses."

*QB Brad Johnson
*
(On the game tonight) "It was nice to see us get healthy and (Derrick) Deese finally getting some playing time, and get him ready for the opener against Washington. I think we did a great job of converting on some third-down plays, taking the drives downfield."

(On new players on offense performing well) "It was great for some young guys. Also, Bill Schroeder came on strong and made some nice catches. Obviously, Michael Clayton had a couple incredible catches. This guy will be a big part of what we're trying to accomplish here this year. We're going to spread it around to a lot of different guys. The better they play, the better we'll be."

(On heading into the opener) "I feel very sharp. All through training camp, all through the preseason games, I played just enough to be ready for the opener."

*DE Simeon Rice
* **
(On the final preseason game) "I think we pulled together out there. It was a good outing for us. We expect a lot out of this year and it was a good showing tonight. We didn't go out and show the dominant performance that we wanted to, the three-and-outs, three-and-outs. We made the turnover to get off the field. I think we are moving the ship in the right direction."

(On his goals for the upcoming season) "Taking this thing where it needs to go. Taking it where it was two years ago."