Texans head coach Dom Capers
*
*On the game: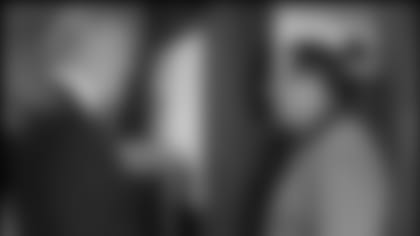 "Well, to me it defines the character of this team. Our backs were to the wall. We're 0-2 coming in here, coming into Arrowhead. Not many people come into Arrowhead and win. We knew it was going to be a tough battle. Kansas City went right down the field on us and put the ball in the end zone. We went down the field and threw the interception. Yet we hung in there, found a way to keep the score 7-6 at halftime. We felt coming out in the second half, if we just played our game and kept playing and playing and playing, we'd have a chance. It comes down to who makes the plays and today we made the plays to win."
On FS Marcus Coleman's interception return being a momentum changer: "Well, those are game-breaker type plays; they turn games around. Obviously they're knocking on our goal line and we had a hard time stopping them, that's what you hope for. Big players come through and make the plays. Marcus made the big play there."
On Kris Brown's field goal to win the game: "I thought it was our best chance. He kicked that way before. I'll tell you something about Kris, we talked at halftime about kicking off the opposite way. He had more confidence kicking the direction that we kicked and we wanted him to be kicking that way in the fourth quarter because he made a long field goal there earlier. I told him, 'If you feel that way, we're going to kickoff into the wind in the third quarter and hopefully have the wind with us in the fourth quarter.'
On the catch by WR Derick Armstrong to set up the field goal: "It was a three-step drop and Derick's got to have confidence that he's going to catch the football. It was a clutch play in a clutch situation."
On the numerous players making contributions: "We have a very young team. I think we started three rookies on defense today. If we can stay the course here, this team's going to get better as the season goes on. It's a challenge and it challenges what you're all about. But I think our guys showed what they're all about. We had to overcome some injuries when we lost [RB] Domanick Davis with a sprained ankle during the course of the game. [WR] Corey Bradford, you know, has a shoulder sprain. Some guys had to step it up. Jonathan Wells was our only running back, because Tony Hollings was deactivated."
On getting the ball to WR Andre Johnson despite teams keying on him: "You saw what Andre is capable of today. He's a big play player. To score points you have to get yardage in big chunks and Andre gives us a chance to do that."
On QB David Carr getting off to a slow start: "I thought David started slow. That's going to happen sometimes. You know the Chiefs history in this stadium is to start fast. So we knew we'd have to withstand the initial surge. I felt when we went into the locker room 7-6 at halftime and we'd stopped them on fourth down; we had the momentum in the locker room. Then we came out in the third quarter and we had an awful time moving the football. We didn't do too much offensively but again we hung in there. We made the big interception return and hung in there and had a nice two-minute drive down and set it up for Kris [Brown] to kick the winning field goal."
CB Marcus Coleman
*
*On his interception return:

"We worked on the play all week in film study. So once they cam out in the formation, I just played the play and when they threw it up, I just took it to the house."
On covering Tony Gonzalez: "In certain man-to-man situations, I was following him all over the field. That happened to be one of those situations and I was successful."
On the defense being making plays to change the game's momentum: "It did. That's our job. We need to go in and make plays when we need to and we need to make stops when we need to. That's what we signed up for and all those guys in there, they fought it off and we stayed together."
On Priest Holmes catching up to him right before the goal line on his return: "I didn't feel anybody. Really I was just trying to get into the end zone and I started coasting at about the 20-yard line. I didn't think anybody was behind me because the only person I saw was Trent [Green]."
LB Kailee Wong
* On the Texans being in the game at halftime:* "We knew that they had moved the ball up and down the field but there was only seven points on the scoreboard. So we just knew that we had to come out in the second half and play our ballgame."

On FS Marcus Coleman's interception return: "I'm thinking, 'Man, I'm so pumped!' We had some great coaching, great play calling and we actually expected that play to come."
On WR Andre Johnson's two great catches: "I did [get to see them]. He's really stepped his game up and it's really great to see, but he's a big-play guy on our offense and it's great to see. When it comes down to it, you know he's going to get the ball."
K Kris Brown
* On the winning field goal:* "I just tried to go out there. Any time you get the chance to kick the game-winning kick, you have to savor the moment. As a place kicker, that's what you live for. Just go out there, savor it and do what I know how to do. Go out there and not really think about it too much, just go out there and kick the ball like I had all game."

WR Jabar Gaffney
* On the play of the Texans defense:* "[The Chiefs] were moving the ball a little bit. Our defense buckled down in the fringe area and made plays. Marcus [Coleman] had the interception; that was big. So they were moving the ball, but our defense made the plays when they needed to."

On his touchdown catch to tie the game: "We needed the touchdown here. A field goal would have given us a score but we needed a touchdown there. Coach called the play and David [Carr] made the throw and I jumped up and got it."
On the Chiefs defensive play: "The Chiefs, you know, they have a good defense. They made us work for everything we got today. We just kept fighting and made enough plays to win the game."

Chiefs head coach Dick Vermeil
*
*On the game:
"Obviously right now we're sort of snake-bit. We can't make things go our way. We had an opportunity to win a football game here and we couldn't take advantage of it. A lot of different things contributed to it, but in the final say, we just didn't get it done. We allowed [Houston] to hang around long enough for them to make a play and win a football game. Very, very discouraging when you run for 168 yards and do all these other things well and you get a turnover and they score. That's how games are decided today. Our players are hurt right now, they're feeling it.
On the defense: "I was pleased with our run defense; it was a lot better. They got some throws on us, no question, but overall we lost a very disheartening football game and it'll hurt. It'll hurt us a lot. But the kind of character we have, I think, [our players] will continue to work and we'll see if we can't solve some of the problems.
Going for it on 4th-and-1: "I get down there [near the goal line] this week on a fourth and one-and-a-half and decide to go for it. I made up my mind before the game ever started because last week, when I didn't do it, I felt I sort of drained some of the enthusiasm and motivation and fire from our squad. So I wanted to give them a chance deep down and we didn't make it. Then we get down there again and have a beautiful drive, run a play and they pick it off and run it all the way back and that's the ball game.
On RB Priest Holmes: "We had too many penalties and that's way out of our profile. Sooner or later we've got to solve that. But what can you say about Priest Holmes? He's the Kansas City Chiefs leading all-time rusher in the history of the organization. Then, not to be able to win, it's very, very disappointing. He'd rather not have the record and win, I know that."
On Houston's interception in the Chiefs end zone: "We've scored on that play before. I didn't want to call it back then. It's just one of those things. It's something that we work on in the Red Zone in tight press bump-and-run coverage. They did a good job and we didn't in that situation. They'd like to have that call in the end zone [for an INT] back, I'm sure. In this game you play the snap that's called and try to make it right."
RB Priest Holmes
*
*On when and how he knew he'd be able to play this week:
"Well in terms of a mental state. As soon as the injury happened, it wasn't until Sunday night after the Carolina game that I realized I wasn't going to be able to put any pressure on it. I called Dave Kendall, our head trainer, and told him that I couldn't put any pressure on [my ankle] and wasn't able to walk on Monday. At that point I had already made up my mind that in terms of playing this weekend, I would be a part of the game. It was just a matter of me finding out what was going to be the medium in order to get me to this weekend."
On what a victory means compared to the franchise rushing record: "It's devastating. In order for another team to come into Arrowhead and beat us on a field goal, we believe we made enough plays to put us in a position to win. But when it came down to it, the return that they had that broke 100 yards and the big play that they had on fourth down when they stopped us, it really showed up in their favor at the end of the game."
On not scoring despite coming close on the play before the interception: "That was a 14-point swing that would have been in our favor if we had gone in and scored on that drive. However we didn't. They made an incredible interception: [FS Marcus] Coleman ran it all the way to the other end of the field. I didn't really think that would be the play that would seal the victory for them. I really felt like we would have an opportunity to come back, which we did. It just came down to a big play, they kicked a field goal. That's one of the things you never want it to come down to – the hands of the field goal kicker."