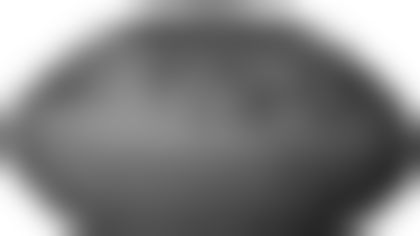 (on the opening drive) "It was a good drive. We got a lot of plays in and that's what we wanted to do. We want to go out and have long drives to keep the defense off the field, and just put points on the board like we did on the first drive of the game."
(on the efficiency of the drive) "I think it was real good. I think that that's the thing we wanted to do this year is be really consistent and as long as we're consistent, we're gonna go out and win more games."
(on success on offense carrying over into the regular season) "Doing it in the preseason, hopefully that can carry over to the regular season. You only can get a few plays in and then you have to give the other guys some work so hopefully we can just keep it going when we get into the regular season."
(on the opening drive) "A lot better than last week as far as, we got it in when we got down there, that was kind of our goal just talking this week about what we had to do. We felt pretty good about what we could get done in the field, once we got down to the red zone. First play we got knocked back to the three yard line but just went with a three wide receiver set and tried to throw it in from there and it worked out."
(on two successful drives) "I feel like we've taken the step that we've done on the practice field. The work that I've done with the wide receivers and Andre in the offseason has really paid off as far as our communication and what we're seeing on the field. It's been good, so I'm happy where we're going."
(on the touchdown pass) "Down there we had three yards to gain, its kind of hard to get, they had a goalline defense in there so we called a pass play, really just a three receiver route. We didn't really have it so I figured before I threw the ball into the stands I'd roll out and just see if I could make something happen and Swinton did a great job getting open."
(on his 57 yard punt return) "It was good blocking on that. I saw the hole open up, I tried to hit it as hard as I could and I saw the kicker and I saw the end zone, but the next thing I knew I was down, but I'll get one."
(on his touchdown catch) "I turned around and seen David scrambling. Charles Woodson was holding me, pushing me out of bounds. I turned on it, came back inside and sat in the hole and then I made the catch."
(on his second quarter interception) "I was just trying to play the coverage and stay in my zone and just read the quarterback and we had a little pressure up there so he went ahead and threw it and I took advantage of it."
(on third down stop on LaMont Jordan) "I was just filling the hole, man. That has to be one of things we've got to do this year as a defense. We've got to make those critical plays on crucial downs, we have to make them."
(on giving up two touchdowns) "The first one I had the ball in my hands I just didn't come down with it. And he grabbed it on top of me coming down trying to get my feet. But he just grabbed it and held onto it. Took it out of my hands."
(on the second touchdown) "The coverage, I was supposed to be underneath and have a safety over the top and he just ran a good route. He just launched it and it was just a good throw and a catch. I'm glad this happened now, so I can learn from it and be prepared when the regular season comes around."
(on the first half) "We started off kind of slow, but we got it going towards the end of the first half. It's good to get in there and get some good work during the preseason."