From the press box- 3:10 p.m.Titans DT Jason Jones was tossed from the game for throwing a punch in the melee. WR David Anderson was flagged in the scrap also, but was not ejected.
From the press box- 2:43 p.m.All square again, this time it's 31-31 after an Owen Daniels one-yard touchdown reception from Schaub. That score was setup by a pass interference call against the Titans the play before. Schaub was looking for Johnson, but the Titans interfered and the Texans set up shop on the 1.
From the press box- 2:16 p.m.The Titans took the lead back with a 91-yard touchdown run by Chris Johnson. It's now 31-24 after the 5 play, 99-yard drive that chewed 1:50 off the clock. Johnson now has a career high 179 yards in the game. It's only taken him nine carries to get there, and he's averaging nearly 20 yards per carry.
From the press box- 1:44 p.m.Rob Bironas was good from 40 yards out for a game-tying field goal, evening it up 24-24 with :02 left in the first half. The field goal was the culmination of a 10-play, 59-yard drive that went 2:11.
At the half, it's still tied at 24-apiece.
From the press box- 1:32 p.m.The Texans take their first lead of the season, 24-21, when Kris Brown connected on a 38-yd field goal. The 24 points are the most the Texans have scored in a first half in franchise history.
Additionally, Chester Pitts has a right knee sprain and his return is questionable.
From the press box- 1:08 p.m.After a Eugene Wilson interception in Titans territory, Schaub hits Jacoby Jones for a 29-yard scoring strike. It was a 2-play drive that went 29 yards and took just 13 seconds. We're knotted at 21-21 here in Nashville.
From the press box- 1:00 p.m.It's a shootout in Nashville. The Texans answer the Titans score on their first play after the Washington score, as Johnson hauls in a 72-yard bomb from Schaub to pull the Texans back to within 7. It's 21-14 Tennessee.
From the press box- 12:58 p.m.The Titans took 7-plays and 54 yards to score on a Nate Washington 8-yard touchdown reception from Kerry Collins. Tennessee leads now by a 21-7 margin with 12:00 to play in the 2nd quarter.
From the press box- 12:34 p.m.Matt Schaub and Andre Johnson connect on a beautiful 19-yard scoring strike. Johnson was interfered with on the play, bobbled the ball, and still gathered it in and kept both feet in bounds. Texans were impressive on 3rd down, converting all four 3rd down chances. The drive went 14 plays, 77 yards in 6:18. Game tied up at 7-apiece.
From the press box- 12:19 p.m.On 3rd-and-19 at their own 43-yard line, Chris Johnson went 57 yards up the left sideline for the touchdown. Tennessee's up 7-0 after the 7-play, 73 yard drive that took 3:20 off the clock.
From the press box- 12:10 p.m.Texans pick up a first down and then are forced to punt. Titans take over at their own 27-yard line with 11:51 remaining in the first quarter. Matt Turk boomed a 48-yarder.
Before the TItans took over, there was a video tribute to former Oilers/Titans quarterback Steve McNair.
From the press box- 12:01 p.m.The Great Ronnie Milsap sang the National Anthem and knocked it out of the park. Tennessee won the toss and deferred, so the Texans will receive.
From the press box- 11:35 a.m.Jacoby Jones starts his fourth career game today. In 2007 as a rookie, Jones started a trio of contests and in those three games he finished with a combined 88 yards on 11 receptions. Statistically, his best start came in a loss at San Diego in which he caught 5 balls for 51 yards.
From the press box- 11:24 a.m.Don't forget: you can catch Gary Kubiak's Monday press conference live tomorrow at 3:30 p.m. on Texans TV.
From the press box- 11:19 a.m.The Texans are going with the Deep Steel Blue tops and the Liberty White pants for today's game. Titans are in the home white jerseys and blue pants. Click here to check out what combos the Texans have worn thusfar in 2009.
From the press box- 10:46 a.m.Here are the inactives and lineup changes for the Texans-Titans game:
Inactives – Texans:
7 QB Dan Orlovsky (3QB)
11 WR André Davis
28 CB Antwaun Molden
35 CB Jacques Reeves
62 C Antoine Caldwell
63 C Chris White
83 WR Kevin Walter
95 DT Shaun Cody
Starting lineup changes – Texans:
Jacoby Jones will start at wide receiver for Walter.
Thoughts:The absence of Walter (hamstring) and Reeves (broken fibula) is a mild surprise, seeing as how they practiced during the week and were listed as questionable. FB Vonta Leach (knee) is playing. With Davis and Walter inactive, that means the Texans have just four receivers today.
Inactives – Titans:
11 QB Patrick Ramsey (3QB)
41 CB Cary Williams
70 T/G Tony Kropog
78 DE Jacob Ford
80 TE Bo Scaife
87 WR Lavelle Hawkins
94 DT Sen'Derrick Marks
96 DT Kevin Vickerson
Starting lineup changes – Titans:Alge Crumpler will start at tight end for Scaife.
Thoughts:Bo Scaife led the Titans in receptions in 2008, so that's obvioulsy a setback for Tennessee. Also, without Marks and VIckerson, the depth that Gary Kubiak was impressed with, is chipped away just a bit.
From the press box- 9:57 a.m.Slowly but surely, the tarp is coming off the field.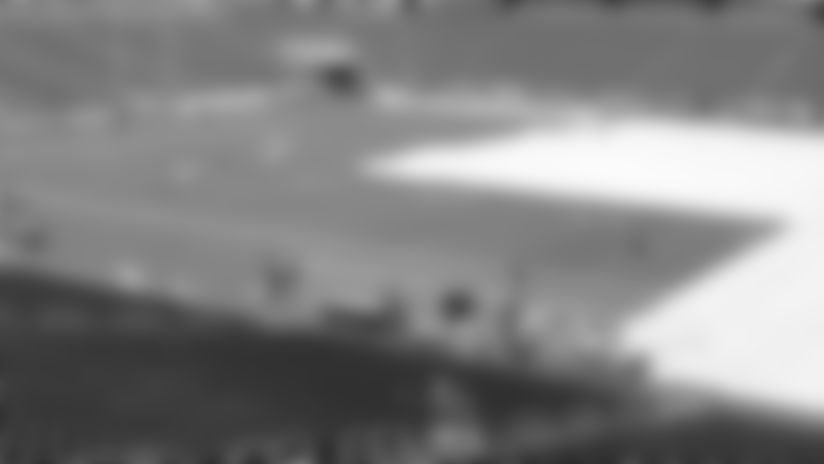 From the press box- 9:35 a.m.
We have gray skies with sunshine in and out, and the tarp is still on the turf at LP Field.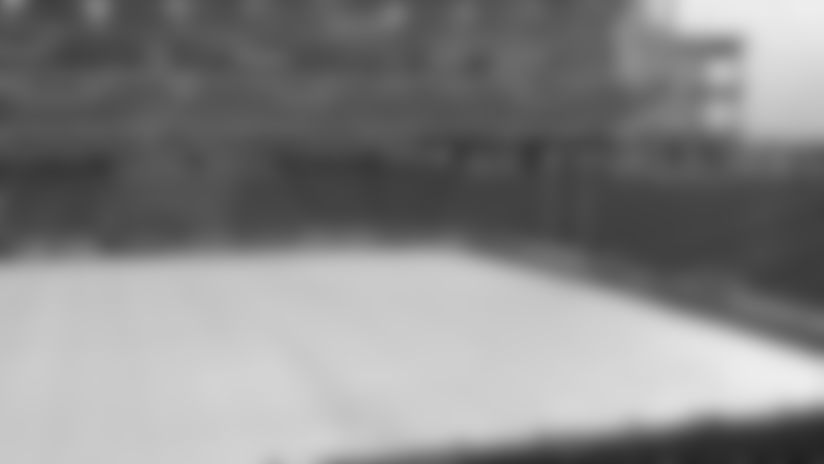 The Titans say they [don't want a repeat](http://www.tennessean.com/article/20090920/SPORTS01/909200356/Titans top task is slowing Johnson) of Andre Johnson's performance from last December.