I'm proud of the way our team went out and competed today. It's a good feeling to get our first division win and especially to be able to come here and get it on the road. We are coming off a tough hard fight and overtime loss last week and I thought our guys showed a lot of character bouncing back from it. I like the way they prepared. We knew coming in here would be a big challenge. This is not an easy place to come in and play against a good Tennessee team. What we got to do is take this win and try to build on it. We're going into a bye week, so it should give us a week to get healed up. We got the Jacksonville Jaguars coming in the next week, another division game. Hopefully, it will give us time to get prepared to play our second division game. It's a good feeling to get the first win. I am proud of the way the guys played. They competed. They really made some key plays at key times. I thought the four interceptions were extremely big. It kept us being able to hold on field position.
(On the four interceptions)
Well, I think our guys made some good plays. They were in position and they made the plays today and that's what you have to do. These games all come down to who makes the plays. Today, we were fortunate enough to make some of them with interceptions.
(On Jonathan Wells' performance)
Jonathan competes. When he's called upon, he's going in to compete. There at the end of the game, it was a great job of him bouncing outside keeping the ball in bounds and getting it up the field so we didn't have to punt the football.
(Jabar Gaffney's performance)
Jabar made some tremendous plays. I think it was David's (Carr) first touchdown pass, in the first half, that he threw out there to him. Jabar went out and got the ball. David just put it up out there and that's what a good quarterback/receiver combination does.
(On the turnovers and giving the game ball to the defense)
We will come in tomorrow and look at it and give one of our normal game balls. We didn't present any in there but I will say this, I thought that our guys did have a real singleness of purpose in terms of their preparation. Coming off of last week, we let one get away from us after making a great come back. I think they came in here very focused in terms of what we had to do to try to win the football game.
(On taking the crowd out early)
Our m.o. has been that we have been a slow starting team and playing extremly well in the second half. We talked about it all week, on how important it would be to come in and start hot and to try to set the tone and the tempo. To be able to go down and get the field goal, in the first drive, I thought was big. We know the crowd is always a factor here. They are loud. They do a great job. I think the fact that we able to jump out and take the lead and then be able to come into the locker room 13-10 at half time was critical for us because we have been a slow starting team the last few weeks.
(on importance of road win)
It was real big, especially here. This our first win against them. It took us several tries to get a win and it feels really good to come in here and get this win.
They went man coverage and anytime we are in the red zone, Carr's just going to throw it up and he threw it up and I made a play on it.
It feels real good. It was our first division game and we are able to get off to a good start.
(on different receivers making key plays)
With this receiving corps, you just can't look at one guy. There are four guys who can come out and make plays. Jabar came out early and made big catches. Corey (Bradford) made a big catch. In the second half (Derick) Armstrong made two big catches. You never know who is going to make the big play for you.
Our coaches are always preaching to us to go out and make plays. That is what we try to do. Your are not going to make every play each time the ball is thrown to you, because those guys are paid to try and keep you from doing that. You just go out and try to win more than they do.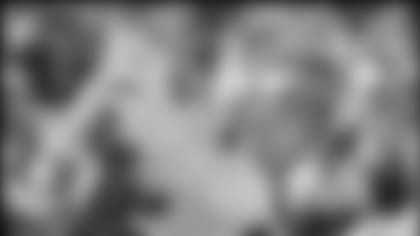 (on amount of playing time)
I really went into this week thinking that I would play a lot. That was the feeling that I had. I was prepared that I was going to play a lot of plays. So I was prepared for it. I also was on special teams in the first half.
It was a great job by the offensive line. Zach came around and pulled and got the guy out of the way. I just dove over the pile on the ground and stuck the ball out, trying to get in. We did a good job getting there.
We have been a real football team, we just haven't won a lot of games. We have been battling and we just have to keep going. If we keep getting better, there is no telling what can do. We know we have a long way to go, but are doing a lot of things well right now.

(On importance of good start)
Coach had been talking about that all week. We had been behind so many times and trying to fight back. Especially when you are on the road, you want to take the crowd out of the game as early as possible. We didn't take them out of it, but we quieted them down a little bit.
They make plays. All I want to do is give them an opportunity to go up and make a play on the ball. I feel they are as talented as any group in the league in competing for the football. I have all the confidence in the world in them.
(on defense coming up with turnovers not turned into points)
It would have been more of a concern if obviously we had lost. We are playing so good on defense. However, I have to give their (the Titans) defense credit, too. We were feeling pretty good about ourselves until we came in here. They got after us and shut us down. We had to fight and crawl for whatever we got.
(on defeating team the Texans succeeded in Houston)
You here enough about it just being in Houston. This is definitely a big game for the Houston fans. I wanted to get this for our teams and our fans. Hopefully, they are cheering for us back home and we had to get this for them.
(On whether league parity has caught up with home field advantage)
Honestly, there is no team that comes out and dominates, unless you are the Patriots. They won 19 in a row. As far as winning on the road, it is still really hard. It was not like we went out there and it was easy for us.
We had to fight for everything. The defense had to get four turnovers four us to pull it out. You have to make sure your chin strap is tightened up when you go to road stadiums.
(on overall defensive effort)
We just wanted to come out here and play a good game. That's what we did. We flew around on defense and made plays. In order to win, you have to make plays on defense.
We got four picks in the secondary this week, and that's what we have to do. We have to do that week in and week out if we want to win football games. The offense puts us in position to make plays. We just have to go out there and make them. We're comfortable as a defense. We know that up front they're going to get pressure, and they know that behind them we're going to make plays on the football. Don't depend on anyone else to make the play; you make the play.
(on importance of win entering bye week)
We feel good going into our bye week. We get a chance to get rested. You have a couple days to watch film and get ready for our next opponent.
(on creating takeaways as a defense when playing against Titans QB Steve McNair)
Our DBs did a good job of coming up with the ball. Up front, we knew we had to get pressure on him (McNair). We let him out a couple of times but guys came up and made a tackle. He's a dangerous guy, running or passing. We knew that in order for us to win this game, we had to contain him. I think for the most part we did alright.
(on McNair's performance)
He looked like Steve to me. One thing about number nine, you can never count him out. He'll take the hits and he's going to come back. That's a good team, they fought hard the whole game. We have to play them again in Houston. Anytime you play these division teams, it's great to go and pull one out on the road.
(on importance of win over Titans)
For me, this is a special win. This is the first time I've beat them up here since I left. I was thanking all the guys coming in because this is a tough place to come win. This team did it all. They (Titans) have a lot of young players on their team but they're getting better.
(on importance of creating turnovers)
In the games we've won, we've always won the turnover battle. I think if we continue to do that, we'll continue to have a lot more wins. We know what our keys to success are. We have to continue to do that.
(on importance of defeating the Titans on the road)
It's exciting to get a win, period. Going into our bye week, we're 3-3 and 1-0 in the division. We just have to continue to work hard, take each game one at a time, and know that every game forward we can win. Right now, it's not a factor of wanting to go out and just compete with these guys, we want to go out there and win games.
(on importance of starting fast when playing at the Coliseum)
I know from playing here in the past that you have to start fast. If you sit around and let them hang around or you don't make plays, it's going to backfire because those guys have big play ability on offense and on defense.
It's another game in terms of going out there and playing. But with this being a division game, no it's not just another game. It's a big game.
(on defensive schemes against Titans QB Steve McNair)
We were doing a lot, bringing a lot of people. When you have a guy like that, you can't sit back. He scrambled a couple of times. That's just McNair. He can do things like that. I think he had a good game. The receivers dropped a couple of balls. If they had caught them, it probably would have been a different story.
(on forcing turnovers as a defense)
We've been doing a great job all year. There's been a couple of times when we beat ourselves. Even last week against Minnesota when we got back into the game, we still beat ourselves. We bring a lot of pressure. When you put a hand in the quarterback's face, you're going to make plays like that.
(on strangeness of playing for the visiting team at the Coliseum)
At first, it was very strange. Even coming into this locker room is strange. Once the game started, everything was okay. I still caught myself wondering at times when Keith Bulluck, Kevin Carter, and them were out there playing, what it would be like if I was still there. At the same times, I know I have to move on. I'm out there battling with a whole bunch of different guys.