You'll read that the game at Green Bay in 2008 was the coldest ever. But, I'm here to tell you this one tops it. Yes, it was 12 degrees in Chicago vs three degrees in Green Bay. But that day in Chicago saw a 21-mile-per-hour wind blowing out of the Northwest. Brrrr.
The wind chill factor made it a Texans record-low minus 8 degrees at kickoff. And no one was getting any warmer as the day went on. In fact, after the '08 game at Green Bay, players commented that the lack of wind made the conditions plenty bearable.
It was Year 3. The Texans began the season with two losses on the road but beat Kansas City at Arrowhead (can we see that this year, please?) to start a four-wins-in-five-game stretch that put them at 4-3 and thinking about big possibilities down the stretch.
Then the offense started to struggle and they lost the next five out of six. Beating Chicago in their building, in their weather, felt like a monumental task. David Carr said the football felt like an ice cube. The wind made it tough for both teams to throw the ball. Several players didn't even warm up. Andre Johnson talked about the chicken soup freezing on the sideline.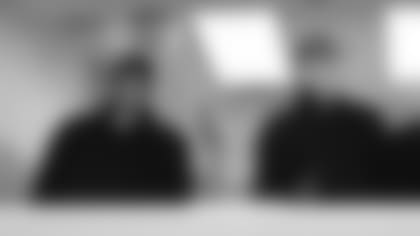 Up in the heatless booth, we had other issues. My pen kept freezing, so I jammed it in my glove to keep it warm. If you put a bottle of water on the desk, it would freeze in minutes. We actually kept water in a cooler to keep it warm enough to drink. I did push-ups during the commercials to keep the body temperature up.
The game was slogging along until Carr hit Corey Bradford for a score late in the first half. Bradford, a former Packer, was used to the conditions. Aaron Glenn and Dunta Robinson each had picks, as part of a four-turnover day that included Charlie Anderson's 60-yard scoop-and-score to seal the deal in the fourth quarter.
Forget about Vegas lines and the Bears' record. This was a huge upset that not too many people saw coming. The weather story stole the show. But the Texans showed that they had plenty of juice left after some tough defeats that derailed their hope of a winning season.
The next week, they'd go to Jacksonville and win again, in 30 degrees of wind chill, against a Jaguar team that was still alive for the playoffs.
These were the days before winning seasons and AFC South titles. The victory over the Bears stands out as a great memory created by a team that played hard when the only reward down the line was a possible .500 season. At the time it was a terrific moment. And we'll always talk about this game when cold weather outings come up on the schedule.