The news of Kailee Wong's retirement came as a bit of a surprise yesterday.
But then again it wasn't a surprise.
Wong, who will turn 31 in a few days, suffered what a lot of people thought would be a career-ending knee injury in Seattle in 2005. To his credit he fought back from that injury (a torn patella tendon and torn ACL) and was able to get back on the field for a few games last season.
But alas, all good things must come to an end.
Wong has been around here from the get-go, signing as a free agent in the early days of free agency in 2002, only two weeks after the expansion draft. Wong was signed a day after the Texans signed their first unrestricted free agent, Steve McKinney.
Kailee's best year for the Texans was in 2004 when he led the team in sacks with 5.5, and logged 71 tackles and had 3 interceptions. That season, Kailee turned in big games in consecutive wins against division opponents Tennessee and Jacksonville.
Kaileee was always very fan friendly. I met him and his wife Marissa after practice one night during training camp in 2002. Even after a grueling practice he took the time to chat for a few minutes and pose for this photo.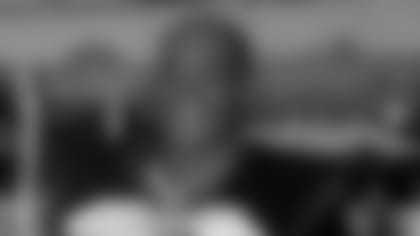 Marissa was camera shy and hid behind Kailee when I took the picture.
Kailee is well set for life after the NFL. Armed with a Stanford education, Kailee also attended an executive education program at the Harvard Business School two years ago. The program is part of an ongoing NFL-NFLPA initiative to assist players in preparing for their post-playing careers.
Kailee was a smart player. He was solid and dependable. He was a leader and an all around good guy. He will be missed.
Thanks Kailee for the hard work.