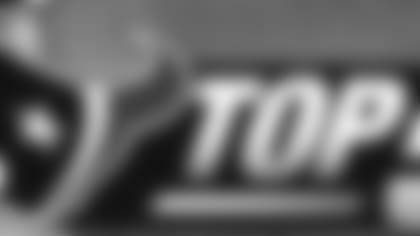 Our top five series continues with the most difficult selection process of this entire series. Not to mention, there was a staunch disagreement with my number one selection. I don't know why, T.Y. Hilton is a Texans' killer. Just look at what he's done against Houston in his career and it's crystal clear why I think he's the most dangerous receiving weapon in this entire group.
1. T.Y. Hilton, Indianapolis Colts - Week 5 (Home) & Week 15 (Away) - I won't apologize ever for putting the former FIU star in this spot. Until the Texans consistently find a way to limit his impact, he's going to be the one guy that worries me the most of any opponent.
Key Stat: Hilton's three career games at NRG Stadium: 19 receptions, 422 yards and five TD.
2. A.J. Green, Cincinnati Bengals - Week 10 (Away) - A few around the office couldn't believe that I would put Green behind Hilton, but I've seen the Texans stop Green. It just hasn't happened with Hilton. That said, Green had his best game reception wise with 12 against the Texans in 2014.
Key Stat: Green missed nearly four games and still had 1,041 yards - his fourth 1,000 yard receiving season (four seasons out of four).
3. Julio Jones, Atlanta Falcons - Week 4 (Away) - The last time the Texans faced Jones in a regular season game, he nearly came down with a miraculous, last-second touchdown reception in 2011. With Roddy White up in age, Jones is clearly Matt Ryan's go-to receiver in Atlanta.
Key Stat: Jones led the NFC with 1,593 receiving yards in 2014 (in only 15 games)
4. Jeremy Maclin, Kansas City Chiefs - Week 1 (Home) - The Texans also saw Maclin last year as a member of the Philadelphia Eagles. Unfortunately, they saw his name on the back of his jersey, as he had six catches for 158 yards and two touchdowns.
Key Stat: Maclin had his first 1,000 yard season last year, which led to him signing a huge free agent deal in Kansas City.
5. Mike Evans, Tampa Bay Buccaneers - Week 3 (Home) - The Texans face a few "basketball forwards" at receiver this season and Evans is the best of that bunch. When the light went on for him over the second half of last season, he was remarkable.
Key Stat: First seven games: 25 receptions, 336 yards & two TD. Last nine games: 43 receptions, 715 yards and ten touchdowns.
Texans analyst John Harris ranks the top 5 wide receivers on the Texans' 2015 schedule. (AP Images)