Just got back up to the press box from the Texans' war room, which is located on the first floor of the stadium in the team's primary meeting room. The Texans' PR staff escorted the media into the war room for a few minutes for photos and some video.
The Texans' draft board was covered up, but we got a good look at where everybody's sitting. Texans owner Bob McNair and his son, vice chairman Cal McNair, are sitting front and center. In the row behind them are some key decision-makers: seated from left to right, Texans defensive coordinator Frank Bush, offensive coordinator Rick Dennison, head coach Gary Kubiak, general manager Rick Smith, director of college scouting Dale Strahm, director of football administration Chris Olsen, director of pro personnel Brian Gardner and associated director of pro personnel Bobby Grier.
Behind them are assistant coaches, scouts, medical/training staff and other football operations personnel. All Texans staff members welcome in the back of the room for most of the draft, too (techinically, that means I could be down there, but I'm pretty sure that would preclude me from being able to blog/tweet/do my job).
Here are a couple of photos from inside the war room: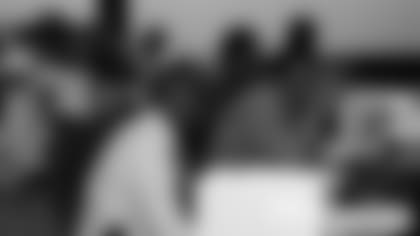 L-R: Texans director of college scouting Dale Strahm, general manager Rick Smith and head coach Gary Kubiak