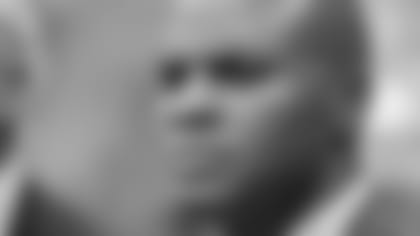 General manager Rick Smith
(on the changes in defense due to OLD Brooks Reed's injury) "You start with the injury and we're fortunate that we're going to get Brooks back. He has a very predictable rehab process, and he's diligently working at that. We will get him back. At this time of year, for all NFL teams, it's how do you  adjust to injuries at this time, how do you continue to play at a high level and if you're not, how do you start to work toward that? Whitney (Mercilus) is a natural pass-rusher obviously so he fits at the Will linebacker position. I think we brought him along slowly, and what he's shown is he's productive when he plays. We expect he will continue to do that. And Bryan (Braman) is a guy that will have to back up both sides. You go back to last year and really Connor (Barwin) and Brooks played predominantly the whole season so you can play games with just outside guys, but we certainly felt good about Bryan and his ability to come in and function. He's playing well on special teams right now. So, just a part of what happens this time of year in the NFL."
(on what it means for him when players from other teams get cut) "It's a process; it's our pro scouting department. Brian Gardner is our director of pro personnel, it really starts with he and a bunch of guys that work for him and with him, and if there's ever a guy that's on the waiver wire or, for that matter,  a guy as we talked about before we had all those workouts on Tuesday, if we ever feel like there's a guy that's available that might be an upgrade, we're always going to consider those options. It's no different when you see guys at any time of the year on the waiver wire; if we think he's a fit for our organization, a fit for the scheme that we play and is an upgrade, then we'll consider adding him."
(on the effect RB Justin Forsett's 81-yd touchdown against the Lions has on his role in the rules committee) " We've already started to talk about whether the rule needs to be looked at ad whether or not it needs to be changed. The thing I will say about the rule is it's a pretty clear rule and the officials do a good job of reminded the head coach in the meeting 90 minutes prior to the game that if there is a change of possession and a score not to throw the red flag because it will result in an unsportsmanlike conduct penalty. I think right now as we stand now, the rule's in place and it's what we have been administering for the entire season,  so that's probably the right way to stay with it. But certainly we'll look at it and see if there's any merit to perhaps maybe even still administering the penalty, for example, but maybe allowing the replay to replay it. There are many things that we can look at, like we do all the rules. We put all these rules in place and we have the rationale for why we do what we do and there are always unintended consequences that we try to think through and work through. There's always a reason for why we put the rules in place. So, we'll look at that as well as several of them that have come up this year and try to continue to promote the game in the way that it's supposed to be played."
(on Forsett's play typifying what the Texans are all about) "It does. We play till the whistle, we play hard, we play aggressively, we play fast. Just a heads up thing by Justin to continue to run because he didn't think that he was down, he didn't think that he was down by contact so he continued to play and there was not a whistle blown. So you're right, it does speak to the way that we try to play and the fact that our guys are going to continue to play and give their all."