On Wednesday, Texans defensive end Mario Williams, team president Jamey Rootes and H-E-B presented 30,000 pounds of food to the Houston Food Bank through the Sacks for Hunger Program. The donation will provide more than 23,000 meals for hungry Houstonians.
Through the Sacks for Hunger program, H-E-B pledged to donate $1,000 worth of non-perishable food to the Houston Food Bank for every sack that the Texans recorded during the 2009 season. The Texans finished with 30 sacks (Williams led the team with nine), accounting for $30,000 in donations.
Williams, Rootes and H-E-B president Scott McClelland presented the president and CEO of the Houston Food Bank, Brian Green, with a trailer truck load of the non-perishable food on Wednesday.
The Houston Food Bank feeds 137,000 people each week by distributing food through more than 400 hunger relief agencies in 18 southeast Texas counties, including church pantries, homeless shelters, safe havens and nutrition sites for children and the elderly. Thanks to strong community partnerships, the Houston Food Bank is able to stretch every $1 donation to provide a full day of meals for one person.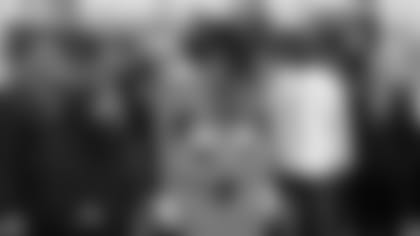 From left: Scott McClelland (H-E-B), Brian Green (Houston Food Bank), Texans defensive end Mario Williams and Texans president Jamey Rootes