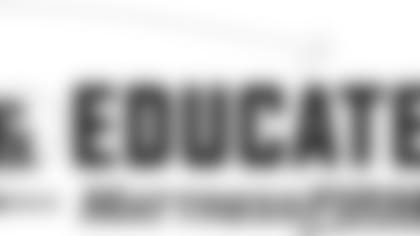 With no other activities to take away from practice on Wednesday, the North and South squads focused in on the first day in full pads at Ladd-Peebles Stadium.
Here are my observations from the day.
The Denver Broncos staff is truly utilizing this week with Josh Allen (Wyoming) and Baker Mayfield (Oklahoma) as an audition to be the next Denver quarterback. We arrived at the field well before practice started at 12:30 CST. It was around 11:30 or so when we got there and the four North team quarterbacks were out getting work done with the offensive staff. Just them, working drills, footwork, etc...40 minutes or so before any other North squad player took the field.
There's a lot of drama, seemingly, around Mayfield, no matter what, but that hasn't stopped him from throwing the ball well at times. Allen had a seemingly much better day on Wednesday.
Allen dropped two beautiful deep throws down the sideline for touchdowns on back-to-back plays, one to Allen Lazard (Iowa State) and the next one to Michael Gallup (Colorado State). Those two throws were as good as any throw you'd see on a Sunday in the fall. Dimes!
A little later in practice I almost got a true understanding of his arm strength when he nearly hit me. He didn't mean to...I don't think, but one of his errant throws came my direction on the sideline. During team drills, Allen felt pressure and tried to escape a bit to his left and he eventually just fired the ball at two receivers in the vicinity. The throw seemingly split the difference between the two and hit the ground about two yards in front of me, luckily, about two yards to my left. If that thing had hit me, it would've broken something as it skipped off the turf and flew into the crowd on the sideline. That ball had as much sauce on it as any throw that came my way on the sideline in 16+ NFL games last year. Zebra Technologies measured one of his throws at 66.1 mph! That's insane. Again, though, he hasn't learned how to harness that power for good consistently enough to make me say he's ready to start in the NFL. Potential? Limitless. Ready right now? Nope.
One of the absolute gems of this week is receiver DaeSean Hamilton (Penn State). He's caught everything thrown his way. He's gotten open on nearly every one-on-one rep, 7-on-7 rep and/or team rep. I haven't seen a defensive back stay with him once. He's spun around defensive backs with just two steps off the line of scrimmage. Plus, he LOOKS like an NFL receiver. I see NFL receivers all the time so I know what they're supposed to look like. That guy, well, that guy would fit in an NFL locker room yesterday.
The other receiver that's really gotten my attention is James Washington (Oklahoma State) on the South squad. Now, let me preface that by saying that I thought very highly of Washington coming into the week, but he's been WR1 on the South squad by a mile. When he runs a deep over route or a post route, there isn't a defensive back in Mobile that stays within striking distance of him. I saw it today against a multitude of defensive backs on the South squad. The only thing that more than likely keeps him out of the first round is his 5-11 height. He'll be in my top 25 of the Harris 100, though. Ballers always get high marks on my board and he's one.
Receiver Byron Pringle (Kansas State) didn't really have much chance to be a complete receiver in college, but that man ran some brilliant routes today during passing periods for the South squad. I mean, he had defensive backs falling backwards on his cuts in and out of his breaks.
I mentioned North squad cornerback Christian Campbell (Penn State) earlier this week as a guy that piqued my interest. Today, he had an interception and another pass break up during the day. His length is intriguing and he matched up well in the passing game today against everyone.
Defensive back Duke Dawson (Florida) was back today for the North squad after being ill on Tuesday. He's a ready made nickel at the next level but he played on the perimeter throughout today. He ran the routes for a few receivers in passing periods. I thought his burst to the ball was more impressive than I expected. He measured at 195 lb in Mobile while he played the season at around 207, as well. I didn't think he could survive outside, but he'll compete hard no matter where he plays. I still would like to see him in the slot going forward, but he can play.
When North squad receiver Braxton Berrios (Miami) works out of the slot, running pivots, returns, shallows, shakes, whatever slot route he wants to run, he wins nearly 100% of the time. Outside? Not so much. But, inside, he's tough to stop.
Receiver Michael Gallup (Colorado State) has some juice. When he hits top speed, wow. He was measured as the fastest player on the field on Wednesday and when you see him on a go route, it's crystal clear. He needs to be more consistent catching the ball at all times, but he's fast.
When the North squad ran a screen during team, my fellow Brown University alum Dewey Jarvis made the loudest hit of the day when he took on one of the offensive linemen looking for someone to block. I didn't really know how Jarvis would fit in here, but he certainly hasn't looked out of place for the North squad.
I mentioned early this week that the defensive back roster was littered with small school players and one that has really caught my attention is Taron Johnson (Weber State). He appears to be the most sudden of all the defensive backs on the field. His transitional quickness is impressive and he could be a name to watch in the near future. If he runs well at the Combine, he may get a LOT more attention.
Guard Will Hernandez (UTEP) is one large human being. He's 340 pounds and I stood near him during one-on-one drills to see how well he was put together. Like solid granite, really. During one-on-one's he had a great battle with defensive lineman Justin Jones (NC State). No one could block Jones. No one could get a sniff of the quarterback on Hernandez. So, the Broncos staff set those two up for two reps. Jones won the first one, ripping up and under Hernandez to get through to the quarterback. So, Hernandez wanted another piece of him and won the second rep stopping Jones from going upfield and then when he spun back, Hernandez shut him down. The North offense couldn't run it much but when they did run behind Hernandez running back Jaylen Samuels (NC State) found a wide open lane.
Jones? That man is an animal. As a defensive lineman, you know how I feel - wear a skill player number and I'm a fan. Well, #27 Jones is a load. He bull rushed one of the North guards right back into the turf, wallet style. Then, he went with a rip under move to get loose on the other side of the formation a few plays later. That guy was overshadowed at NC State by star Bradley Chubb, but someone is going to get on heck of an interior lineman.
His teammate B.J. Hill (NC State) is 315 pounds and I saw him throw a spin move to get free today that was jawdropping. Big dude doing THAT?
Outside linebacker Obo Okoronkwo (Oklahoma) is chiseled out of marble and he has the makings of being a solid pass rusher. It was obvious that he was working on his full gamut of moves, not trying to throw the same move throughout the one-on-one drills. His spin move was a little slow, but when he hit the gas from the outside with a quick dip-rip, he couldn't be stopped. He beat tackle Tyrell Crosby (Oregon) with that move and Crosby asked for another rep with the Sooner star. Obo then beat him again on the next one with an inside move.
Another outside linebacker worth keeping an eye on is one that has an NFL body and length - Kemoko Turay (Rutgers). He is LOOOONG and athletic and he has pass rush ability as well.
Inside linebacker Nick DeLuca (North Dakota State) had an interception during 7-on-7 and also made a sideline-to-sideline play during team on a pin-pull sweep. He ran down Jaylen Samuels (NC State) on that play when it was nearly perfectly blocked.
Oh man, during team Hamilton (Penn State) just destroyed one of the North squad safeties with a crossing route. I mean, in my notes, I have "did him dirty". He ran right at him, jabbed to the outside and darted across to the inside, leaving said safety five yards plus behind him.
One guy who stood out for the South squad today was tight end Jordan Akins (UCF). He made the catch of the day on a throw from Mike White (Western Kentucky) for a touchdown. He had a safety draped all over him as he was right at the goal line and White threw it where only Akins could have any chance of catching it. Akins stuck out his right paw and snatched the throw for a touchdown. I'm not sure there was any other play that got "oohs and ahhs" from the assembled masses at Ladd-Peebles Stadium.
Defensive end Da'Shawn Hand is one impressive looking dude. What I like most about him is his desire to be violent on every single play. Even in his pass rush, his clubs, rips, stabs are highly violent. During a team drill, I saw him blast a guard right off the snap and nearly bring the poor guard to his knees. Hand then sprinted after the ball ten yards downfield.
One of the best players all day for the South squad was defensive lineman Andrew Brown (Virginia). Every time a positive play was made for the defense, Brown was right in the middle of it. His versatility and strength will allow him to play a number of different spots in a number of different situations in the future.
I really like guard Isaiah Wynn (Georgia). When he drops his butt and doesn't lean or overextend, defensive linemen have no real chance doing anything against him. He had a couple of reps where he absolutely stonewalled defensive linemen on the pass rush. Taylor Hearn (Clemson) received some attaboys from the Texans coaching staff with his work on Wednesday as well.
Offensive tackle Brandon Parker (NC A&T) had a better day and seemed to be more comfortable facing a higher caliber of athlete than he faced in FCS football. He went toe-to-toe with pass rusher extraordinaire Uchenna Nwosu (USC) on one rep that I saw and kept the USC star from the quarterback. I still don't know exactly what to make of him going forward, but if the ascent continues, he's going to get some major love during the 2018 Draft process for sure.
Alex Cappa (Humboldt State) still doesn't like pass rushers and he tried to bury another one. Marquis Haynes (Ole Miss) was the unfortunate recipient of Cappa's wrath. Haynes tried to work an inside move on Cappa and the tackle caught him in mid-move. Cappa then attempted to put Haynes right into the turf, driving him all the way on the other side of the line of scrimmage. Haynes athleticism allowed him to keep from eating turf, but no coach ever has to remind Cappa to finish the block. Ever. But, Cappa still has some work to do, especially against spin moves. Pass rushers beat him with that on Tuesday and again on Wednesday.
Shaquem Griffin (UCF) spent most of the day on Tuesday rushing the passer as an outside linebacker. On Wednesday, he spent the majority of his time in group and/or team drills playing a single high safety position. There's only one player that could even attempt such a thing here and Griffin is that guy. He's obviously not as comfortable in that spot, but the more he can do, the better for his prospects to say the least.
One of the more intriguing South defensive backs is M.J. Stewart (North Carolina). He's tough, physical and a prototype nickel at the next level.
Quarterback Mike White (Western Kentucky) found tight end Jordan Akins (UCF) for another touchdown on play action later in practice. Akins crossed the formation and no one went with him as White found him wide open 15 yards downfield. Akins then sprinted past me into the end zone untouched.
Running back Ito Smith (Southern Mississippi) has the ability to stop, start, stop, shake and start again like no one else in Mobile. He did that on a run during team drills where he nearly came to a complete stop, let one defender slip by, speed up, stop again, let a linebacker whiff and sprint forward for a first down. Man, he's quick.
But, Ito took one on the chin from linebacker Darius Leonard (South Carolina State) down on the goal line. One of the South quarterbacks looked for a receiver in the end zone and couldn't find anyone so he checked it down to Smith. Unfortunately as Smith turned to get into the end zone, Leonard introduced himself, rudely, really, with one of the hits of the day.
Well, that'll wrap it up for day two from Mobile. I'll have more for you from here tomorrow. See ya then.