As quarterback David Carr fell to the turf on his right shoulder after a 36-yard scamper last Sunday, his backup was ready to sprint onto the field.
"I was wearing an earpiece to hear the plays and I got tangled up in it trying to get it out of my ear," Dave Ragone said Wednesday.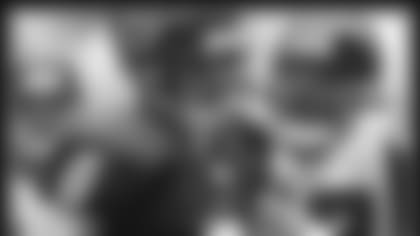 Carr fought through a shoulder sprain against Atlanta.
Carr stayed in the game, rallying the Texans to a 17-13 win over Atlanta. So Ragone was free to untangle himself on the sidelines. But the rookie signal-caller knows that his NFL debut is still just one play away, perhaps even more so this week.
"You have to be ready," Ragone said. "It's the nature of the beast right now being a backup quarterback."
And the nature of the Texans' quarterback situation is a little tangled up as well. To review: Tony Banks, the normal backup, started against the Falcons because Carr, the normal starter, was still nursing his shoulder. But Banks broke his throwing hand at the end of the second quarter so Carr, who could barely throw, played in the second half, while Ragone moved from the inactive third quarterback to backup quarterback. The Texans found out Banks was done for the season so they signed Mike Quinn from the practice squad to the active roster and he'll be the third quarterback this week behind Carr (if he can go) and Ragone.
If a train leaves Houston at 9 a.m. traveling 45 miles per hour and another train leaves El Paso at 10 a.m. traveling 55 miles per hour…
Got all that? There will be a quiz later.
As the Texans began preparation for this week's game at Jacksonville, Carr is still planning to start, although he is listed as questionable on the injury report. But he used today's practice to heal up a bit more, focusing more on the mental aspects of the game plan.
"We're going to find out what I can do this week," Carr said before practice. "I probably won't throw too many balls in practice today. Tomorrow, we'll maybe see how it feels."
Carr handed the ball off and threw some passes with the training staff between plays Wednesday. Ragone and Quinn handled all of the passing situations.
"David did all the things we anticipated today," head coach Dom Capers said after practice. "We limited his throwing today and that was part of the plan. He'll probably throw a little bit tomorrow and do the most throwing on Friday.
"He will be our starter."
That's good news for the Texans. It was evident in the second half last week that Carr's shoulder wasn't 100 percent. After that 36-yard run, Carr tried to throw the ball to wide receiver Jabar Gaffney and it skipped low and short. The rest of Houston's game plan was clear. Carr attempted just four more passes after that, completing two for 25 yards. It's still too early to tell whether the shoulder will affect the game plan for Jacksonville.
"We'll have a small package but it will depend on what kind of ball I'm throwing," Carr said. "I can throw it down the field, it's a matter of the trajectory I can put on it."
Carr insists that no matter how much he wants to play, that decision will be made in the best interests of the Texans, who are looking to sweep the Jaguars and win two consecutive games for the first time.
"I want to be out there more than anyone wants me out there," Carr said. "But if I can't go out there and compete at the level I want to compete at, it hurts my football team."
Ragone, meanwhile, is trying to approach this week the only way he knows how -- by being prepared. Since training camp commenced, Ragone has stayed on the field at least 10-15 minutes after every practice, throwing balls. First it was since-departed wide receiver John Minardi. Now it's fullback Greg Comella pitching the pigskin with the rookie.
"I'm not getting the reps that I got last year in college," Ragone said. "There's a lot of things I need to work on and Coach (Chris) Palmer has stressed a lot of those things. The timing is a lot different in the NFL."
It remains to be seen if Ragone will find out just how different against the Jaguars and their sixth-ranked defense. If not, he'll just continue to work hard.
"I just tell myself it's football," Ragone said. "I know it's a different level and there's a little more pressure to it but I'm not trying to make this any bigger than it is.
"If I get my chance or if I don't get my chance, I feel very lucky and blessed to be in the situation that I'm in."
         **NOTES:             **Running back [Domanick
         Davis]() (ankle), cornerback [Aaron
         Glenn]() (groin), nose tackle [Steve
         Martin]() (knee) and linebacker [Jamie
         Sharper]() (knee) were all held out of practice Wednesday. The
         Texans placed free safety [Matt
         Stevens]() (knee) on injured reserve and filled his roster spot
         with former Eagles defensive tackle Jeremy Slechta. Stevens is the
         12th player to land on the IR list this season.