C.J. Fiedorwicz's parents thought their son might grow to be 6-10 or so. After all, he reached 6-5 in eighth grade. That's when his father Gary, an avid bodybuilder, introduced C.J. to the weight room.
"He showed me young," Fiedorowicz said, laughing. "That might have stunted my growth."
His mother was a natural athlete, playing softball, volleyball, and basketball.
Fiedorowicz inherited the best genes of both.
He earned two letters as a sprinter for the school's track team, participating in the 4x100 and 4x200. He picked up two more letters as pitcher for the baseball team. As the tallest player on the basketball team, Fiedorowicz also set a school record, scoring 1,400 points in four seasons.
But, it was football that he loved.
As a freshman at Johnsburg High School, Fiedorowicz was soon called up to the varsity team. In his first game, Fiedorowicz scored two touchdowns for the Skyhawks. It would be first of many for the Texans tight end, who finished his high school career with 183 receptions for 3,121 yards, and 42 touchdowns.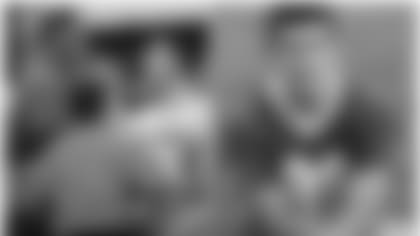 "I played quarterback, wide receiver, tight end, a little bit of running back, D(efensive) end, linebacker, safety, basically every position," Fiedorowicz said in an interview with Texans Radio. "I was long snapper. I was the deep return guy on kickoff return. I just wasn't on the kickoff coverage. My freshman year I was the kicker because I was on the sophomore team for a couple of games so I was the kicker as well. So, I've done every position."
As team captain, he played every snap on offense plus every snap on defense, not to mention his duties on punts as a long snapper and the kickoff returner.
"I just wanted to try everything," Fiedorowicz said. "I was able to do everything well so I mean why not, you know?"
Fiedorowicz, now in his second season, started all five games this season and has six catches for 66 yards and one touchdown.