We may be right smack in the middle of the NFL season, but that doesn't mean football is the only game in town.
Tonight the NBA's Houston Rockets, fresh off an amazing 2014-15 season that saw them reach the Western Conference semifinals, tip off their 2015-16 campaign at home against the Denver Nuggets. Several NBA pundits predict big time success for the Rockets this season, as the main core from a squad that finished last year 56-26 remains intact.
The Rockets and Texans have crossed paths on several occasions in the past year. Most notably, Rockets center Dwight Howard was the Texans homefield advantage captain for the Colts game, and even proceeded to do a Twitter takeover of the team's official account.
Texans players and staff also took in the Rockets run last season, watching games at the Toyota center. J.J. Watt is often seen courtside supporting the Rockets, as you can see in this picture below.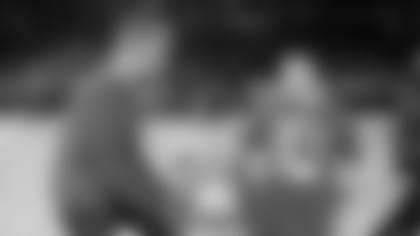 As Rockets MVP candidate James Harden likes to say, let's hope the Rockets 'stir it up' even more this season.
Houston Rockets center Dwight Howard was the homefield advantage captain for Thursday's game.