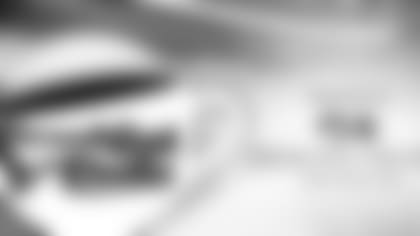 Each of the past three years, I've made the trek to Mobile, Alabama for the Reese's Senior Bowl and it's one of my favorite events of the entire year. It's when both of my worlds marry; college football meets the NFL and being a part of the wedding is a blast.
But, it's also been hugely valuable. Here at HoustonTexans.com, we walked away with dozens of interviews and stories from throughout the week, meeting and talking to anyone and everyone that the Senior Bowl staff can send our way. This past year, alone, we got to interview 15 different players, including No. 2 pick Carson Wentz and second rounders Austin Johnson and Sterling Shepard. Of course, there was one interview I wanted more than any other, though, and that was Ohio State WR/ATH Braxton Miller. Knowing that the Texans could potentially look at a speedy offensive weapon, Miller was high on our list.
We were fortunate to grab him for a few minutes and it was clear to see why teams were smitten with the former two-time B1G Offensive Player of the Year.
When we left Mobile, we thought we had gotten a ton of content to use, including our Miller interview, for the next few weeks. It was January, though, so who could tell how much it all meant, right?
The Texans apparently saw the value inherent in the Senior Bowl and, like us, capitalized on the week by drafting five players that played in the all-star classic. Outside of Will Fuller, the team's final five picks all participated, starting with Notre Dame center Nick Martin and ending with Clemson defensive tackle D.J. Reader. The Texans have looked to the Senior Bowl in past years, but nowhere near as they did in 2016.
I asked Coach O'Brien how valuable the Senior Bowl was to the draft process for them this season.
"This is the one part of the process where we get to see these guys with pads on. It was really valuable to the process this year," O'Brien opined.
Although I had seen these players play multiple times, it's that much more valuable to see them up close. That's what the Senior Bowl provides. That's the purpose, other than bringing everyone to Mobile for oysters at Wintzell's and all you can eat Reese's peanut butter cups. For the teams, it's a fact finding mission that actually includes football. It's the last time each player puts on pads and does "football things". In Mobile, a prospect auditions for every team showing how he practices each day, reacts to coaching and steps up in the face of staunch competition. Isn't that what people hate about the Combine? There's no football going on?
Those future Texans at the Senior Bowl stepped up nicely. In fact, I captured much of it in my observations articles while we there.
San Jose State's Tyler Ervin caught my eye first and foremost with how quick and explosive he was out in space. I noted...
*"San Jose State RB Tyler Ervin has some Akeem Hunt-like burst. Wow."
*Of course, Miller had my attention early and often.
*"Ohio State multi-purpose star Braxton Miller has the most insane change of direction. He's just flat out ridiculous in a start and stop, shake you during the route sort of way. But, it's clear that he has to work to refine all of his receiver skills. On a slant route in man coverage against a North CB, he lost said CB so badly on the slant route, just by selling the route hard to the outside, jab stepping to the sideline, then quickly darting back inside. He was WIDE open. It was jaw dropping. Then, he couldn't hang on to the throw. All that said, Miller will be a tremendous offensive weapon, even if he's not a polished receiver just yet. He did make a whale of a diving catch on the sideline as he was covered by Oklahoma State CB Kevin Peterson."
*On day two, I mentioned him again.
*"Ohio State wide receiver (trust me, that's taking a little bit to get used to) Braxton Miller looked much more comfortable in everything he did at receiver on Wednesday. He's so quick and can make ANYONE miss in space but one thing he'll need in the future is make CB miss quicker. He takes a little too long setting up the DB than the QB has time to throw. But, considering how much he's improved over just a couple of practices, I'm intrigued by what he can do with full-time work at the position going forward."
*If I had to hand out MVP awards, the last Texan drafted would've been my clear favorite.
"The clear winner on the South team today was Clemson DT D.J. Reader. In that 1-on-1 run blocking, drive drill, he couldn't be moved and he totally dominated. He just completely dominated at the point of attack. I had his name written down four separate times in my notebook. Just...wow."
Then on day two, well, it was more of the same from Reader.
*"Clemson DT D.J. Reader is a monster at the point of attack. I could see him playing over the nose in a 3-4 and/or sliding a bit to play the 1-tech in 4-3 over fronts as well. I haven't seen any of the South team interior linemen move him over the past two days."
*One item that didn't make it into my observations, which was unfortunate, was how much I loved watching safety K.J. Dillon on the field. It wasn't even his ability or play making, but he was so into every single play. When his teammates made a huge play, he was the first one to celebrate with them. He punctuated a tackle or a hit by celebrating with his teammates. He was so happy for his teammates when they made a play in Cowboys head coach Jason Garrett's middle of practice 1-on-1 sessions.
Rick Smith, Bill O'Brien and company will continue to make the pilgrimage to Mobile, even though they may never draft that many Senior Bowl participants again. That said, if Phil Savage wanted to sell Senior Bowl success to seniors on the fence about participating that week, he can direct them to Houston and what that event did for this group of players and, hopefully, this organization.
Ohio State WR Braxton Miller was the Texans' 3rd round (85th overall) pick.