 The 2018 NFL Draft is less than three weeks away, hard though it may be to believe. The Texans will have to wait an additional day, at the moment, to make their first pick in the third round. Over the next few days, I'll give my thoughts on positions in the draft, whether the Texans have a huge priority need or not. So, let's start with the top 10 quarterbacks.
1. Sam Darnold, USC (Harris 100: #5)
6-3 ⅜, 221 lb.
Darnold certainly looks the part, as he possesses prototypical size for an NFL quarterback. His greatness doesn't always show, but in the clutch, he has ice water in his veins. He throws off platform well and creates openings in the passing game with subtle movements in the pocket. He'll wait longer than he should to allow receivers to get open, but his ball placement on catch-and-run type throws is outstanding. He does have a long arm motion and it does take him a while to get the ball out of his hands. Yet, he'll make decisions to get the ball out quickly and his delivery was sped up from 2016. He doesn't always see the defense properly, doesn't notice robbers or rat players. What makes him a difference maker, though, at the next level, is his ability to complete THAT throw. Remember the 2017 Rose Bowl seam throw for a touchdown over two defenders, in between two safeties, for a game-tying touchdown? Or in 2017 v. Texas, the jump pass to a running back to pick up a first down on a field goal winning drive? With the ball in his hands at the end of the game, he flourishes.
2. Baker Mayfield, Oklahoma (Harris 100: #9)
6-0 ¾, 216 lb.
When Mayfield was under center at the Senior Bowl or performing at the Combine, every eye in the building took notice. At both events, he threw the ball well, in particular at the Senior Bowl. In Mobile, he showed that he could stay in the pocket and rip it when needed. He also showed that when he needed to escape danger, he could do that, too. He wasn't always dead on accurate with his ball placement, but had a solid week competing, leading and showing why he was absolutely worth a first-round pick, perhaps a top 10 selection. Outside of his height (and a myriad of off-field issues), he possesses every asset you'd want in an NFL quarterback. Of course, it's those issues that have given evaluators pause, and for good reason. He's a true competitor, a leader, perhaps too emotional at times, and he must learn how to harness that emotion. Not eliminate it, just rein it in. He has a quick release and throws off platform exceptionally well. He will have to decipher what NFL open receivers are vs. the wide open receivers he had in college. Consequently, he didn't throw into a ton of tight spaces in college and that's something he's going to have to prove he'll do. He'll run it when he has to, but in his final two years he scrambled to create a big play with his arm down the field, not with his legs. He did a great job cycling through his progressions and finding open receivers; note his touchdown throw in the 2018 Rose Bowl to fullback Dimitri Flowers in the back of the end zone for a touchdown (Flowers was read three or four in the progression).
3. Josh Allen, Wyoming (Harris 100: #11)
6-4 ⅞, 237 lb.
Allen has all of the tools: size, arm strength, mobility and confidence. He can also throw his team right out of a game with his inconsistency, accuracy and ball placement. When he sets his feet and drives the football, he can make any throw on the field. He tends to open his shoulders due to his inadequate footwork which forces some balls to sail on him. He locks in on his receivers, holding the ball a little longer because he trusts his arm to fit the ball into small spaces. He made a touch throw in the Senior Bowl game for a touchdown that was as impressive as any bullet throw he made during the week. Allen loves to compete and played in the Senior Bowl with no concern about getting injured. He, in fact, said as much in the game interview. He can make throws on the run that no other quarterback in the last 15-20 years can make. Against Boise State in 2016, he was chased out of bounds by a pair of defenders and let fly a 60-yard strike for a touchdown. He tends to lose his awareness of rushers when he has to pull the ball down. He doesn't always make the right decision on the type of ball to throw, whether he should stick it or put touch on it. All in all, he's as polarizing as it gets in this draft, but the arrow is certainly pointing up after an outstanding Combine show, errr, performance.
4. Josh Rosen, UCLA (Harris 100: #12)
6-4, 226 lb.
When he was a senior in high school, I was convinced Rosen would be the number one pick of the 2018 NFL Draft. That's not completely out of the question, but there are some flaws amongst the impressive assets. He has a lightning-quick release but gets greedy, holding the ball when he should get rid of it much quicker. Mechanically, he's outstanding and more than looks the part of an NFL quarterback in every way, shape and form. He's a tough dude, but he's taken a ton of hits by holding the ball as long as he does. He navigates inside the pocket fairly well but got dinged up a bunch in his three years at UCLA. He has plus arm strength, though not in Josh Allen's class (then again, no one does, honestly). Off the field, the Rosen case study has been interesting, for lack of a better word. Most reports of his Combine interviews were positive, but not all. Elite 11 instructor Trent Dilfer didn't care for Rosen's attitude, yet Coach Jim Mora Jr. and Rosen had a close, positive relationship. If he doesn't vibe with an NFL team's staff, it could be a lot of trouble.
5. Lamar Jackson, Louisville (Harris 100: #16)
6-2 ¼, 216 lb.
It's clear that Jackson is unfailingly E-LEC-TRIC with the ball in his hands and that gives defensive coordinators nightmares. His throwing mechanics cause him issues as he stands too tall and does not drive the ball off his back leg. That combination forces the ball to sail on him, especially on routes over the middle, as his narrow base forces his elbow to drop and the ball to sail. On the run, though, he was more accurate and competent. He made a throw in 2017 Tax Slayer Bowl game, rolling to his left, back across the middle, on a line, for a first down that was sublime, but he also threw four interceptions (a career high) that day. That said, he has a howitzer for an arm and can effortlessly flick the ball 55 to 60 yards with regularity. This offseason, though, he has not worked with a top quarterback coach to fix those issues or satisfied an agent driven agenda. His mom has been working with him throughout the offseason. Regardless, ask any defensive coordinator which quarterback in this draft class he fears on every single play and he'll tell you "Jackson, without a doubt." All 11 defenders must account for Jackson on every play, which will give him openings to make easier throws in coverage. As a runner, there is no peer at this position and when he escapes the pocket it's a disaster for the defense.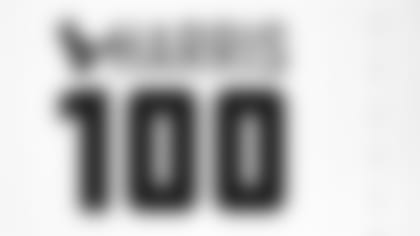 ](http://www.houstontexans.com/news/Harris100.html) 6. Mason Rudolph, Oklahoma State (Harris 100: #51)
6-4 ⅛, 229 lb.
Rudolph missed the Senior Bowl with a foot injury that he suffered in Oklahoma State's bowl game. Yet, he made an impression by being there for the first few days, approached his coaching staff and told me that he was sorry that he couldn't compete. Unlike other seniors, he handled it like a professional for certain. He'll immediately be mistaken for an air raid quarterback, but is not a system quarterback. He did play in an up-tempo scheme throughout his career, a NASCAR paced up-tempo scheme. He has prototypical size and arm strength, but sacrificed ball placement by trying to get ball out as soon as possible. He locked in on one side of the field or one read throughout his career. He throws a pretty deep ball, perhaps the best thing that he does consistently. Furthermore, he puts requisite touch on those deep throws and receivers rarely have to break stride. He's effective throwing the goal-line fade ball (had 6-4 receiver Marcell Ateman to help). When he was inaccurate, for the most part, he sailed the ball over receivers' heads.
7. Luke Falk, Washington State
6-3 ¾, 215 lb.
Falk doesn't possess a strong arm, but capitalizes on anticipation and ball placement to succeed. He set multiple records at Washington State, but he got beat up in the process, as he missed a number of games dealing with concussions/injuries. He holds the ball longer than he should and will take his share of sacks in the near future. He doesn't possess the physical tools that the six quarterbacks above him possess, but he threw the ball over 2,000 times in college, so he's faced every coverage imaginable. He's been taught well and will stick in the league for quite some time as a capable backup.
8. Mike White, Western Kentucky
6-4 ⅛, 221 lb.
White transferred to Western Kentucky after playing his first two years at USF. After posting an 11:16 touchdown-to-interception ratio at USF, he walked into a more advantageous situation at Western Kentucky. He finished his career with 63 touchdowns and 15 interceptions. His production fell off in 2017 as he adjusted to life with Jeff Brohm, who took the Purdue job after creating an offensive juggernaut at WKU. White has a plus arm and a high football IQ that'll serve him well as a team's backup down the road.
9. Kyle Lauletta, Richmond
6-2 ⅝, 217 lb.
The 2018 Senior Bowl MVP jumped up on team's radar screens with a stellar performance throughout his week in Mobile. As an FCS quarterback, Lauletta had plenty to prove that week and he showed how quickly he could pick up NFL offensive concepts and apply them on the field. He's not blessed with significant arm strength, but his moxie and accurate ball placement served him well in a record-breaking career at Richmond. He won't be the top quarterback on team's draft boards, but expect to hear his name called late on Day 3.
10. Kurt Benkert, Virginia
6-2 ⅝, 214 lb.
Benkert traversed a rocky road during his college career. At East Carolina, he redshirted in 2013, then played little as a reserve in 2014. After winning the starting quarterback job in 2015, he suffered a season-ending knee injury. He subsequently transferred to Virginia for his final two years and finished with a solid 2017 season for bowl-bound Virginia. It's clear when studying Benkert that he's got some NFL tools (quick release, plus arm), but it's maddening to watch him at times because of his inconsistency. It was that way at the Senior Bowl as well. He made a couple throws (see multiple throws on the move v. Miami in 2017) that I'm not sure many other quarterbacks in this class could make, then a few snaps later he missed a wide open receiver horribly.
Others to Consider (alphabetical):
J.T. Barrett, Ohio State
Riley Ferguson, Memphis
Quinton Flowers, USF (could be used in Joe Webb III-capacity, not just at QB)
Tanner Lee, Nebraska
Alex McGough, FIU
Chase Litton, Marshall
Tyler Rogers, New Mexico State
Nic Shimonek, Texas Tech
Brandon Silvers, Troy
Nick Stevens, Colorado State
Logan Woodside, Toledo