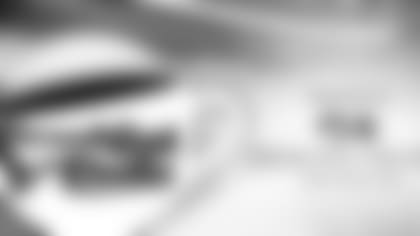 After a whirlwind (and cold) two days in Mobile, Ala., for the 2016 Senior Bowl pre-festivities, there are a few key takeaways worth sharing.
Before we get into my 'observations' (to steal a term from John Harris), a reminder that we covered just about every angle during the past two days. The aforementioned guru of the Telestrator shared a ton of insight from each set of practices. Below are a few links to his thoughts on which players made a name for themselves in front of NFL scouts.
You'll also see some of the social media posts we were able to capture, along with a few personal messages from a couple of the top prospects in this year's draft.
4. The Senior Bowl is as much a reunion as it is a talent evaluation
This was my first time at the Senior Bowl, and the first thing that struck me was the atmosphere itself. Seeing so many NFL head coaches (and their staffs) and league general managers in the same place was pretty impressive. During the weigh-in on Tuesday morning, the small convention area was filled with the who's who of the NFL coaching and scouting community. I spent a good 10-15 minutes just doing double takes at all the people I recognized. 
Not only was it striking to see them all together, but it was also fun to watch them interact with each other. I think since we see these people on TV so much, we forget they are just...people. What I mean by that is most of this group has worked together at some point during their careers, and much like us when we have conventions or events we travel to, we get to know the others in our profession. The NFL is no different. The amount of hugs and hi-fives I saw were too many to count. It was fun to see people with such high pressure jobs seemingly relax and just be themselves.
3. The weigh-in process is unique
After I got over being in the same room with all this NFL talent, the actual weigh-ins began. That was an event in itself. What essentially happens is each Senior Bowl prospect walks out on stage in front of the hundreds of NFL personnel in just a pair of under armour briefs. They get measured (height) and then stand on a scale and their weight is called out. I can only imagine what that feels like for each athletes. Think about it, there are so many different body types among all the positions, and you have nowhere to hide. Everyone is looking (and writing) and that is the first 'evaluation' of the week. From there, the players headed off stage, got dressed and met with the assembled media (us included). I'd never seen anything like that before. I shot a video of what that walk was like, which you can see below.
2. The players do a lot of talking
For many of these Senior Bowl participants, this will be the most media requests they've ever had. While some, like Ohio State's Braxton Miller, may be used to the high amount of interviews, others, like North Dakota State's Carson Wentz, probably aren't. Tuesday alone was a barrage of media sessions. The players were available right after their weigh-ins that morning, and then they spoke to the media after their first practice later that afternoon.
Then, to cap it off, that night there is a media event for them to attend. The Senior Bowl staff does a PHENOMENAL job of getting the players to where they need to go, but I'm sure it can be overwhelming. Wentz, for example, had a busy day. During the night media event alone, he spoke at a podium for 15 minutes, then spoke with us (you'll see that interview later on HoustonTexans.com and on Texans 360 on Saturday night). As I was escorting him to our setup, a few other media members asked him questions as he walked. He remarked to me that he was just trying to make everyone happy. I can only imagine how much of a whirlwind it must have been for him and the other players.
That said, Wentz, Miller and Mississippi State's Dak Prescott had fun with it, recording the special messages below to Texans fans.
1. There is actual football
After the poking and prodding (and talking), actual football is played. Each team practices once a day (in different locations on Tuesday), and is coached by a different NFL coaching staff (Jacksonville and Dallas). The scene is cool, as you see helmets from so many different colleges all in one place. The coaches and scouts are all taking notes and you are kind of reminded as to why we are all there. Below are examples of a few of the drills that took place. The teams will practice for the remainder of the week with the game on Saturday.