Friday, Aug. 22 - 9:34 p.m. IRVING, Texas -
Texans head coach Gary Kubiak will be happy with his defense's three turnovers tonight. Defensive end Mario Williams forced a fumble by Cowboys running back Felix Jones at the nine-yard line in the third quarter, and rookie defensive tackle Frank Okam recovered at the six to give the Texans the ball. It was the second turnover the Texans forced inside their own 10-yard line.
With 10 minutes left, the Texans are down 20-16 and driving down the field behind quarterback Sage Rosenfels, who entered the game on this drive for Schaub.
* Friday, Aug. 22 - 9:01 p.m. IRVING, Texas -*
Wide receiver Kevin Walter continues to build toward a strong season. Through the Texans' first drive of the third quarter, Walter has a game-high five receptions for 38 yards. His 11-yard touchdown catch in the second quarter was his second of the preseason.
The Cowboys took a 20-10 lead into the half. Running back Marion Barber III, older brother of Texans rookie safety Dominique Barber, ran for 75 yards and a touchdown on 13 carries in the first half.
After last week's game, coach Gary Kubiak stated the need for more players to step up on special teams and not be, as Kubiak said, "just a guy." Two players answered that call on the opening kickoff of the second half. Safety Brandon Mitchell forced a fumble on the return and safety Nick Ferguson recovered to start the Texans' drive at the Dallas 35. Kicker Kris Brown made a 23-yard field goal, his second of the game, to bring the score to 20-13.
Running back Steve Slaton is making a case to be more than a third-down back this season. The speedster has 41 yards on nine carries (4.6 average) with a long gain of 20. He still has moments where he dances around and tries to do too much, as evidenced by his five-yard loss in the red zone on the Texans' last drive, but he's showing enough burst to make this observer believe he can be a big difference-maker this season.
Friday, Aug. 22 - 8:01 p.m. IRVING, Texas -
Linebacker Zac Diles just showed why he earned the starting strong side linebacker spot this offseason. The Texans' seventh-round pick of a year ago picked off Cowboys quarterback Tony Romo in the end zone on second-and-goal from the one-yard line.
Diles made a name for himself on special teams last season, in particular with his onside kick recovery late in the Texans' home contest against the Tennessee Titans. He demonstrated that same nose for the ball on the interception.
Defensive end Mario Williams applied pressure on the play, forcing Romo to roll out right before he threw the pick.
Running back Steve Slaton is in the game and looking good. He has 29 yards on his first three carries of the drive.
Friday, Aug. 22 - 7:52 p.m. IRVING, Texas -
Quarterback Matt Schaub was brilliant in the first two preseason games but hasn't gotten off to his best start tonight. Through three drives, Schaub is two-of-eight for seven yards. In preseason wins over Denver and New Orleans, Schaub was 18-21 for 216 yards and two touchdowns with no interceptions.
Schaub's timing with his receivers looks a bit off, especially with Andre Johnson, the Pro Bowl receiver making his first appearance of the season tonight. On the first two drives, Schaub misfired on three passes intended for Johnson. Thankfully for Schaub and the Texans, it's the preseason, and Schaub has two more quarters to get into a rhythm in this game.
Injury update: Wide receiver Harry Williams suffered a neck injury and was taken to a local hospital for further evaluation.
Friday, Aug. 22 - 7:35 p.m. IRVING, Texas - **
Williams' ambulance finally departed from the tunnel and is presumably on its way to a nearby hospital.
On the field, the Cowboys marched all over the Texans' defense on a seven-play, 51-yard drive that ended with a touchdown pass from Tony Romo to Patrick Crayton.
Nice to see Andre' Davis back out there. He returned the Cowboys' second kickoff of the game for 24 yards.
Friday, Aug. 22 - 7:25 p.m. IRVING, Texas -
Williams was carted off on a stretcher to a nice ovation from the Dallas crowd. He was placed in an ambulance that is still sitting in the North end zone tunnel.
We'll have updates on his condition as soon as they come in.
Friday, Aug. 22 - 7:20 p.m. IRVING, Texas -
At this rate, the Texans don't want to see another kickoff all game.
After Davis went down hard on his shoulder on the game's opening kickoff, wide receiver Harry Williams is down on the field now during an injury timeout after colliding with teammate Nick Ferguson in kick coverage.
It appeared Ferguson's chest went straight into the top of Williams' head as both players were going hard in opposite directions. He's being prepared to be lifted on to a stretcher now. This scene is eerily reminiscent of the play on which defensive tackle Cedric Killings went down on kick coverage at home against the Indianapolis Colts last season.
This week, Williams had been the target of extensive praise from head coach Gary Kubiak for being the Texans' best player on special teams.
Friday, Aug. 22 - 7:14 p.m. IRVING, Texas -
Facing a swarming Dallas pass rush, Schaub threw three straight incompletions to lead to a 44-yard Kris Brown field goal. Brown hasn't yet missed a field goal all preseason.
Houston has scored on its opening drive in every game this preseason. The Texans also have scored on every drive on which Schaub has been under center.
Injury update:Wide receiver Andre' Davis is fine and should return to the game.
Friday, Aug. 22 - 7:08 p.m. IRVING, Texas -
Oh, no. Wide receiver André Davis just busted loose for a 68-yard return on the opening kickoff, but landed hard on his right shoulder and was on the ground for a few seconds before getting up and walking off the field under his own power. It appears he's alright, but we'll see what the report is on his injury, if there is one. Rookie Steve Slaton is next in line to return kicks if Davis doesn't return.
Friday, Aug. 22 - 7:04 p.m. IRVING, Texas -
The Texans' captains for today's game are wide receiver Kevin Walter, safety Nick Ferguson and safety C.C. Brown.
They won the coin toss with a call of tails. The Texans will receive the ball to start the game and defend the North end zone.
Friday, Aug. 22 - 6:58 p.m. IRVING, Texas -
Injury update:
Cornerback Jamar Fletcher is out with a right hamstring injury. In addition to Fletcher and the other inactives listed below, running back Ahman Green also is not dressed to play.
Friday, Aug. 22 - 6:55 p.m. IRVING, Texas -
Here's a sight for sore eyes: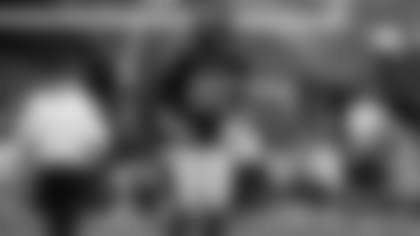 The Texans' passing attack has been outstanding this preseason even without Pro Bowl wide receiver Andre Johnson, which leads one to wonder how explosive this offense could be with Johnson, above, returning to the lineup for his first game action of 2008 tonight.
Friday, Aug. 22 - 6:39 p.m. IRVING, Texas -
A couple of observations from down of the field before the game:
It is painfully hot down there, and in Texas Stadium in general. Very little airflow, lots of humidity and lots of people. There are definitely going to be some players in need of IVs after this game.
Strange that the field isn't flat - the field is higher in the middle than it is on the sides, reminiscent of high school stadiums.
Speaking of high school stadiums, must be nostalgic for Texans players like Eric Winston and Kris Brown to be back here after playing in Texas Stadium in the Texas state playoffs in high school.
Friday, Aug. 22 - 5:59 p.m. IRVING, Texas -
Here are the inactives for today's game.
Cowboys
19
WR Miles Austin
36
CB Quincy Butler
37
S Tyler Everett
41
CB Terence Newman
45
FB Ronnie Cruz
57
LB Kevin Burnett
93
LB Anthony Spencer
95
DE Marcus Dixon
Texans' starting lineup changes: Guard Kasey Studdard will start for Chester Pitts. Running back Chris Taylor will start for Ahman Green.
Cowboys' starting lineup changes: Cornerback Adam Jones will start for Terence Newman.
Friday, Aug. 22 - 4:53 p.m. IRVING, Texas -Texans tailgaters spotted in the Texas Stadium parking lot. These guys got here before most Cowboys fans arrived... impressive.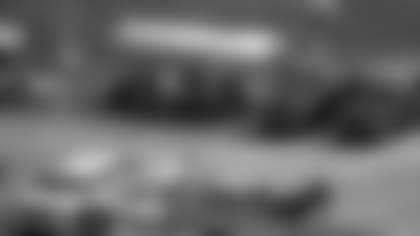 Friday, Aug. 22 - 4:23 p.m.
IRVING, Texas -We're here live from Texas Staduim as the Texans are gearing up to take on the Dallas Cowboys in their third preseason contest. I'll be blogging throughout the game with key updates and information. The Dallas Cowboys Cheerleaders are just leaving the field after their pregame warmups. The "Hard Knocks" crew from HBO has about 20 membrs assembled in one of the end zones, going over their production plans for the game.
I'll post the inactives and changes to the starting lineup as soon as they are announced. Texans wide receiver Andre Johnson is expected to make his 2008 preseason debut, while Adam (formerly known as "Pacman") Jones is expected to start at cornerback in place of the injured Terence Newman.