While the rest of the media is listening to 2008 Heisman winner Sam Bradford speak at the podium, we're blogging about our encounter with UCLA defensive lineman Brian Price.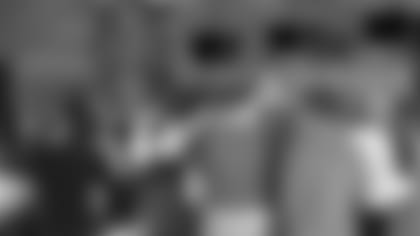 Oklahoma QB Sam Bradford answers questions from the media Saturday afternoon at Lucas Oil Stadium.
We chatted with him 1-on-1 and he's a pretty personable guy. In between his time at the podium answering questions and his interview with us, a few national sportswriters got his phone number so they could write more in-depth features about him in the coming weeks.
He's moving up a lot of draft boards, and as you heard Gil Brandt say yesterday, and you'll hear Daniel Jeremiah say in his upcoming podcast with us, it's because of the nice combo of high motor and good measurables (height, weight, strength, speed, etc.).
Plus, Price said he'll play anywhere on the defensive line and would even give safety a try if asked. He's definitely somebody to keep an eye on during Draft Day, and might just fall off the board by the time the Texans are picking.