Texans quarterback Matt Schaub bested nine of his teammates this afternoon to win the 2010 Reliant Energy Home Run Derby at Minute Maid Park, home of the Houston Astros.
Schaub won for the second consecutive year, hitting eight total home runs and beating right tackle Eric Winston by a count of 3-0 in the championship round. Winston, a perennial favorite in the event, **got some help from Astros pitcher Roy Oswalt** but finished with only three home runs total. He also hit two home runs in a bonus round, but those didn't factor into his final tally.
The event raised $31,700 for the Boys & Girls Clubs of Houston, money that will be donated by Reliant Energy. Each home run was worth $500, and each fly ball that reached the outfield netted $100. Each home run in a bonus round at the end of the derby was worth $5,000 apiece.
Here's the official scorecard:
QB Matt Schaub: 8 (0 in bonus round)
T Eric Winston: 3 ( 2 in bonus round)
LB Zac Diles: 2 ( 1 in bonus round)
S Dominique Barber: 2
WR David Anderson: 1
TE James Casey: 1
T Duane Brown: 0 ( 1 broken bat, believed to be the first in Texans HR derby history)
WR André Davis: 0
C Chris Myers: 0
QB Dan Orlovsky: 0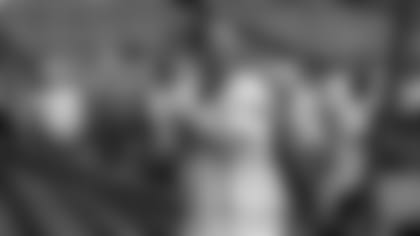 Quarterback Matt Schaub gets set to swing for the fences in the batter's cage at Minute Maid Park.