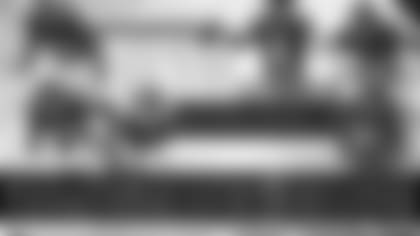 Usually when the schedule comes out I have more complaints than when I'm preparing my tax return. But this year I find myself with the fewest objections ever.
Yes, the Texans open with three of four on the road. But one of them is Indy in week four. That means for the first time in nine years the Texans play the initial game of the season series up there. Hallelujah!
Also, I love opening at New England. There's probably no good time to play there but I'd rather see them in the opener with no Belichick look-see at the new wrinkles in the Watson offense. Plus you want to play the Patriots early. In eight of their 15 seasons since winning their first Super Bowl they took a loss in either week one or two. That's hardly an earth-shattering metric but I'll take it!
It's notable that there are no prime time games on the road. That means no red-eye flights home for the players. I've been begging for the Thursday night game to be at NRG Stadium and I got it with the Dolphins visiting on October 25. This means the team gets to spend a short-week Wednesday in the facility prepping, instead of traveling.
Last season the NFL sent the Texans on the road for their final three division games, all in December. This year, we're back to having Jacksonville here for the finale. And it could be big! In fact, the division slate starts with three games on the road then the return engagements here in Houston.
The event of the season is likely the Cowboys visit on October 7 for Sunday Night Football. It's only the third ever visit for Dallas and fifth game overall against them. And it's the first prime time date with the Cowboys since opening night of franchise history.
Since we're on the subject of the NFC East, there's that little matter of playing the defending Super Bowl Champions. The Texans visit Philly on December 23, one of four possible inclement weather games on the schedule. The trip to Philadelphia is a week after a trek to East Rutherford, New Jersey, to play the Jets. Going to the Northeast back to back isn't preferable but it could be worse as the Jets game is on a Saturday.
My least favorite trip is Washington for personal-professional reasons. The Redskins have the worst visiting radio booth in the league. It's low and in the corner and the game feels like rumor once the teams cross midfield. But let's not shed any tears for me. I'm the luckiest man on earth to get to do what I do.
Check out the opposing quarterbacks the Texans will likely face in 2018. (Photos via AP Images)