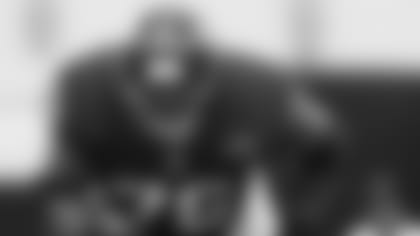 ]( "LT Duane Brown")

Continuing a position-by-position look back at the Texans' 2012 season:
The Texans' offensive line featured three Pro Bowlers and two rotations in 2012.
Left tackle Duane Brown, center Chris Myers and left guard Wade Smith each started all 16 games and made the Pro Bowl. At right tackle, second-year pro Derek Newton rotated with veteran free agent addition Ryan Harris. At right guard, rookie Ben Jones rotated with veteran Antoine Caldwell and rookie Brandon Brooks.
The Texans allowed just 28 sacks, tied for seventh-fewest in the league. They ranked eighth in the league in rushing (132.7 yards/game), seventh in total offense (372.1) and eighth in scoring (26.0 points/game). They led league in time of possession (32:53) for the second consecutive year.
The line was heavily shaped by a busy 2012 offseason. Myers re-signed with the Texans as an unrestricted free agent in March. The Texans released longtime starting right tackle Eric Winston and let starting right guard Mike Brisiel walk in free agency. They drafted Brooks in the third round out of Miami (Ohio) and Jones, a college center, in the fourth round out of Georgia. Brown signed a multi-year contract extension in July.
Brown, a first-round draft pick from Virginia Tech in 2008, emerged as perhaps the best left tackle in football. He earned first-team All-Pro recognition after receiving second-team honors in 2011. Myers, in his eighth season out of Miami, made the Pro Bowl for the second consecutive year. Smith, a 10th-year veteran, started every game for the third consecutive season and made his first-career Pro Bowl.
Jones made his first-career start in Week 7, taking over for Caldwell, a fourth-year veteran who started 13 games from 2009-11. Brooks eventually passed Caldwell on the depth chart, debuting as a reserve in Week 12 and playing about 50 percent of the snaps with Jones come playoff time. Jones started the final 10 games and was named the Texans' Rookie of the Year by his teammates.
Newton, a 2011 seventh-round pick from Arkansas State, was named a starter late in the preseason after competing with Rashad Butler, a seventh-year pro. Butler tore his triceps in the preseason finale, prompting the Texans to sign Harris, who had starting experience in Denver but did not play in 2011 because of injuries. Harris rotated with Newton on approximately every third series and started two games after Newton suffered a knee injury.
Providing depth were rookie guard Cody White, an undrafted rookie from Illinois State, and third-year tackle Andrew Gardner.
2012 Offensive Line in Review - Quick Hits
Starters: LT: Brown (16 games, plus 2 in playoffs); LG: Smith (16 games, plus 2 in playoffs); C: Myers (16 games, plus 2 in playoffs); RG: Jones (10 games, plus 2 in playoffs), Caldwell (6 games); RT: Newton (14 games, plus 2 in playoffs), Harris (2 games)
Injuries: Newton (knee, Weeks 13-14), Caldwell (concussion, Week 6)
Notable number:** 1: Number of Texans offensive linemen to make the Pro Bowl in the first 10 years of team history. Brown, Myers and Smith all made it in 2012.
Best game: Week 2 vs. Jacksonville – A dominant day up front helped the Texans set a team record for time of possession (43:17) in a 27-7 victory. The offensive line paved the way for a team season-high 216 rushing yards and did not allow quarterback Matt Schaub to be sacked on 35 passing attempts. The Texans averaged 4.5 yards per carry, had the ball for 83 plays compared to 38 for Jacksonville and outgained the Jaguars 411-117.
Quotable: "I think he's the best left tackle in football, and that's how he's been playing. You just watch his game film, you watch how he dominates his side of the football every week, week in and week out, that's Duane. We've come to expect that high level of play from him." – Arian Foster on Brown on Nov. 28
"His experience not just here but around the league has been great for those young guys. He's coached them up as they go and always works with them. He understands that those five have to work as a unit. He's really the cog." – Texans offensive coordinator Rick Dennison on Myers on Nov. 7, after Myers was named a captain at midseason for the second consecutive season
"We've had three very consistent players, veteran players that have been in our system, been with us for a while. The right side, from the get-go this year, we went young and we've played a lot of people, but I think they've done a good job. I think with (offensive line coach) John (Benton) knowing that situation we had and what we were going to have to get done offensively throughout the course of the year with those young players, I think he's  done a damn good job with them. Ben is playing well. He has his rookie moments, which you know you're going to have. Now Brandon has come on and played a great deal. And I think Newton has become a much better player, and he has played hurt, so he's grown up from that standpoint; things that you have to do. Those guys are going to be much better players as they move forward because of all the tough football they've been in this year." – Kubiak on the offensive line on Jan. 2
Twitter.com/NickScurfield