It felt like a University of Miami reunion there were so many former Hurricanes at Jillian's Thursday night.
Players like Indianapolis Colts wide receiver Reggie Wayne, Arizona Cardinals running back Edgerrin James, as well as wide receiver Santana Moss and running back Clinton Portis, both of the Washington Redskins, joined Texans wideout Andre Johnson for a bowling tournament to kick off Johnson's second annual Celebrity Weekend.
This year, there will be five separate events over the next two days, including a comedy show, a pep rally at the KIPP School for Katrina evacuees and an all-star basketball game. All proceeds will benefit the Houston Area Women's Center, a non-profit organization that provides vision, leadership and action to empower women to advance their roles, rights and wellbeing.
"It's a lot of fun to help such a worthy cause through events like these," Johnson said while posing for a photo with Cincinnati Bengals wide receiver Chad Johnson. "I'm happy that a lot of my friends could make it and contribute to making this weekend even better than last year."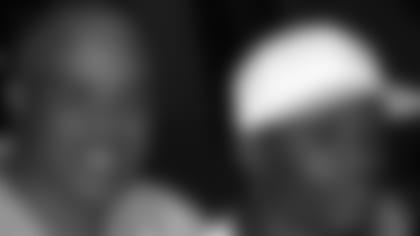 The Andre Johnson Foundation, which began in 2003, raised $10,000 last year for its many community, youth and family projects in Houston and the surrounding areas.