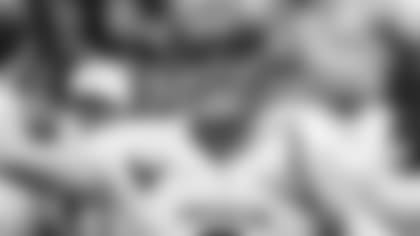 ]( "Texans QB Matt Schaub")

AIEA, Hawaii – A team-record nine Texans players, including seven on offense, played in the 2013 Pro Bowl on Sunday in front of an announced crowd of 47,134 at Aloha Stadium.
The Texans had so many players on the field at times that it almost looked like a glorified Texans practice. The AFC lost 62-35 to the NFC, but with nothing at stake except pride and a little bit of cash, it hardly put a damper on a memorable week.
"Losing sucks even if it is an all-star game," defensive end J.J. Watt, who played in his first Pro Bowl, said. "It's never fun. It's frustrating, but it's all about the week. It's all about having fun, interacting with the guys, and it's been a great week."
Watt and Texans cornerback Johnathan Joseph started for the AFC on defense. Watt had five tackles, a sack and two tackles for loss. Joseph had four tackles.
Texans running back Arian Foster, wide receiver Andre Johnson and left tackle Duane Brown were starters on offense. Left guard Wade Smith made the game as a reserve but actually ended up starting the game. Texans quarterback Matt Schaub, center Chris Myers and tight end Owen Daniels came off the bench.
Schaub was 12-of-22 for 113 yards, one touchdown and two interceptions. Foster didn't play after the first quarter and lost two yards on three carries. Daniels had four catches for 45 yards. Johnson had three for 34. 
"This is probably the best Pro Bowl out of all the ones I've been to just because of how many teammates I had come," said Johnson, a six-time Pro Bowler who was the team's lone all-star in 2004 and 2006. "It was a lot of fun."
The Texans had more Pro Bowlers than any other team, ahead of three others (Kansas City, Minnesota and Seattle) who had six.
"It was a great experience," Foster said. "It shows a lot about the organization and where we're headed, and to be a part of that is a special feeling."
In vintage Pro Bowl fashion, the game featured a few entertaining wrinkles. Watt lined up at wide receiver on the AFC's first drive and was targeted by Peyton Manning in the end zone on a pass that was broken up by Bears cornerback Charles Tillman. Green Bay Packers center Jeff Saturday, who announced Sunday that he is retiring, switched sides for one play and snapped the ball to Manning, his longtime former teammate with the Indianapolis Colts.
"That makes it fun," Schaub said. "The coaches really let the players play."
The Texans hope to be unavailable for the Pro Bowl next year. They had hoped to this year, too, but were eliminated from the playoffs in the Divisional Round after a franchise-best 12-4 season. They'll come back to work in a couple months intent on reaching the Super Bowl in 2013, but for now, they're looking forward to a little bit of rest and relaxation.
"Just a little bit, and then we'll get back after it," Schaub said.
Twitter.com/NickScurfield