In its first season after realignment, the AFC South sent two teams to the playoffs. The Tennessee Titans finished their season tied with the Oakland Raiders for the best record in the AFC, while the Indianapolis Colts snagged one of two AFC wild-card berths. On the other hand, the Jacksonville Jaguars and Houston Texans struggled to 6-10 and 4-12 records, respectively.
In 2003, the conference looks to be a bit more wide open than last year. The Titans remain strong with QB Steve McNair returning after his most prolific NFL season. In Indianapolis, the Colts still have the "triple threat" in QB Peyton Manning, WR Marvin Harrison and RB Edgerrin James, but their defense has yet to show consistency. With former NFL LB Jack Del Rio as their new head coach, the Jaguars are poised to step up their defensive pressure in 2003. Finally, the Texans have another year under their belt as a collective franchise. With their stellar defense and a progressing offense, they may be the wild card of the conference.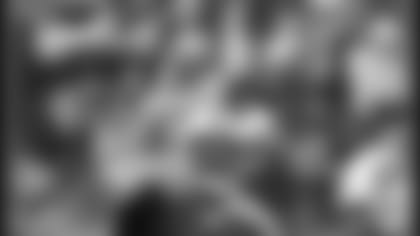 McNair might be the toughest QB in the NFL.
The 2002 AFC South Champion Tennessee Titans return a strong nucleus of talent from a team that reached the AFC Conference Championships a year ago. Leading the group will be QB Steve McNair. Although he spent more time in the training room than on the football field, McNair was the heart and soul of the Titans. Also returning are RB Eddie George and WR Derrick Mason, who together combined for 17 touchdowns and 2,177 yards of total offense. Defensive ends Kevin Carter and Jevon Kearse lead the Titans defense, which ranked 10 th in the NFL in total defense last season. Carter led the team with 10 sacks last season, while "The Freak" was hampered by foot injuries. When both players are healthy, they form one of the deadliest defensive-end tandems in the NFL. If the Titans can effectively fill a few vacancies and stay healthy, look for another strong year in the music city.
Stepping up: With the departure of WR Kevin Dyson to the Carolina Panthers, the Titans are left with WRs Drew Bennett, Justin McCareins and rookie Tyrone Calico to start aside Derrick Mason. None of them have produced at a high level, and there is no clear favorite, so fans can expect to see some fierce competition during the preseason.
Up for grabs: Second-year CB Mike Echols and rookie CB Andre Woolfolk will likely fight to fill the spot left behind by Donald Mitchell, who signed with the Cowboys during the offseason. Samari Rolle should hold down the other cornerback spot.
Team MVP: QB Steve McNair finally lived up to all the hype he had accumulated when he came into the NFL as a first-round draft pick out of Alcorn State. He single-handedly propelled the Titans to the 2002 playoffs. After a 1-4 start to the season, McNair led the Titans to 10 wins in their last 11 games. His playmaking ability is one of the main reasons why the Titans are thinking playoffs again this year.
Big insurance:In case their star running back, Eddie George, gets injured again, the Titans have 6'3", 220 lb. bruising RB Chris Brown, who they picked in the third round of the 2003 NFL Draft. Brown, who played for Gary Barnett at Colorado, will give George the rest he needs to avoid injury and propel his yards per carry over last years' 3.4. Also providing insurance is veteran Robert Holcombe, who was the third leading rusher for the Titans last season with 242 yards.
Mainstay:TE Frank Wychek has been a model of consistency. For seven years in a row (1995-2001), he had never missed a game. Last year, he missed one game, but still ranked third on the team with 40 catches for 346 yards and two touchdowns. The Titans will need him this year more than ever, considering how their wide receiver position is yet to be determined. The only question is whether Wychek can stay healthy in what will be his 11 th season.
This off-season, the Jaguars parted ways with eight-year head coach and general manager Tom Coughlin, who had guided the team to three-straight losing seasons. Jack Del Rio will take over as the new head coach, and with him comes director of player personnel James Harris from the Baltimore Ravens and offensive coordinator Bill Musgrave, who worked with Del Rio for the Carolina Panthers. Musgrave will install a new West Coast offense, which involves quick reads and a lot of passing. The Jaguars season boils down to how the team adjusts to Del Rio's defensive philosophy and their new and more complex offensive system.* *
New faces:Energetic former NFL LB Jack Del Rio is now head coach. Del Rio was the defensive coordinator for the Carolina Panthers last year. Some fans may think that owner Wayne Weaver made a mistake by hiring Del Rio, who has no prior head-coaching experience. In any case, fans can expect to see the Jaguars adopt Del Rio's take-no-prisoners attitude this season.
Adding to the arsenal: The Jaguars' new defensive philosophy can already be seen in the Jaguars' off-season signings. Director of player personnel James Harris made some key additions, which include DE Hugh Douglas, who came from the Philadelphia Eagles and has averaged more than 12 sacks a year during the last three seasons, and LBs Mike Peterson and Keith Mitchell, who came from division rivals Indianapolis and Houston, respectively.
Help, please:Last season, WR Jimmy Smith paced the Jaguars with 80 receptions and seven touchdown grabs. The second-leading receiver was RB Fred Taylor, who caught 49 balls and had eight touchdowns. With teams putting more focus on Taylor after his strong all-around performance in 2002, the Jaguars will need to find another receiver to take some heat off of Smith. In the offseason, they signed WR J.J. Stokes, formerly of the San Francisco 49ers, to provide another offensive threat.
Feeling some heat: Three-time Pro-Bowl QB Mark Brunell enters this year as the incumbent, but with a bit more at stake. The Jaguars drafted Byron Leftwich in the first round of the 2003 NFL Draft, which does not mean that he will immediately start, but do not expect him to hold the clipboard for too long if Brunell struggles.
Cross your fingers: Oft-injured RB Fred Taylor finally stayed healthy for an entire season, and he did not disappoint. Taylor gained 1,314 yards on the ground and ranked second on the team with 49 receptions. Without the use of solid backup Stacey Mack, who signed with division rival Houston Texans, the Jaguars are pinning their entire running game on Taylor.
When healthy, the Colts arguably have the most talented offense in the NFL. QB Peyton Manning, RB Edgerrin James and WR Marvin Harrison form a deadly three-prong attack. Unfortunately, their defense does not strike the same fear in opponents' hearts. With another year under defensive-minded head coach Tony Dungy, the Colts defense should be more consistent. Unfortunately, they lost LB Mike Petersen, who led the team with three interceptions and 112 tackles. Worse yet, Petersen will line up against the Colts twice this season with the Jacksonville Jaguars. Regardless of how the Colts offense performs, the team will only go as far as their defense carries them.
Back to form?After failing to reach the 1,000-yard rushing mark last year, RB Edgerrin James admitted that he came back a little too early from his previous year's knee injury. Colts fans should be happy to hear that James not only attended the Colts' voluntary workouts in April, but felt like the old-1,709-yard back of 2000 there, too. If James' knee turns out to be shaky again, the Colts have RB James Mungro to step in. Mungro led the Colts with eight rushing touchdowns last season.
Marvelous Marvin: All-Pro WR Marvin Harrison broke the NFL record for receptions in a season in 2002 when he caught 143 passes. That total shattered Herman Moore's old record of 123 receptions in a season, which he established in 1995. The Colts have lost a little depth at wide receiver with the departure of Qadry Ismail. Wide receivers Reggie Wayne and Brandon Stokley need to produce to draw coverage away from Harrison and open up the Colts' offense.
Anything else you want to say? After a sub-par season marked by short kickoffs and an offseason marred by a case of foot-in-mouth disease, Mike Vanderjagt is feeling just a little bit of heat. The Colts have brought in veteran kicker Brett Conway from the Washington Redskins in case Vanderjagt slips up again.
Bitter end: Colts fans and team members alike would like to forget what happened in the first round of the 2002 playoffs. In what would be the last game of their season, the Colts faced the surging Jets and were outplayed in every facet of the game, losing 41-0. In 2003, the Colts can prove that the game was an aberration, or show that it was a sign of more losing to come.
Simply put, the Texans struggled offensively last season. Case in point, they had a season-low 47 yards of total offense in their Week 13 game at Pittsburgh. Interestingly, the Texans won that game 24-6, which broke the NFL record for lowest amount of total offense in a win. On the bright side, the defense played extremely well, which was the case for most of the 2002 season. In 2003, look for a more balanced offensive attack due to a deeper offensive line, standout rookie WR Andre Johnson and the arrival of RB Stacey Mack, who led the Jaguars with nine rushing touchdowns last season. The Texans defense returns intact and ready to pick up where they left off.
Filling holes:After allowing an NFL-record 76 sacks last season and then having ESPN make light of the fact on a commercial, the offensive line has a lot to prove. GM Charley Casserly has brought in a few more tools, and a lot more beef this season. The Texans drafted 6-7 tackle Seth Wand in the third round of the 2003 NFL Draft. They also signed free-agent tackle Zach Wiegert from Jacksonville and sent a fifth-round draft pick in last year's draft to New England for tackle Greg Randall. Needless to say, second-year QB David Carr should feel more confident in the pocket this year.
Double trouble:In the second round of the 2003 NFL Draft, the Texans selected Michigan tight end Bennie Joppru. Disgruntled fans may ask why the Texans would select a tight end when they already have TE Billy Miller, who led the team with 51 receptions a year ago. Offensive coordinator Chris Palmer is looking forward to spreading the Texans' offensive wings this year with more two-tight-end sets, and Joppru allows for more flexibility.
Taking it home:All-Pro cornerback Aaron Glenn, who played eight years with the New York Jets, returned to the state where his dreams began. A star at Nimitz High School and at Texas A&M, Glenn was eager to return to Texas for what ended up being one of his most productive NFL seasons. Glenn had a career-high 72 tackles and led the Texans with five interceptions, two of which he took to the house. He received his third Pro-Bowl selection and joined defensive end Gary Walker as the only Texans representatives in the 2003 Pro Bowl.
         **Nails:             **After taking an unprecedented
         beating last season, Carr answered all of his critics' doubts
         about his toughness by taking every snap of the 2002 season. He
         enters his second season with some experience under his belt. Unlike
         many rookie quarterbacks, who have to learn from the sideline, Carr
         learned from the pocket, which should pay dividends for the Texans
         this year.