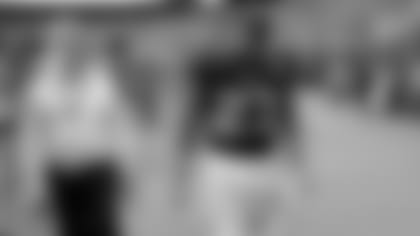 Running back Arian Foster and outside linebacker Brooks Reed are both expected to play in the Texans' regular-season finale at Indianapolis on Sunday after suffering injuries against the Minnesota Vikings.
Foster left Sunday's loss to Minnesota in the third quarter with an irregular heartbeat. He said he was fine after the game and called it "very minor." Reed did not play in the second half after tweaking a groin injury that had sidelined him for the previous three games.
"Brooks got sore, which we expected," Texans coach Gary Kubiak said on Monday morning. "We went into the game expecting to play him a certain amount of plays. We knew he would get sore, probably there was some scar tissue-type stuff that he was going to have to go through, but there were no setbacks. We did re-examine him yesterday and there were no setbacks, so we're moving back forward with him."
Kubiak said Sunday that Foster's issue had flared up once before in practice but that Foster was fine. He also said doctors told him at one point in the second half that Foster could return, but he held the two-time Pro Bowler out as a precaution. Foster said after the game that he was OK and called the issue "very minor."
"We are running some tests today with Arian just to be sure, but everything has been positive and we're expecting him to be back also," Kubiak said. "That's the two guys right now that obviously were questions coming out of the game, but everything looks good."
Foster had 10 carries for 15 yards (1.5 average) and two catches for 14 yards on Sunday. He played 31 of the Texans' 56 offensive snaps (55 percent). Reed had four tackles, including two tackles for loss, in 28 snaps (38 percent).
Cornerback Alan Ball was the only Texans player to sit out of with an injury in Week 16. He has not played or practiced since Week 12 at Detroit because of a sore foot. It is unclear whether Ball will return for the regular-season finale.
Twitter.com/NickScurfield