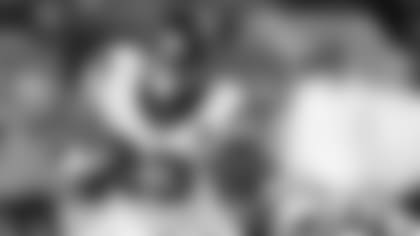 Texans running back Arian Foster is one of four remaining candidates in the running to be on the cover of "Madden NFL 25", EA Sports best-selling video game.
After beating wide receivers Danny Amendola and Julio Jones in fan voting in the first two rounds, Foster edged  quarterbacks Colin Kaepernick and Russell Wilson to advance to the semifinals. A 4-seed, Foster now faces 2-seeded Minnesota Vikings running back Adrian Peterson.
This is the second consecutive year that Foster has been a candidate in the elimination-style bracket in which fans vote for their favorite players to appear on the front of the video game box. To celebrate the 25th anniversary of "Madden," this year's ballot pits 32 NFL legends and 32 current standouts against one another, designed to have the final round of voting be a past vs. present faceoff.
In the beginning of March, ESPN seeded the 64 players and divided them evenly into "old school" vs. "new school" brackets. On the "old school" side, former Detroit Lions running back Barry Sanders is matched up against San Francisco 49ers legendary wide receiver Jerry Rice. The winner of the Sanders-Rice matchup will be up against the Foster-Peterson victor in the final round of voting.
Last year, Foster **openly campaigned for votes** on Twitter, YouTube and other platforms. He edged Tim Tebow in the first round of voting but fell to Detroit Lions wide receiver Calvin Johnson in round two.
Semifnal voting opened Wednesday, April 10, and will conclude on April 17. To keep Foster in the running, vote **here**.